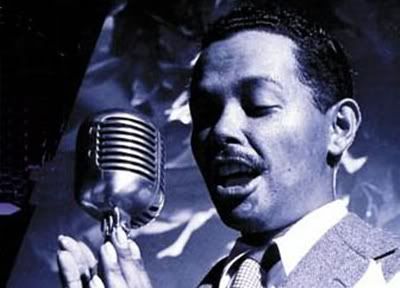 Billy Eckstine from Verve Records
Billy Eckstine was born William Clarence Eckstein in the East Liberty in 1914. (He changed the spelling of his name because a club owner thought it was too Jewish!) Eckstine's smooth baritone and distinctive vibrato broke down musical and racial barriers throughout the 1940s as the leader of the first bop big band and then as the vanguard of romantic black male vocalists in popular music.
Born in Pittsburgh but raised in Washington, D.C., Eckstine began singing at the age of seven and entered every talent show he could find. He had originally planned on a football career (what Western PA kid doesn't?), but after breaking his collar bone, he put all his energy into his music.
He attended Howard University in the nation's capitol, and after a year at college he won a talent contest in 1930 by imitating Cab Calloway. Eckstine sang briefly with drummer Tommy Myles' band in DC after that, launching his career.
On the recommendation of composer and tenor saxophonist Buddy Johnson, he joined Duquesne, PA native Earl "Fatha" Hines' band in Chicago as a singer and occasional trumpet player in 1939. Small world, isn't it? In turn, he encouraged Hines to sign up Charlie "Bird" Parker and Sarah Vaughan.
Though white bands of the era featured males crooning romantic ballads, black bands were expected to stick to novelty or blues numbers until the advent of Eckstine and Herb Jeffries (from Duke Ellington's Orchestra).
Eckstine, also known as Mr. B. (he also performed briefly as Billy X. Stine), was both a pivotal figure in the history of jazz because of his commitment to bebop, and the first black singer to achieve lasting success in the pop mainstream. He became a huge influence on the development of soul, and on R&B singers from Sam Cooke to Prince
Though several of Eckstine's first hits with Hines were novelties, he also recorded several mainstream ballads, including the hit "Stormy Monday."
In 1943, acting on the advice and encouragement of Budd Johnson, Eckstine formed his own band. He inked a trio of superstar bandmates — Dizzy Gillespie, Bird Parker, and Sarah Vaughan. Eckstine recruited still more progressive players and future stars: Wardell Gray, Gene Ammons, Dexter Gordon, Miles Davis, Kenny Dorham, Fats Navarro, and Art Blakey as well as arrangers Tadd Dameron, Jerry Valentine, and Gil Fuller.
Although his original intention was to have a band merely to back his vocals, Eckstine had gathered an exciting group of young jazz musicians and found himself the leader of what was really the first true bebop big band.
Despite the group's jazzy slant, Eckstine hit the pop charts often during the mid-'40s, with Top Ten entries including "A Cottage for Sale" and "Prisoner of Love." On the group's frequent European and American tours, Eckstine also played trumpet, valve trombone and guitar.
Not really into the blues and frustrated by the failure of his beboppers to hit it big, Eckstine turned to ballads. His future stardom would lay with the pop charts.
The band broke up and Eckstine became a solo performer in 1947. He made the transition to lush, string-filled ballads with ease. He recorded more than a dozen hits during the late '40s, including "My Foolish Heart" and "I Apologize."
He was one of the first artists signed to the newly established MGM Records and had popular sellers with revivals of "Everything I Have Is Yours" (1947), Richard Rodgers' and Lorenz Hart's "Blue Moon" (1948), and Duke Ellington's, Irving Mills and Juan Tizol's "Caravan" (1949). He had further success in 1950, but he was unable to sustain his recording momentum throughout the decade.
His best record of the fifties was a duet with Sarah Vaughan, "Passing Strangers," a minor US hit in 1957 but a smash in the UK. Even before folding his band, Eckstine had recorded solo to support it, scoring two million sellers in 1945 with "Cottage for Sale" and a revival of "Prisoner of Love."
He was popular in Britain, hitting the Top Ten there twice during the '50s with "No One But You" and "Gigi" and scored several duet hits with Sarah Vaughan. Eckstine returned to his jazz roots occasionally as well, recording with Vaughan, Count Basie, and Quincy Jones. He regularly topped the Metronome and Downbeat Polls as the Top Male Vocalist of the era.
The classic 1960 live in Las Vegas LP "No Cover, No Minimum" featured Eckstine taking a few trumpet solos as well. He recorded several albums for Mercury and Roulette during the early '60s, and he appeared on Motown for a few standards albums during the mid-'60s.
After recording sparingly during the '70s on Al Bell's Stax/Enterprise label, Eckstine made his last recording, the Grammy nominated "Billy Eckstine Sings" with Benny Carter in 1986. He was inducted into the Big Band and Jazz Hall of Fame in 1985.
He toured internationally during the 1960s and '70s, focusing on live shows rather than recording sessions.
Eckstine also made numerous appearances on television variety shows including The Ed Sullivan Show, The Nat King Cole Show, The Tonite Show with Steve Allen, Jack Paar, and Johnny Carson, The Merv Griffin Show, The Art Linkletter Show, The Joey Bishop Show, The Dean Martin Show, The Flip Wilson Show, and Playboy After Dark. He also performed as an actor on occasion, with his credits including Sanford and Son on TV, and the movies Skirts Ahoy, Let's Do It Again, and Jo Jo Dancer.
Eckstine was a fashion setter and noted sharp dresser. He patented a high roll collar that formed a B over a Windsor-knotted tie, which became known as a Mr. B collar. Besides the prerequisite of looking cool, the collar expanded and contracted without popping open, which allowed his neck to swell while playing his horns. The collars were popular with hipsters and gangsters alike in the late 1940s and early 1950s.
According to jazz legend, his smooth appearance also had an effect on trumpeter Miles Davis. Once when Eckstine came across the rumpled Davis in the throes of a heroin downer, his remark "Looking sharp, Miles" served as a wake-up call for Davis. He promptly returned to his father's farm in the winter of 1953 and kicked the habit once and for all.
He died on March 8, 1993 at the age of 78. He had been twice married and had 7 children.
You can't sing about love unless you know about it. - Billy Eckstine
Many thanks to Wikipedia which provided the bulk of Billy Eckstine's story.