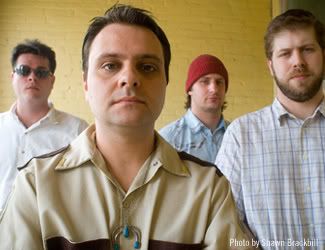 Don Caballero from Relapse Records
Don Caballero is a critically acclaimed instrumental rock group from Pittsburgh. They're considered a math rock band, though they deny the tag, not wanting to get trapped into a genre. (Most rock music uses a basic 4/4 beat but math rock is based on odd time signatures such as 7/8, 11/8, or 13/8. Math rock is akin to metal, progressive, alt, and punk rock. Take your pick.)
Call it math, crunch, or post rock - it still wails. You can count on everyone from indy rock to headbanger fans being among their followers.
The group took their name from TV character Guy Caballero, popularized by Joe Flaherty, in an ongoing skit from Second City TV. In SCTV's parody of the film The Godfather, Guy Caballero is called "Don Caballero." It fit the band.
Don Caballero, aka "Don Cab" or "The Don", formed in the summer of 1991, released five albums on Touch and Go Records between 1993 and 2000, and then disbanded in November 2000. Drummer Damon Che recruited a fresh lineup for a new Don Caballero in 2003. They signed with Relapse Records and released a new album, titled "World Class Listening Problem," on May 16, 2006 and now are out on the road touring.
The group's original lineup consisted of Damon Che (birth name Damon Fitzgerald - drums), Mike Banfield (guitars), and Pat Morris (bass guitar). Ian Williams joined in 1992 as a second guitarist.
Che's energetic and manic drumming M.O. earned him the moniker of "The Octopus" because of the wild flailing of his arms while pounding the skins. The guitars follow his beat as his drums are the lead instrument of the band.
Don Caballero originally intended to add a singer to the group. But before they got around to hiring one, the band was offered some paying gigs after playing some hot licks in front of local club impresarios. They decided if it wasn't broken, don't fix it and remained instrumental.
The band issued two singles for local labels Pop Bus and Broken Giraffe, and a single for Detroit label Third Gear. A deal with the prestigious punk label Touch and Go Records from Chicago yielded yet another single and their debut album, 1993's "For Respect".
In the fall of 1994 bass player Pat Morris left Don Caballero to form the band Six Horse. Throughout 1994 and 1995 a number of area musicians filled the bass slot for Don Caballero.
In 1995 they released their second LP "Don Caballero 2" to rave reviews. Critics hailed the record as a math rock landmark, and its release greatly broadened their fan base. Though some reviewers called it jazz, the music is decidedly rock in nature.
Che and Williams expanded their musical horizons. Che drummed for his rock band Speaking Canaries (he also does some guitar work) while Williams moonlighted with Storm & Stress, an avant-garde trio.
In 1997 the group reconvened after an almost two-year break, with original bassist Pat Morris back in the fold. In the following year the band released the follow-up, "What Burns Never Returns." Again their work was critically lauded and the band continued to tour, drawing more fans to the cause.
In the fall of 1998 Pat Morris left the band again and was replaced by Storm & Stress bassist Eric Emm. The Don set out on a number of successful U.S. and European tours and finally released a collection of their singles and compilation tracks called "Singles Breaking Up (Vol. 1)." Who knew math rockers had greatest hits?
During this period, Mike Banfield retired from the group; former Bitch Magnet guitarist Jon Fine sat in and allowed Don Caballero to complete its touring schedule.
The band, now a trio based out of Chicago to be near their label, toured extensively throughout 1999 and 2000, featuring a playlist of original material. Nine new songs were recorded and released in the fall of 2000 as "American Don."
While touring in support of the album in November of 2000, personality clashes and road fatigue took their toll on the group. Don Caballero broke up after the tour. In fact, the band never made it to their final show in Detroit as their van hit some ice on I-75, spun out of control and crashed into a semi. No one was hurt, but it served as a fitting metaphor for the original Dons.
Throughout 2001 and 2002, the former members of Don Caballero scattered. Damon Che formed Bellini, Ian Williams joined Battles and Eric Emm played with Good Morning.
Che resurrected Don Caballero in 2003 with an entirely new lineup. He merged the members of Creta Bourzia, a local group he sometimes played with after the break up, with his drums and viola, the new Don.
The current band members are Che, Jeff Ellsworth on guitar, Gene Doyle on guitar, and Jason Jouver on bass as The Don returned to its' favored four player configuration. It was a pleasant and somewhat unexpected surprise for the fans to hear Don Cab making music again.
This version of Don Caballero signed with the heavy metal label Relapse Records in 2005 and released the album "World Class Listening Problem" in early 2006. The group has been touring since in support of it, getting to perform its' first shows in Great Britain and Japan.
Che credits the 'Burgh's demanding audiences for their full tilt boogie style of playing. He told Relapse Records that "..the Pittsburgh music audience can be very hard to please. I even personally know more than one touring band that have lied about being injured to avoid playing their Pittsburgh show."
"What it is might be feeling like you will have set yourself on fire to get a response out of the crowd. The fact that we¹re from Pittsburgh could be very responsible for feeling like you almost have to actually go that far, because if we can get an audience going here (Pittsburgh), we can do it anywhere."
But never fear. Don Cab isn't giving up its' roots - they all still live within an hour of Pittsburgh, even with a huge following in Chicago. We may be hard to please, but we know what we like, and rock fans can't get enough of Don Caballero.
(If you want to keep up with Don Cab, visit their My Space site Don Caballero for all their latest info.)