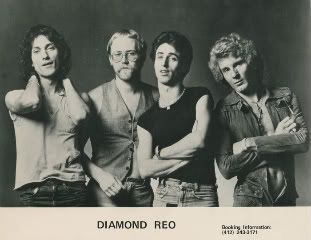 Frankie Czuri, Warren King, Norm Nardini & Rob Franks
from Emmett Frisbee
Warren King, the king of Pittsburgh rock axeman, died yesterday from cancer at the age of 57. He was a member of bands Diamond Reo ("Ain't That Peculiar"), The Silencers, and the Mystic Knights of the Sea, and played on five national album releases.
A native of Monroeville, he joined Diamond Reo, along with local legends
Norm Nardini
, Robbie Johns, Bubs McKeag and
Frankie Czuri
, forming perhaps Pittsburgh's first and ultimate super group.
He played on the power-pop band's 1975 debut "Diamond Reo" for Big Tree/Atlantic Records, along with "Dirty Diamonds" on the Kama Sutra label, and "Ruff Cuts" on the Piccadilly label, while the group opened for acts like Aerosmith, Canned Heat, Ted Nugent, and Frank Zappa & the Mothers of Invention.
Nardini split and started the Tigers, so in 1979 King and Czuri formed the New Wave band The Silencers, with Ronnie "Byrd" Foster on drums, Denny Tacos on keys, and Mike Pela on bass.
The Silencers were signed to Precision/CBS for two albums before they even had played a date. Their most frequented stage was at Fat City in Swissvale, where they played often enough to be considered the club's unofficial house band. The Silencers were also regular performers at Oakland's Decade.
Their debut album, "Rock 'n' Roll Enforcers," was released in 1980, and four of its tracks became local radio hits: "The Peter Gunn Theme," "Modern Love," "Head On Collision" and "Shiver and Shake." They followed with the underappreciated LP "Romanic."
The band's vid for the medley "Peter Gunn/Remote Control/Illegal" aired on MTV the day the network debuted on August 1st, 1981. King eventually left the band (New Wave was never really his thing) in 1984, and the Silencers were silenced.
King gigged with the Red Hot & Blue band, and became a founding member of the bluesy Mystic Knights of the Sea with former Iron City Houserocker Gil Snyder, playing the local rock club circuit. The band was put together after an impromptu jam at the Decade.
King eventually left the Mystic Knights and followed the sun to Orlando, Florida, where he worked as an engineer and session man for Kingsnake, a Sanford label known for its blues releases.
For years he went back and forth between the two towns. Three years ago, he returned to Pittsburgh, forming his own band and playing with Wil E. Tri & the Bluescasters even with the diagnosis of liver cancer hanging over his head.
King's last local gig was at Moondog's in Blawnox on January 16th, where he would occasionally play after the move home. He went into the hospital the next day.
A memorial service will be held at 1 p.m. on Saturday, February 6th, at the H.P. Brandt Funeral Home, located at 1032 Perry Highway in West View.


"Peter Gunn/Remote Control/Illegal" video by the Silencers