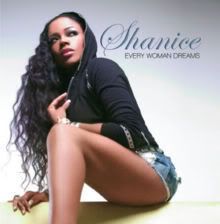 Shanice Wilson's "Every Woman Dreams" from Wikipedia
Shanice Wilson entered the world on May 14, 1973 in Pittsburgh. She was born into the musical family of guitarist Carl Black and singer Crystal Wilson. Shanice learned how to belt out a song, and at a very young age was performing onstage with her mother and aunt, Penny Wilson. She followed her mom to Los Angeles two years after Crystal's divorce in 1979. It was a great move for her and her career.
She gained show biz experience & exposure in various musicals. Shanice starred in a KFC commercial with the legendary Ella Fitzgerald at age nine. In 1985, as an 11 year old, she won on
Star Search
. Her stage performance that same year in the show
Get Happy
impressed A&M Records honcho John McClain enough that he offered her a recording contract.
In 1987 she released her first album, "Discovery." It spun out several hits, the biggest being "(Baby Tell Me) Can You Dance?". Also charting was "This Time" (with Kiara) and "No Half Steppin." She garnered a Soul Train Award nomination for Best R&B/Urban Contemporary New Artist for "Discovery," even though the album was only a modest hit commercially.
She jumped to Motown Records in 1990 to collaborate with producer Narada Michael Walden. Her initial Motown album, "Inner Child," was released in 1991 and became her most successful record to date.
"Inner Child" rose to the top ten of Billboard and earned Gold Record status from RIAA, thanks to its #1 R&B/Hip Hop Singles and #2 Billboard Hot 100 megahit "I Love Your Smile." Other big tracks off the album were "Silent Prayer" and "It's for You."
She was selected for a Grammy nomination for Best Female R&B Vocal Performance in 1992. In 1993, she won the Golden Lion Award for Best International Artist
Shanice took a three-year break before launching her next album, "21 Ways To Grow" in June 1994. She got involved with movie soundtrack projects like "Boomerang," "Meteor Man," "Pocahontas" and "Panther". Shanice and gospel singer Tonéx sang the theme song to the UPN sitcom
One On One
. "Saving Forever for You", a single cut for the
Beverly Hills 90210
TV soundtrack hit the top ten of three Billboard charts. She also did some studio work and sang background vocals for Toni Braxton, Usher, Mary J. Blige, and Babyface.
Babyface signed her to his label, LaFace Records, and released her fourth album, "Shanice" and a greatest hits compilation, "Ultimate Collection: The Best of Shanice." "Shanice" featured the hot track, "When I Close My Eyes."
She also proved that there's more than one way to skin a cat. Her vocals popped up in various video games like Playstation's "The Bouncer." Shanice switched gears in the late 1990's when she took up acting, playing the role of Eponine in the Broadway musical
Les Miserables
for a brief run and earning pretty decent reviews.
Having done it all professionally, she next turned to her private life, marrying her longtime beau, actor/comedian Flex Alexander, on February 19, 2000. They have two children, Imani Shekinah and Elijah Alexander.
Shanice primed the pump with her first single after six years, the title track "Every Woman Dreams," in June 2005, with the album being released in early 2006. She produced it independently. She's supposed to have another ready to go sometime this year.
Shanice travels to the beat of her own drummer. She has a five octave voice, which she features with a strong falsetto shown off in songs like Minnie Ripperton's "Loving You," but is often panned for not using her great range more often. Shanice has only recorded 5 studio albums in twenty years.
But guess what - she's sang, recorded top ten hits, performed on stage, and her career still has a long way to run. She has a happy family. And that's a Pittsburgh success story no matter how you cut it, even (or maybe especially) if it's being lived in LA.
(To find out what Shanice is up to, visit her at My Space Music)