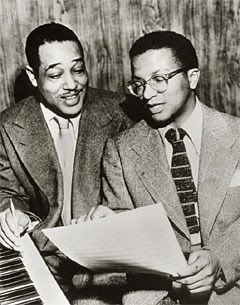 Duke Ellington & Billy Strayhorn from All About Jazz
William Thomas Strayhorn was born in Dayton, Ohio on November 29, 1915, the fourth of nine children. Sickly at birth and born into poverty, he wasn't expected to survive, but he did. Four of his siblings did not. The family shortly moved on and settled down in Homewood.
As a child, he was shielded from an abusive father by his mom, Lillian, who bought him books and sheet music from her earnings as a domestic. She would send him for extended visits to his grandma Elizabeth's place in Hillsborough, North Carolina, to protect him from his dad's drunken fits.
Strayhorn said that his grandmother was his primary influence during the first ten years of his life, and her house was where he first became hooked on music, playing church hymns on her piano and 78 RPM records on her Victrola.
He was largely self-educated and so brainy and inquisitive that one of his childhood nicknames was "Dictionary." Strayhorn had a newspaper route and worked as a soda jerk and delivery boy for the local drugstore, and saved up enough money to buy his own piano.
When he was older and in Pittsburgh full-time, Strayhorn attended
Westinghouse High School
. Classical music was Strayhorn's first love. He began his training by studying the longhaired art at the Pittsburgh Music Institute.
He was the featured soloist in Grieg's "Piano Concerto in A Minor," for a school production. Strayhorn was the only black musician in the 25-player orchestra, and his ambition to join the world of Beethoven never bore fruit; at that time only whites could join that high brow club. So hey, on to Plan B.
He switched to the school band, and studied under Carl McVickers, who had earlier instructed local greats like Erroll Garner, Mary Lou Williams, and so many other outstanding Bulldog artists.
Strayhorn found the music of pianists like Art Tatum and Teddy Wilson at age 19. Their keyboard work provided him with the roadmap to move from classical society to the hot world of jazz.
Strayhorn wrote a musical revue, "Fantastic Rhythm," that played for years in the City. He formed a trio that performed daily on radio and played the local clubs, the "Mad Hatters," and while still in his teens, composed the songs "Life Is Lonely" (later renamed "The Lush Life"), "My Little Brown Book", and "Something to Live For".
In 1938, at the age of 23, Billy Strayhorn met Duke Ellington, who was performing in Pittsburgh's Crawford Grill (Others say it was the Stanley Theater; maybe he was jamming at the Crawford afterwards, as was common back in the day).
An impromptu backstage audition, featuring "The Lush Life," wowed Ellington and the band, and Strayhorn was on his way to joining the Duke in what would prove to be one of the great pairings of jazz.
A few months later, Strayhorn was writing arrangements for Ellington's orchestra while living relatively openly as a gay man, a rare feat for black man - heck, for anyone - during that era.
Within the Ellington organization, Strayhorn's homosexuality was never an issue. Duke accepted him. And it showed in Strayhorn's devotion to Ellington. One friend of Strayhorn's said: "Duke Ellington afforded Billy Strayhorn that acceptance. That was something that cannot be undervalued or underappreciated. To Billy, that was gold."
Once he settled in New York, Strayhorn quickly became a stylish fixture of New York nightlife, sliding between high society parties and Harlem nightclubs like Minton's Playhouse, where he impressed early beboppers like Dizzy Gillespie and Max Roach with his piano skills. He also became one of New York's best known tipplers, a habit that would grow as time went on.
Strayhorn worked for Ellington as an arranger, composer, pianist and collaborator, with a brief break in the 1950s, until his death from cancer - and without a contract. Duke never paid him a regular salary, but took care of all of his financial affairs, paying for his rent, food, clothes, and living expenses.
Heck, he never even had a regular gig for him. "I don't have any position for you," remarked Ellington when he hired Strayhorn. "You'll do whatever you feel like doing." What he was, according to Ellington, was "my right arm, my left arm, all the eyes in the back of my head, my brain waves in his head, and his in mine."
And even more. Strayhorn saved Ellington's bacon in the early '40s, when ASCAP went on strike over royalty payments (or lack thereof) and refused permission for any of its songs to be broadcast over the airwaves. Duke's livelihood depended on his radio revenues, but with no songs to play, what was he to do?
Strayhorn, who wasn't an ASCAP member, caught a cross-country train from NY to LA and hurriedly wrote new, unlicensed songs for Ellington to play. Not only did they survive the blackout, but Duke came up with a new theme. "Take The A Train" was one of the tunes Strayhorn crafted for him.
Strayhorn seemed to flourish in Duke's shadow. Ellington was somewhat of a father figure and the band, by and large, was big-brother protective of the diminutive and mild-mannered Strayhorn, nicknaming him "Strays", "Weely", and "Swee' Pea".
Critics believe that his open gay orientation was a major factor in Strayhorn being dissed in the history of jazz. He hid his light under Ellington's hat, both because of his quiet nature and to keep prying eyes from looking too deeply into his personal life.
Ellington took advantage of him to a degree. Duke claimed the honors for much of Strayhorn's work, and would tell the audience "Strayhorn does a lot of the work but I get to take the bows!"
Strayhorn composed the band's best known theme, "Take the "A" Train", and a number of other pieces that became part of the band's repertoire. In some cases Strayhorn received attribution for his work such as, "Lotus Blossom", "Chelsea Bridge", and "Rain Check."
Other songs such as "Day Dream" and "Something to Live For", were listed as collaborations with Ellington or in the case of "Satin Doll" and "Sugar Hill Penthouse," Duke took all the credit.
On the other hand, Ellington gave Strayhorn full due as his collaborator on opuses such as "Such Sweet Thunder", "A Drum Is a Woman", "The Perfume Suite" and "The Far East Suite", where Strayhorn and Ellington worked closely together. Go figure.
He was an unabashed and public civil rights advocate, too. Strayhorn was buds with Dr. Martin Luther King, Jr., and arranged and conducted "King Fought the Battle of 'Bam'" for the Ellington Orchestra in 1963, for the historical revue "My People".
In the 1950s, Strayhorn left Ellington, finally finding the courage to strike out on his own. He recorded a few albums, composed revues for the Copasetics (a New York show-business society) and joined in theater productions with his friend Luther Henderson. But for better or worse, his star was hitched to Duke Ellington.
Oddly, Billy Strayhorn was a major influence on the career of Lena Horne. She wanted to marry Strayhorn and considered him to be the love of her life. He was her close friend and musical mentor. They eventually recorded songs together, and for all we could find, that's as far as it went.
Strayhorn was diagnosed with esophageal cancer in 1964, and the Big C claimed him in the early morning hours of May 31, 1967, in the company of his partner, Bill Grove. His alcoholism was also thought to have contributed to his death. His ashes were scattered in the Hudson River by a gathering of his closest friends.
Music legend has it that Strayhorn died in Horne's arms, but the truth is that she was touring in Europe when she received the news of Strayhorn's death.
While in the hospital on his deathbed, he finished a final composition for Ellington. "Blood Count" (originally "Blue Cloud") which was used as the first track to Ellington's eulogy album for Strayhorn, "And His Mother Called Him Bill," recorded several months after Strayhorn's death. All the cuts were Strayhorn compositions.
The last track of the album is an ad lib version of "Lotus Blossom" performed by Ellington, who just sat at the piano and played from the heart for his friend while the band packed up after the end of the session (they can even be heard banging around in the background). The small flaws in the recording make the piece one of the most poignant and human memorials ever cut.
Ellington playing Strayhorn, just the way it was meant to be.
(A pretty good bio of Billy Strayhorn's life can be found at Wikipedia.)

"Take The A Train" - Billy Strayhorn, piano, 1965. Watch for the saxman in the middle of the vid. It must have been a long show for him.
And here's a brief bio and eulogy of Strayhorn:

Thanks to aburinho.