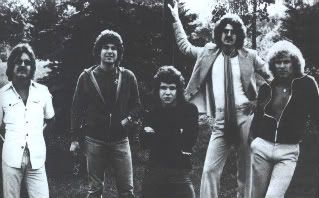 Wild Cherry from Wikipedia
Rob Parissi was raised in the Pittsburgh-Wheeling Steel mill town of Mingo Junction, Ohio, a place tough enough to be used as the backdrop for the movie "Deer Hunter." He graduated from Mingo High School in 1968, when rock, pop, and soul still shared the limelight.
He formed his first band in 1970 in Steubenville. The group's name, "Wild Cherry," was taken from a box of cough drops (geez, they were that close to becoming the "Smith Bothers" or "Ludens!") found laying around while Parissi was sick.
The band played the regional circuit of clubs in the Ohio Valley region, the West Virginia panhandle, and Pittsburgh. A pure rock act then, they self-released several singles, but none of them went anywhere. They even signed with Terry Knight's label, Brown Bag Records, but the records didn't chart any better.
The band broke up in 1975 when a disillusioned Parissi sold his equipment and got a gig as the manager of a Bonanza steakhouse. It was not an ideal mix. His enthusiasm for music magically returned, and he decided to get the band back together.
"So I got out of the steakhouses, got another bunch of fellows together, and formed a second attempt at Wild Cherry," Parissi recalled for
Super Seventies
. The new lineup featured Mark Avsec (keyboards), Bryan Bassett (guitar), Allen Wentz (bass) and Ronald Beitle (drums & percussion).
"We started playing all the rock clubs, but then they started to disappear, and we wound up having to work in discos, including a place in Pittsburgh called the 2001. We played too much rock, I guess, because people came up to us and said, 'Play that funky music.'"
Hey, not a problem. The band had rock roots, but a solid background in R&B, too. Parissi's seminal music was played by Bo Diddley, Duane Eddy, the Animals, the Easybeats, the Yardbirds, the Ventures, and Sly and the Family Stone. Some rock, some soul, and some funk. It would prove to be a great mix.
After that show, Parissi said "In the dressing room, I told the guys that we had to find a rock'n'roll way to play this disco stuff. Our drummer said, 'Well, I guess it's like they say - "You gotta play that funky music, white boy."' I said, 'That's a great idea.' I grabbed a bar pad, the kind used to take down drink orders, and began to write."
A couple of months later, they were in a Cleveland studio. Wild Cherry planned on taping a demo of the Commodores "I Feel Sanctified" backed with Parissi's "Play That Funky Music."
A friend of the sound engineer heard the studio version of "Funky Music", and bird-dogged the band to Epic Records, which signed the group. Epic suggested recording the song as the A-side instead of the flip. Record companies sometimes know what they're doing.
"Play That Funky Music" (Epic 50225) became a monster when released in 1976, becoming number one on the
Billboard
R&B and pop charts. The single and Wild Cherry's self-titled debut album both went platinum.
The band was named Best Pop Group of the Year by
Billboard
, and received an American Music Award for Top R&B Single of the Year, as well as a pair of Grammy nominations for Best New Vocal Group and Best R&B Performance by a Group or Duo that year. Pretty sweet way to break into the national scene, hey? Only Rare Earth could compete with them for the "Funky White Boy" title.
We hope they enjoyed the ride. Three more LP's failed to chart, and no other single ever cracked the Top Forty. Parissi takes the blame. "After that (first album), we started to overproduce our records, and that's probably why we never had another major hit. A lot of that was my fault, striving to sound different. We cut our last album in February 1979 and then just kind of fell apart."
He also had his head-butting sessions with Epic, which Parissi felt should have released a couple of more singles off the first album, "I Feel Sanctified" and "Hold On." He thinks that would have helped establish the band, and given him time to write instead of being rushed from tour to helter-skelter studio session and then back on the road in an endless and ultimately unsustainable cycle.
But some of the band played on after Wild Cherry went their separate ways.
Donnie Iris joined the group for their fourth and final album, and got his first taste of heavy national touring with the band. He scored big afterwards with the Cruisers, hitting the charts with "Ah Leah!" and "Love Is Like A Rock."
Mark Avsec teamed up with Iris after the break-up of Wild Cherry to form The Cruisers, released solo projects under the moniker "Cellarful of Noise" in 1985 & 1988, and wrote songs for LaFlavour. He's still a regular Cruiser, and teaches law at Case Western Reserve.
Guitarist Bryan Bassett kept on rockin' with Molly Hatchet, and now plays with Foghat.
Rob Parissi later became a disk jockey in Wheeling, West Virginia after a stint as a sideman for some other acts. And he still made a few bucks off the tune, and not just in royalties.
Vanilla Ice released a cover of "Funky Music" as the follow-up (and B side) to "Ice Ice Baby." His version hit #4 in the US, and was his last major hit. But for some reason, Ice didn't credit Parissi as a writer. Bad move. Parissi sued and got $500,000 as a settlement for the plagiarism.
He's semi-retired now, and still writes and records at his home studio in Florida.
Meanwhile, "Play That Funky Music" was covered by the rock group Roxanne in 1988, was extensively and expensively sampled by Vanilla Ice in 1990, is still played in dance clubs worldwide, has been used on TV shows, in ad campaigns, over two dozen movie soundtracks, and is on a zillion funk and disco music compilations.
Oddly, one of their lesser-known songs still has a following. "1-2-3 Kind Of Love" was a hit with the beach music clubs along the Carolina coast, and it continues to be popular there to this day. The song is even included in "Beach Music Anthology - Volume 3" released by Ripete Records.

"Play That Funky Music" - Wild Cherry on "Midnight Special"
(Old Mon came up with this post after discussing the acts of the 70's and 80's with cubicle bud Mike Broz. The conversation went from Donny Iris (Dominic Ierace, hey, maybe a cuz of Old Mon!) to Wild Cherry, and here's the result. And yes, we do work hard for the money in between break-time bouts of City music raps!)