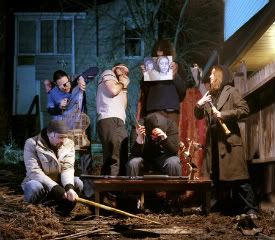 Black Moth Super Rainbow, photo by Jae Rumberto
Black Moth Super Rainbow is... well, you decide. Their music contains elements of psychedelia, folk, electronica, and pop. Their unique sound is created by blending electronic instruments like synthesizers, Moogs, a vocoder, Rhodes piano, and Novatron, giving their stuff a distinctive "Lucy In The Sky" and "Strawberry Fields Forever" vibe. We'll stick with indie synth-pop.
Rolling Stone's
David Fricke tried to explain their scene in April of 2007: "They didn't look psychedelic, just confused. The female drummer wore a toucan mask and her sweat-shirt hood pulled druid-style over her head. A woman playing keyboards had on a fur hat with bobcat ears. The singer sat on the floor, invisible, crooning through a vocoder."
(The singer would be Tobacco; he's known for sitting hidden behind an amp while on stage, heard but not seen by the audience. His real name is Tom Fec, who supposedly became Tobacco in honor of a Roger Corman zombie flick.)
"But musically, this bucolic-futurist quintet was a firmly directed trip: pillowy synth chords and day-glo songcraft nailed to Earth by insistent backbeats. Formed in 2003, Black Moth have a sizable library of CDs to their name. Renown should follow."
Rolling Stone
was impressed enough to tag the band "artists to watch."
Its members are The Seven Fields of Aphelion (Maureen Boyle), IFfernaut/D.Kyler (Donna Kyler), Father Hummingbird (Seth Ciotti), Tobacco, and Ryan Graveface (who just replaced Power Pill Fist, Tobacco's cousin Ken Fec of Brookline, who's breaking out on his own).
According to its MySpace site, the band's influences are "Neckface, Odd Nosdam, Olivia Tremor Control, Led Zeppelin in search of the perfect riff, folk tales of western Pennsylvania, and people who broadcast stuff from hidden places."
It's said that Fec got his start when he began recording on his four-track in his bedroom. Not exactly singing along to the radio, but hey, ya gotta start somewhere.
From 1996 to 2000, beginning as a high school sophomore, Tom Fec performed with the Allegheny White Fish, local patois for a condom floating down the river; now there's some vivid hippy imagery.
From 2000 to 2002, he went by satanstompingcaterpillars. As SSC, he self-released his music, the albums "F**keroo (Flower Slides)" and "Side 8."
After a third album in 2002, "The Most Wonderfulest Thing," SSC added Father Hummingbird, The Seven Fields of Aphelion, and IFfernaut (D. Kyler) to the roster, morphing into Black Moth Super Rainbow in 2003 and becoming a full-fledged band instead of a motley collection of part-time collaborators.
BMSR began releasing their music on the 70's Gymnastics Recording label, which is the band's own imprint. It's logo is a tree-person jumping rope in a dress. Black Moth Super Rainbow's first album, "Falling Through A Field," was actually satanstompingcaterpillars' greatest hits.
After 2005, Chicago's Graveface label picked up BMSR and released "Lost," "Picking Flowers in the Woods," and bonus reissues of the Tobacco albums. "Dandelion Gum" was BMSR's third album, released in 2007, loosely based on witches who make candy in the forest. It resulted in their first music video, for the track "Sun Lips," and was the record that gave them a national following, even if somewhat cultish.
They released "Zodiac Girls - Single and Drippers," an EP, in November of 2008. In May of this year, BMSR issued "Eating Us." The album was recorded at Tarbox Road Studios and marks the first time Black Moth has ventured into an actual recording studio and made a hi-fi album; the others were lo-fi, pretty much home-made disks.
BMSR is also preparing to release a private pressing CD from 2001, "The Autumn Kaleidoscope Got Changed" and an accompanying EP, "Sing To Us," available through the band's website. The records include some older stuff and several acoustic tracks.
In addition to the group's discography, the members have released several solo projects, too. Tobacco cut "F**ked Up Friends" and "Super Gum." Power Pill Fist recorded "Extra Life" in 2005, and "Kongmanivong" in 2008.
Seven Fields of Aphelion's first album "Periphery" is due in the fall, and she's also doing a music/photography project.
But hey, they're not just a studio creation. The band's busy, playing to an active schedule of festivals and other dates. Its supposed to be a great show.
While the band doesn't exactly nosh with its fans, except for a furry critter that mingles with the paying audience handing out candy, a stunning video display accompanying them is enough to make the crowd forget there are actual folk performing on stage, and the outfits make their performances memorable, even without any James Brown showmanship.
On March 17, 2007, the band played alongside The Octopus Project at the South by Southwest (SXSW) music festival, featuring music from their collaborative project, "The House of Apples and Eyeballs." And it was a true collaborative effort; the bands sat in together while recording the tracks.
Black Moth Super Rainbow opened for The Flaming Lips on their Fall 2007 tour, and again in 2008. They also played along with Aesop Rock in late 2008, and at the 2008 SXSW music festival.
Although they took a break this year while working on "Eating Us," they've been back on the road again since its May release. The only complaint among local fans is that BMSR is the only Pittsburgh band that doesn't perform in Pittsburgh.
Maybe they learned the lesson of so many other local acts - if you wanna break out, get outta town, although Tobacco had publicly griped about the local coverage, too.
And what community spawned our local mind-melters? The lore is that they're from rural western PA, and that they emerged from an obscure Pennsylvania forest glen to make their music.
But Fec admits that tale started as a dodge to avoid giving out his 411, and it's grown into BMSR mythology since, further fueled by some liner notes in "Dandelion Gum."
While it's true that their home studio is an exurban cabin, Tom Fec originally hails from Hampton and now lives in South Side while his cousin Ken is from the West End. The other members are identified hazily as Pittsburgh-area musicians. Hey, close enough.
Enjoy them while you can. Tobacco is sounding a little restless lately, having told Leilani Polk of
Tampa's Calling
that he has no real plans for any future recordings with Black Moth, and says that after this tour, "I think I just want to do something else for a minute and stop thinking about all this Black Moth stuff."
So stay tuned to find out if this moth bursts into a butterfly or heads toward the flame.

Black Moth Super Rainbow - "Born On A Day The Sun Didn't Rise"