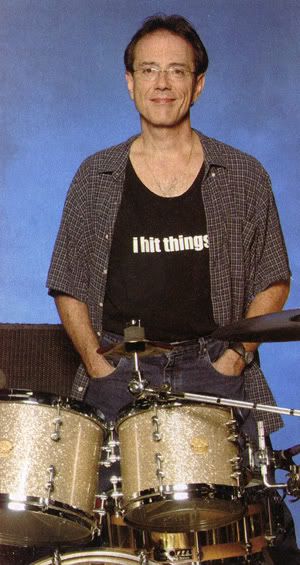 Vinnie Colaiuta image from Modern Drummer
Vinnie Colaiuta hails from Republic, in Fayette County south of Brownsville, and is Western Pennsylvania's busiest - and best - native born drummer.
Oh, he played a couple of other instruments - guitar and organ - as a kid, but there was never any doubt that his love was the drums. His parents got him his first real kit when he was 14. And hey, it wasn't always an easy choice.
His junior high band director told him that there were too many drummers in the band, a common enough occurrence, and he should play another instrument. Colaiuta cooled his heels tooting the flute for a year, and then he slid into a departing senior's spot. How many careers, we wonder, have been killed in junior high? Colaiuta escaped unmarred, fortunately for the music world.
Colaiuta went off to Berklee and later played in some local groups before he and The Christopher Morris Band jumped coasts to LA. That led to some opportunities not available in the coal fields, and he scored big after impressing Frank Zappa during an audition.
He went on to become Zappa's main man on the kit, recording 19 albums with him. Colaiuta's work on "Joe's Garage" was named one of the Top Twenty-Five drumming performances of all time in a 1993
Modern Drummer
article.
After leaving Zappa's nest, Colaiuta sat in with a who's who of artists: Gino Vannelli ("Stay With Me" has some particularly tasty licks), Joni Mitchell (he did six LP's with her), Celine Dion, Ricky Martin, LeAnn Rhimes, Barbra Streisand, Andrea Bocelli, Wang Chung, Chaka Khan, Megadeth, Faith Hill, The Beach Boys, Leonard Cohen, Jeff Beck, and jazzmen Chick Corea, Herbie Hancock, Quincy Jones, and the Buddy Rich Big Band.
He fit in a seven year gig with Sting ("Seven Days" was his highlight performance), recording five albums with the band until leaving because he couldn't face another world tour. Not that staying home was much more restful;
Wikipedia
lists a "selected" discography of his recordings, and the roster is well over 125 albums long.
Colaiuta does more than keep the beat. He's a virtuoso at the craft, having earned 18 Drummer of the Year awards from
Modern Drummer
magazine and being selected into the Modern Drummer Hall of Fame in 1996. The magazine considers him the most important drummer of our times.
His improvisions are legendary - we're not talking Iron Butterfly solos here - as is his work ethic and focus. How focused? A often repeated story goes like this:
Dom Famularo, a well known drum instructor and Colaiuta's bud, visited Colaiuta one day. Colaiuta opened his door while practicing on a drum pad, and after a few minutes of exchanging pleasantries on the stoop, said: "I'm such a bad host, I haven't offered you anything! Do you want a pad?"
If practice makes perfect, Vinnie Colaiuta is the ideal.

Vinnie Colaiuta with Herbie Hancock performing "Actual Proof"