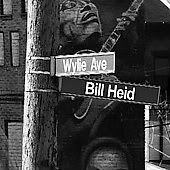 Bill Heid was born August 11, 1948, the son of George Heid Sr., who operated the first recording studio in Pittsburgh. His brother, George Heid Jr., is a renowned jazz drummer and producer, running his dad's old studio and an integral part of Pittsburgh's music scene.
Bill and George got together with Ben Glassock while they were at Mt. Lebanon High School and cut the instrumental "All Out Vota" as the Coronas on Corona label #520 in 1965 (Corona was their father's studio), a song fueled by the twin piano parts played by the siblings and a local hop hit.
Bill, a pianist/organist, was fascinated by the sound of the Hammond B-3, and no wonder. He haunted the Hill clubs as a kid and caught all the chitlin' circuit organ greats playing at the Hurricane Bar, like Jimmy Smith, Don Patterson, Jack McDuff, Jimmy McGriff and Dr. Lonnie Smith, and while at Crawford Grill he bopped to the jazz bands led by the likes of Freddie Hubbard, Max Roach, Gene Harris, Bobby Timmons and Wynton Kelly.
He didn't pass up the home grown talent, either. Ahmad Jamal, Art Blakey, Erroll Garner, George Benson, Eddie Jefferson, Mary Lou Williams and Stanley Turrentine all added to his mental jazz library.
Heid did more than groove to the sound; he'd occasionally sit-in with the players and pick their minds. Piano or organ made no difference; if it had keyboards, he could make it growl and sing.
He told Pete Fallico of KUSP-FM in Santa Cruz that "...looking back, every one of those cats were kind and helpful...like fathers. Pittsburgh was a great place to grow and learn." But he wasn't the stay-at-home kind.
Heid hung out with his mentor, Larry Young, often visiting the family-owned Newark Club in Young's hometown of Newark, New Jersey. There he got to play with the best organ drummers in the business, like Joe Dukes and Billy James.
But his first big road trip began in 1963 and lasted two years. He was on the trail of a rare 78 r.p.m. rhythm and blues record (no,
Old Mon
never did find out which one), and began a hitchhiking trek of Biblical proportions.
He thumbed through the mainland 48 states, through Canada, Mexico, the Philippines, Japan, Korea, China and the Thailand/Cambodia border. Heid documented 400,000 miles of thumbing, gaining him a spot in the Guinness Book of World Records. (he's second), and the 400,000 miles was turned into a cut title on his 1999 "Wet Streets" LP.
Some of his journeys led him to the tiny organ rooms of major cities where he sat in with Jimmy Witherspoon, Jimmy Ponder, Sonny Stitt, Grant Green, David 'Fathead' Newman, Ira Sullivan, Mickey Roker, and was a pianist with Don Patterson. Heid parlayed his journey into a 1985 Oprah appearance.
He came back after a couple of years of sole-shredding exploration, and from 1965 through the mid-70's, he worked the chitlin' club circuit, based out of Chitown.
Chicago brought him in touch with the urban blues as he worked or recorded with Jimmy Witherspoon, John Lee Hooker, Muddy Waters, Son Seals, Koko Taylor, Fenton Robinson and Roy Buchanan. He also played in the bands of guitarist Henry Johnson, and while with his group was the pianist, recording 2 LPs for MCA/Impulse. He sat in for two more records with KoKo Taylor and another with Roy Buchanan.
Then he spent two decades in Detroit, from 1984 through 1999, leading the Blues Insurgents. He called on a local legend of blues guitar and vocals, Johnnie Bassett, as his music director, and was backed by singer Alberta Adams.
During that time, Heid appeared on numerous sessions for the labels Fedora, Cannonball, and Black Magic Records, and was part of two European tours.
He did his own thing, too. Between 1996 and 2003, Heid recorded five Hammond CDs on the Savant label and a piano trio CD for Doodlin' Records in early 2007; he's also recorded for the Muse/Westside label. His keyboard work can also be heard on European TV and films and in the U.S., on PBS and NBC's Dateline show.
In 2000, Heid moved on to Washington, DC and in 2002, his group toured Viet Nam, Indonesia, Sri Lanka, and Malaysia as Jazz Ambassadors for the U.S. State Department. They returned to Asia for an extended tour a year later, in August 2003, playing the Pacific Rim again, adding Singapore to their stops.
They switched continents in 2004, and backed vocalist Jay Klum on another Ambassadors tour to five African countries. And he's spent three years playing in Japan.
Now he's ensconced in the DC night scene, calling Bethesda, Maryland home, and playing at various venues in the area. Heid and his group play jazz/funk fusion that he calls Talifunk.
His sound is linked to Larry Young and Don Patterson, but is anything but predictable. There's footprints of his musical odyssey all over his compositions, leaving a trail that stretches from the streets of the Hill to the rice paddies of the Far East.
Hey, we know he hasn't been around the Steel City since the sixties; he's another in a long line of musical ex-pats from Pittsburgh. But where ever he sets up his stool and starts pounding the keyboard, he's adding to Three Rivers' legacy of great jazz and soul men. And that's good enough for
Old Mon
.

Bill Heid - "Bop Rascal"