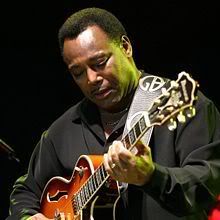 George Benson from Wikipedia
Young George Benson was brought up in a Hill District house filled with the sounds of jazz, mainly Charlie Christian's guitar and Benny Goodman's swing. It rubbed off, and by the time he was eight years old, he was performing. He sang, danced, and even played the ukulele. Benson had a radio show early on, called "Little Georgie Benson, the Kid From Gilmore Alley."
He dropped out of Connelly High on Bedford Avenue and formed a R&B band. Benson was the frontman for the Altairs and Four Counts among other Pittsburgh groups. He caught his first big break in 1964 when organist Jack McDuff was looking for some local talent for a Pittsburgh gig, and ended up joining him for almost 4 years.
"Jack turned me on to a lot of stuff," he recalled. "A lot of the jazz tunes we played were danceable, and...when jazz was danceable, it was king. I really liked it when people kick up their heels and go crazy."
Benson was signed by Columbia while playing in Harlem's Palm Tavern. That resulted in the "Uptown" album that jazz fans loved. But he wanted to be more than a jazz man playing to a limited audience.
"I was an entertainer first," he explained. "I played with some of the baddest jazz cats on the planet. But that doesn't change my desire to entertain folk. That's really who I am." He's played with everyone from Miles Davis to Al Jarreau, from Quincy Jones to Chet Atkins.
And that's what eventually led to his masquerade. Jazz purists considered him a sellout because he hit it big in the mid 1970's by going pop on the Warner label. But even they can't deny a discography that includes "On Broadway," "Give Me the Night," "That's Right," "Here Comes the Sun," "Turn Your Love Around," "In Your Eyes," "Lady Love Me (One More Time)," and of course "This Masquerade."
"I guess that's the biggest crime I've made as far as jazz lovers go," he said. They want to be catered to. You learn, you change. The door opened and I walked through it." He was following in the footsteps of his idol, Wes Montgomery, who could play cool jazz or hot licks equally well, and whose reputation was equally disdained by the hard core jazz cadre because he actually cut records people would buy.
Between 1976 - 1983, Benson won eight Grammys. His career has calmed down since. He releases the occasional album, ranging from jazz to R&B to pop, but always remaining true to his credo of playing what he feels, not what's expected from one group of fans or the other. Between recordings, he tours internationally and hangs out in NYC, checking out the next generation of guitar heroes.
"Those younger cats awaken something in me from the early days," is what he says. "Jazz was once hanging out music." And there's no entertainer from Pittsburgh folk like to hang out with more than George Benson when he's jammin'.
(Quotes courtesy of All About Jazz. To keep up on what George has going on, check out George Benson.com)