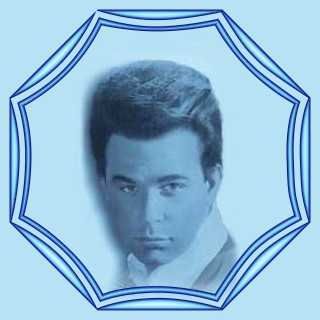 Lou Christie from Kowboy - the 50's
Raised in Glenwillard near Sewickley, pop vocalist Luigi "Lugee" Sacco hung out in the Big Apple after graduating from Moon High School and found work as a back up singer. He still played some hometown gigs with the bands Lugee and the Lions and later the Classics and scored a few minor local hits.
But in a bit of a role reversal, he had to sign with Co & Ce, a 'Burgh label run by Herbie Cohen and Nick Cenci, in 1962 to hit it big. After being introduced to area teens by Porky and topping the charts at KQV and WYRE, the first of Sacco's hits was picked up by Roulette and rose as high as No. 24 on the 1963 national charts. It was "The Gypsy Cried."
The tiny C&C label credited the song to the artist "Lou Christie," without Sacco's knowledge - or consent. Sacco had been working on a list of potential stage names, and said that he hated the name. "I was pissed off about it for 20 years. I wanted to keep my name and be a one-named performer, just 'Lugee'." But Lou Christie ended up working out just fine for him. He followed his first hit with "Two Faces Have I." It rose to number 6 nationally, and he never looked back.
Well, except for dodging the censors of the era. After a two year stint in the Army, his next release "Lightnin' Strikes" became the No. 1 song in America in 1966 - "When I see lips begging to be kissed (Stop!) I can't stop, (Stop!) no I can't stop myself! (Stop! Stop!)." They just don't write 'em like that anymore, and parent and religious groups, outraged at the wanton smooching (and we all know what that leads to!), did everything they could to make sure no one ever wrote like that again.
That same year, he followed it up with an even racier set of lyrics for the 60s and came under fire for perverting teens with the makeout anthem "Rhapsody in the Rain," about a back seat tryst. It ended up with two versions, the uncut track and the sanitized one. It wasn't enough. "Rhapsody" was in fact banned outright from many playlists. Christie recalls that "Time magazine wrote about it and said that I was corrupting the youth of the day."
Like we needed his help, hehe. After all, we were about to become the free love generation. In spite, or perhaps because of, the publicity, the song charted at #16 even without national airplay. And believe it or not, the offending melody was inspired by Tchaikovsky's "Romeo and Juliet". I guess the blue noses would ban Shakespeare, too.
His final big hit, "I'm Gonna Make You Mine," went to No. 10 in 1969. After a handful of songs that barely charted, Christie went off to London and battled his drug demons.
His songs were included in quite a few movie soundtracks, but he switched directions and went country. Bad move. Christie was a fizzle with the C&W and adult contemporary crowd. Eventually, he came home and joined the oldies circuit in the 1980s, where his Frankie Valli-like falsetto is still thrilling folk that are kids at heart, even if there's snow on their roofs.
And for the record, Lou Christie is a helluva lot better name for an artist than Lugee. I hope he's over it. Maybe not, though.
Currently, Luigi has just recorded a new song entitled "Non So Perche" ("I Don't Know Why") which he sings in Italian. It's a song he wrote to honor his heritage. Lugee plans on performing his song at the San Remo Music Festival in the spring of 2008. Look out, Bocelli! Luigi Sacco is returning to his roots.
(Follow Lugee Sacco on his website Lou Christie.com)