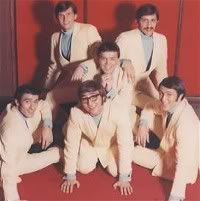 The Jaggerz from All But Forgotten Oldies
Do you remember this Beaver County lineup - Jimmie Ross, Donnie Iris, Bill Maybray, Tom Davis, Jim Pugliano, Benny Faiella, and Larry Lorey? They started out doing the college and club circuit for a couple of years in the early 60s before they made a good living as the top bar band in Pittsburgh, doing soul covers six nights a week at two grand per show. They were an unbeatable local draw with a great sound and choreography.
They were known as the White Knights with Brown Soul among other names in the early days, but by the time they hit the Pittsburgh clubs, they had become the Jaggerz.
No one can explain why, but they named themselves the Jaggerz in 1964 after the round burr that sticks to you when you go through the woods, the one that comes off of a jagger bush. How Pittsburgh is that?
They added the "z" at the end when they saw it used in a magazine article and decided it was cool. Besides doing covers, they wrote a couple of their own songs.
Managed by the Skyliner's Joe Rock, they got a deal with the Gamble-Huff soul label in Philly to cut an album, with the condition that their picture wouldn't be shown on the album jacket. Gamble-Huff didn't want their fans to know they had signed a white band, with their roster of Jerry Butler, The Intruders, Soul Survivors and the O'Jays.
It was a pretty good collection of tracks, and two of the tunes, "Gotta Find My Way Back Home" and "(That's Why) Baby I Love You" were top ten hits locally.
Old Mon
had the album in his collection, and it was as sweet a blue-eyed soul disk as ever cut.
Rock went to New York to push a song that Iris had written. He was thrown out the door of several offices, but Kama Sutra/Buddah decided to take a chance on the tune. It was "The Rapper", which hit number two on Billboard and Cashbox in 1970.
The pop tune was completely out of character for the blue-eyed soul band, but it sure sold records - over 5,000,000 of them. It also popularized a new phrase in the American lexicon - "Coffee, tea or me?"
But that was it. Their fall from the top was quick. Ross believed there were a couple of reasons behind it. They didn't tour enough, as they were still making a comfortable living in Pittsburgh. Joe Rock didn't strike while the iron was hot. And becoming known for a novelty sang instead of their R&B stylings hurt their credibility in the marketplace.
But mostly, he thinks that they may have been sabotaged by Curtis Mayfield, who was on the same label. He told the Kama Sutra/Buddah execs to quit pushin' those white boys and to start pushin' him. And given the choice, we think we woulda stuck with Mayfield, too.
The band folded in 1975 when Ross left to join the Skyliners. Iris struck off on his own too, playing briefly with Wild Cherry before hitting it big, charting some top-40 songs with the Cruisers.
His biggest tracks were "Ah! Leah!," and "Love Is Like A Rock." Iris' last CD was released in 2006, aptly called "Ellwood City" after his home town, and he still plays regular gigs in the area.
The Jaggerz live on, led by Jimmie Ross & Benny Faiella, and do a couple or three dozen gigs every year. They also released a pair of CDs, "And The Band Played On" along with "Re-Rapped by Request." And we're glad they're still around - the Jaggerz were one of the best of Pittsburgh's blue-eyed soul bands, in a town that thrived on its R&B scene back in the day.

The Jaggerz live from Mancini's Lounge - "(That's Why) Baby I Love You"