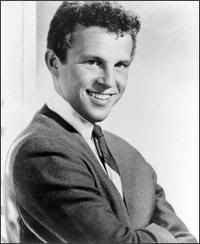 Bobby Vinton, photo from Star Pulse
Stanley Robert Vintula, Jr. entered the world on April 16th, 1935, the only child of local bandleader Stan Vinton. The Polish Prince, Bobby Vinton, had arrived.
Vinton was surrounded by music early, watching and listening to his dad's band practice on the first floor of their Smith Street house through the floor vents to his second floor bedroom. It took him a while to get used to it, though - his mom had to bribe him with quarters to take his music lessons as a kid. But it did take root.
At 15, the Canonsburg native formed his first group (the Hilites, with Mike Lazo and Gene Schacter, later of the Tempos) and played the local dances. "I played West View Park, Kennywood and just about every prom in the area," Vinton told John Hayes of the
Post Gazette
. They also got to back some national acts passing through town.
Then it was off to college. He paid his way through Duquesne University with the money he earned from the band. Vinton studied music on the Bluff, learned to play a half dozen instruments, and graduated with a degree in musical composition. He would later be awarded an honorary doctorate by the school, too.
He credited the Dukes with giving him the foundation in arrangements that helped him reach success. Dick Clark picked him up as band director for acts like Fabian, Brenda Lee, and Chubby Checker.
He served a two-year hitch in the Army, where he was a chaplain's assistant and blew the trumpet. After his discharge, his band scored a four week gig on Guy Lombardo's "TV Talent Scouts".
Local DJ Dick Lawrence (WMCK?) then made the rounds peddling Vinton wax. The songs were "Halellujah I Love Her So" and "Twilight Time," released on Pat DiCesare's Bobby Records label. Ray Charles and The Platters also released the songs, leaving Vinton in the dust. But it did land the Polish Prince a contract with Epic Records in 1960 as the bandleader for "A Young Man With a Big Band." Hey, we can't make this stuff up!
Two albums and several singles flopped, all big band versions of contemporary hits, and the label was ready to deep six the band; they owed them two more sides and that would legally complete the deal.
Then a record sitting in Epic's pile of rejected songs fell to Vinton. He took off his bandleader hat and turned to singing, even though he always felt that he was a musician, not a singer. It was a pretty good career choice.
"Roses Are Red (My Love)" became a number-one song in 1962, topping the Billboard Hot 100 singles chart for four weeks. Oddly, the crooner first recorded it as an R&B number but decided on a different arrangement with strings. Good choice, again.
The single was not only Vinton's first Number One; it was also the first Number One hit for Epic. The label, needless to say, held onto Vinton.
Other songs he released that year sold like hotcakes, too. "Blue on Blue" hit #3, and "Over the Mountain (Across the Sea)" cracked the Top Thirty.
Vinton kept cranking the ballads out, and with great success.
He followed "Roses Are Red" with 1963's "Blue Velvet", an old Tony Bennett tune, and hit the top of the charts again. In 1990, "Blue Velvet" climbed to Number One again, this time in Great Britain after it was played in a Nivea commercial.
Vinton also had five more songs enter the Top Twenty Five on the charts.
In 1964, he had a pair of chart toppers. First was "There! I've Said It Again," also a #1 hit in 1945 for Vaughn Monroe. It marked the changing of the guard in American music when it was bumped off the charts during the first wave of the British Invasion by the Beatles' "I Want To Hold Your Hand."
That invasion, though, was a battle that Vinton fought as well as any US act. He charted 16 top ten hits during the era, while other singers and artists of the early sixties faded from the scene, not to reappear again until the oldies circuit revived their music. Vinton's manager, Allen Klein, later managed The Beatles and The Rolling Stones, leaving the circle unbroken.
The second top rated song of the year was "Mr. Lonely," written by Vinton while he was in the Army. Epic didn't share Vinton's enthusiasm for the song, and had Buddy Greco release it with no success in 1962; two years later, Vinton showed the label how to do it. In 2005, rapper Akon sampled "Mr. Lonely" on his CD "Lonely."
In 1965, "Long Lonely Nights" came in at #12, while "L-O-N-E-L-Y" charted at #22.
Vinton wrote his 1966 hit "Coming Home Soldier," and everyone in uniform during the Vietnam War had a jones for the sentiment; it's what they all wanted to be. The song was played on all the 'Nam freedom flights home, a hit on the Armed Forces Radio Network, and #11 in the States. It's still a favorite with the troops.
"Please Love Me Forever," the old Cathy Jean and the Roommates and Wanda Jackson song, reached #6 in 1967 and was a million seller, as was 1968's "I Love How You Love Me," originally done by the Paris Sisters. That song reached #9 on the charts and was awarded a gold record by the RIAA. Also in '68, "Halfway to Paradise" and "Take Good Care of My Baby" were strong sellers.
From 1969-71, the "Polish Prince" hit a cold spell, not charting a Top 30 melody. He wasn't quite done, though.
In 1972, "Ev'ry Day of My Life" hit #24 and the old Brian Hyland smash "Sealed With a Kiss" charted at #19. From 1962 through 1972, Vinton had more Billboard #1 hits than any other male vocalist, including Elvis Presley and Frank Sinatra, and scored 28 Top 40 entries.
But Epic Records decided to drop Vinton from his contract in spite of those successes, feeling his hit-making days were over in the rock era.
So Vinton spent $50,000 of his own money on a self-written song sung partially in Polish, "My Melody of Love." He wrote it in part because his mom wondered why he didn't do any songs in Polish. And hey, moms always know best.
The song was turned down by seven major labels, but the eighth, ABC Records, bit. "Melody" turned into a multi-million selling single that hit #3 on the Hot 100, #2 on the Cashbox Top 100 chart, and #1 on the AC chart in 1974.
He followed with the "Beer Barrel Polka" in 1975, which reached #33. But his career was clearly in transition now, though his popularity as an entertainer was as great as ever.
Vinton hosted a half-hour variety program "The Bobby Vinton Show," which aired from 1975 to 1978 on CTV to 140 US and Canadian stations, and was later syndicated in the States. ABC Records, in fact, released a soundtrack album of songs performed on the show in 1975.
In 1978, CBS TV aired "Bobby Vinton's Rock N' Rollers," a one hour special that rolled up high ratings, toppling Monday Night Football. The Polish Prince even teamed up with the Duke, starring in John Wayne films "Big Jake" and "The Train Robbers." Heck, Vinton even published an autobiography, "The Polish Prince."
He owned the Bobby Vinton Blue Velvet Theatre in Branson, Missouri until 2002. Now Vinton does quite well on the casino, cabaret, and club circuit and still gets love from the oldie stations around the country.
Vinton has earned a dozen gold platters during his career, sold over 75 million records, and was honored with a star on the Hollywood Walk of Fame. He's been recognized by more than a hundred national organizations and a dozen mayors across the United States for his contributions to the ethnic communities.
He was even invited to Poland as a guest of the government, and got an audience or two with Pope John Paul. He really is the Polish Prince!
And that's not the only place he's remembered.
Canonsburg named two streets, Bobby Vinton Boulevard and Bobby Vinton Drive, in his honor. His hometown fathers even had plans to erect a statue in his honor, but Vinton nixed the idea. He told the politicos that the $100,000 that his statue would cost would do a lot more good in Canonsburg's pocket than spent on his image.
Vinton and his wife Dolores "Dolly" Dobbins Vinton have been married since December 17, 1962, raised five children, and live in Englewood, Florida. And the family man never had a whiff of controversy, quite a compliment considering that
Billboard Magazine
called Bobby Vinton "the all-time most successful love singer of the Rock-Era."
Here's how Vinton describes his squeaky clean career, in a
Gary James
interview:
"As far as critics, I'm not a hip guy. I was never on drugs. Nobody ever felt sorry for me 'cause I went straight or found God. I always had God. I've always like, played by the rules."
"Hey, we've all been to high school. We've seen the in-crowds. Most of us have been in the outer crowds, the people who weren't in. Although I was never in, I was selling records and was very happy."
We'd have to say that he's part of the in-crowd now.

"Mr. Lonely - Bobby Vinton live in 2002