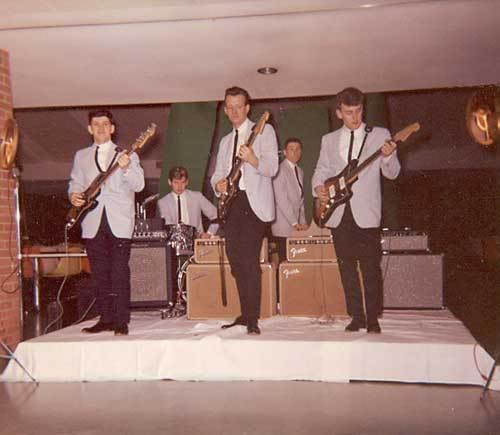 Tommy James and the Shondells - 1963
Back in the geezer days of rock, no genre was more revered than garage rock. And no song epitomized garage rock better than Tommy James and the Shondell's "Hanky Panky."
Tommy Jackson - Jame's given name - recorded it in a Niles, Michigan, radio studio in 1963 when he was a high school kid. It was a modest local hit, released as Snap #102, a label run by a Midwest DJ, Jack Douglas, spinning out of WNIL.
The song was first recorded and released by the Summits on the the Hanover label, then issued as the B-side of a 1963 Rust Records single by the Raindrops, "That Boy John." The Raindrops were composers Jeff Barry and Ellie Greenwich, who became a prolific Brill Building writing duo and penned "Hanky Panky."
A rival act, the Spinners - a local band, not the R&B group - played the song in their set and the Shondells (named after James' early guitar hero, Troy Shondell) liked it and added it to their playlist (in fact, Shondell would gig with the Spinners after his local band fell apart).
Two years later, he got a call from Pittsburgh DJ Mad Mike Metrovich from WZUM. He wanted the Shondells to play in a concert he was promoting. The bewildered young Tommy (bewildered because the band had broken up 18 months before) checked a bit, and found out that his song had taken off in Pittsburgh. In fact, it had been the Steel City's #1 song for three weeks running.
It seems another 'Burgh DJ, WZUM's
Bob Mack
, picked up his record in the dime bin of his store, liked it and began to play it at the local hops.
The story, as told by
Post-Gazette
music man Scott Mervis was that "Mack had a record store at Smithfield and Liberty and he would buy up collections from around the country. As he recalls, "Hanky Panky" turned up a collection sent from a Notre Dame student who needed some quick cash." It took off from there, as Mack played it on his hop circuit that included the White Elephant and Bethel Roller Rink.
At least, that's one version. There are several possible choices to the jock who broke Hanky Panky.
Bob Livorio
, who was huge playing Valley dances and as the Saturday morning request jock for WKPA, also has a claim on it, as does
Mad Mike
, who was the manager and then owner of Tri-State Records, Mack's shop. Clark Race of KDKA is also a candidate and is almost certainly the first to break it on a major station.
Ed Salamon
, music historian and author of "
Pittsburgh's Golden Age of Radio
," wrote and said "Bob Mack/Mad Mike make the claim and Clark Race believed he started it. My mention in "Pittsburgh's Golden Age of Radio" mentions Livorio's story, which he gave me in writing, but was worded as not to preclude the Mack/Mike and Race's claims, as I believe they each could have been unaware of the others." Hey, maybe the Tommy James' hit is a case of letting a hundred flowers bloom - and they all bloomed at once!
It's said that up to 80,000 copies of the song had been bootlegged in the Steel City by an East Liberty outfit named Red Fox/Fenway. After all, what hot blooded lad didn't want a honey that did the "Hanky Panky", even if only on the dance floor?
He only had one problem. The original Shondells had either lost interest in playing or were in the army, leaving him without a band. Tommy rode into town, visited Irwin's Sunset Club and heard a local band, the Rancoteurs. The guys were Joe Kessler, Ron Rosman, George Magura, Mike Vale and Vinnie Pietropaoli.
He liked their sound and pressed them into service as his new Shondells. The result? 1966 saw "Hanky Panky" go number #1 nationally after Roulette bought the master for $10,000 and signed the group. And the Rancoteurs/Shondells went from a club band to owners of a gold record.
As James said: "One night I was playing for 20 drunks in a bar in Michigan, and the next night I'm playing for 10,000 screaming fans in Pittsburgh." And it only got better.
Hits like "Mirage," "I Think We're Alone Now," "Mony Mony," (title inspired by a sign he saw on a building across from the studio) "Crimson and Clover," (the first mainstream introduction of psychedelic music to the unwashed masses) "Sweet Cherry Wine," "Crystal Blue Persuasion," and "Draggin' The Line" ruled the charts, all because of a Pittsburgh DJ dumpster-diving for cast-away records. There are a million stories in the city...
(
To keep abreast of what TJ is up to now, visit Tommy James.com)

Tommy James and the Shondells doing "Hanky Panky on an unnamed TV gig