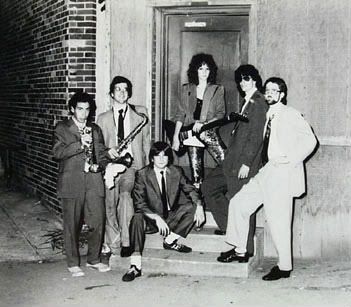 Flashcats
The Flashcats got together in 1978-79 thanks to the efforts of manager/drummer Carl Grefenstette. You might recognize Grefenstette now as the owner of Pittsburgh Guitar on East Carson Street and Bogus Records, but back then, his main claim to fame was the Flashcats. In fact, he believes the band paid the bills for his business at the start.
The band mates are Grefenstette (drums), Skinny Dave Kent (guitar/vocals), Jim "Junior" Fanning (bass/vocals), Miss Cindy Sotak (guitar/lead), Phil "Harmonic" Brontz (sax), Brian "Crusher" Onater (brass), and departed original member Sweet Pete Loria (brass/vocals), who passed away in 2001.
They developed a high energy stage presence to match the intensity of their R&B-driven rock, and worked virtually non-stop; they were one of Pittsburgh's premier live acts during their heyday.
The music was excellent stuff on its own, mostly original tunes with an occasional cover thrown into the playlist. But geez, the shows...
Giant Toothbrush Night, Miss Cindy's Bug Opera, Throw-A-Pie-At-Pete Night, Mexican hat dances, members of the audience taking the stage to sing "Bonanza," Flashcat kazoos and 3-D glasses, Sweet Pete, dressed as a bee, famously tying himself to a beam one night and swinging over the crowd, blowing his trumpet to the tune of "Flight of the Bumblebee" or hanging from the balcony...
Grefenstette explained "We've done a million gigs, and the best way to keep it exciting is to throw in some surprises. Generally, only half of the band knows what's going to happen next, so it's as much fun for us as it is for the audience!"
Needless to say, they always played to a packed house. They didn't need the novelty, though. Their sound was enough to draw a crowd wherever they set up their amps.
Billboard Magazine
first mentioned The Flashcats in 1981 after the release of their first 45, "Baby Baby Ooo."
Music News
magazine called "Twelve Arms To Hold You," the band's first LP, "the finest independently released album of 1982."
Trouser Press
said, "The LP is chock full of mid-60s type R&B so good you'd swear the tunes weren't originals."
In 1983, The Flashcats won a national Warner Communications award for the video of their second single, "Appetite For Love." The next album, 1984's "Show Me," was described by
The Detroit Monitor
as "some of the best juke-joint music in America today."
They had a huge regional following, and were working five or six shows per week. Then they revived a dormant legend and took their act to another level.
All their recorded material was original, except for one old Bull Moose Jackson song, "Nosey Joe," the B side of "Appetite For Love." They also did a cover of his "Big Ten Inch Record" during their gigs.
One night, they played "Nosey Joe" and R&B jock Howard Kozy, better known as Bumble Bee Slim (he hosts WYEP's Saturday night "Blues and Rhythm" show), was in the audience. He told Grefenstette that Bull Moose was still around and kickin' in DC.
Life hadn't been treating Benjamin Clarence "Bull Moose" Jackson so well right about then. After decades as a King Records hit maker, with a mix of risque and standard songs to his credit, the rock 'n' roll parade had passed him by.
In 1958, at the age of 39, Jackson was semi-retired and running a bar in Philadelphia. By the early 1960s, he took a job with a catering company at Howard University in Washington. When the Flashcats called, he was working in the college's cafeteria.
Grefenstette got on the horn with the all-but-forgotten rhythm and blues singer and coaxed him into appearing with the band. He said, "We thought it would be the thrill of a lifetime to play with him."
So in 1984, the sixty-something Jackson flew to the Steel City to do a show with the Flashcats. It turned into a four-year gig. The Moose was loose once again.
The Flashcats' also cut some wax with Jackson. The recordings, a single that became a Pittsburgh classic "Get Off The Table Mable (The Two Dollars Is For The Beer)" and the 1985 album "Moosemania" were his first tracks in 30 years, and restored the luster of his career and R&B legacy.
They appeared together from coast to coast, and Bull Moose won over an entire new generation of fans. He and the Flashcats appeared at New York's Carnegie Hall, in Hollywood, and toured Europe with Johnny Otis.
Jackson credited the Flashcats and the city. He became a virtual cult hero in Pittsburgh, and said, "I'm elated that I can still perform and I'm very proud that people still remember." He added "They've resurrected an old man. I had one foot in the grave and the other on a banana peel. They dug me out and here I am."
Bull Moose continued to perform regularly until 1987 when his health began to fade. His last performance was on April 23rd, 1988. It was a birthday gig with the Flashcats in Pittsburgh.
After that concert, Bull Moose went home to Cleveland and moved in with an old flame. He died of cancer at Mt. Sinai Hospital on July 31st, 1988.
All of his studio sessions with The Flashcats are available on the CD "Bull Moose Jackson, The Final Recordings," along with "Moosemania."
After the Bull Moose era, the Flashcats continued entertaining the city. But 25 years in the business without a deep breath finally caught up to them. In the early 1990s, the Flashcats decided to take a break and pursue other projects, and that effectively put an end to the act.
They did get a nice going-away present, though. In 1994, "Appetite For Love" was selected by
Pittsburgh Magazine
as One Of The 10 Greatest Pittsburgh Rock & Roll Classics.
But they didn't fade entirely into the City mist. In 1981, they began to release Christmas albums as gifts to their fan club members. And ya know how it goes with home-grown holiday traditions; once ya start one...
The Flashcats gather locally in a studio every year to cut a new record. Some hold three or four songs; others are full length productions. They're recording their 29th without a miss, and in fact will get together tonight to tape it.
And while they're all in one place, they try to book a reunion show or two for their fans, an even better gift. The 'Cats don't have any holiday gigs on tap this year because of scheduling clashes, but Grefenstette wrote to say "we're going to made it up to everyone with a big show next summer."
If you'd like any of the Flashcat recordings, Christmas or otherwise, they're available at
Bogus Records
. Grefenstette also features the Spuds, the Frampton Brothers, and the "Made In Pittsburgh" compilations through his impress. (Some of the stuff is old-school, recorded on vinyl or cassette, so make sure you're ordering the right medium.)


Flashcats - "Best Girl"