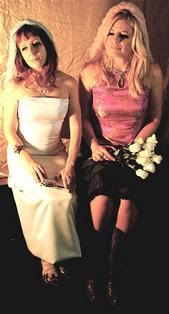 The Jilted Brides are a psychedelic folk/electronic duo originally from Melbourne, but now based in Lawrenceville. And yah, they do sing of love gone bad and the road to redemption.
"The name for us represents wanting to do songs about deep feelings and emotions, heartache and those journeys through the dark night of the soul," Nicole Skeltys told Patricia Sheridan of the
Post Gazette
. "We are sort of reclaiming the idea of the jilted bride."
The pair formed up in 2007, in Melbourne. Skeltys is a song writer and producer, with a long background in electronica with the bands Artificial and B(if)tek (which had Sony releases "2020" and "Frequencies Will Move Together"), and then performed folk rock with Dust, all in her native Australia. She sings, plays the keyboards, provides the electronics, and writes the songs.
Her partner, Tanya Andrea Stadelmann, sings and creates video projections for the performances.
After recording "Larceny of Love" in just six weeks in a backyard shed, the Jilted Brides decided to leave Australia.
They released their debut album in February after meeting PCA/Filmmakers director Charlie Humphrey, another 'Burgh bohemian, who took "Larceny of Love" for his Uh Oh Records label, and is pushing it via iTunes, CD Baby, and the JB's My Space site. It's also gotten some web love on Radio Freakout, an indy site that streams music that mainstream radio ignores.
The album features two concepts - psychedelic ballads on one hand, and electronic hymns that feature analogue synthesizers and choir on the other, entirely appropriate for artists as opposed to rockers. Pittsburgh-bred garage R&B it ain't.
They explain their sound as "...a little like a cross between Leonard Cohen, Air, the Carpenters, Boards of Canada, Bobbie Gentry, (and) Brigid Bardot (backed by) drum machines, old organs and '70s synthesizers."
The Jilted Brides got together in Australia in December of 2007. Skeltys had gone through a tough year: she had just broken up with her partner, dealt with her mother's death, and been diagnosed with breast cancer, which is now in remission. She hooked up with her longtime friend Stadelman, a video artist and photographer.
The Aussies decided it was time to depart on an excellent American adventure, both having spent some time stateside earlier and bored with the down under life.
Stadelman spent six years here while her father worked in Chicago and Detroit, and came back later to live in San Francisco, where she studied photography for five years. Skeltys took a road trip with an American boyfriend across the US when she was in her teens.
The first stop was Vancouver, playing at the New Music West festival. From there they headed to the United States, where they spent several months traveling to various art colonies on residency status.
The pair visited avant garde hot spots in Montana, Washington state and Woodstock, documenting their travels through films, blog posts, and part of their book (what artist isn't writing one?). When the funded residencies dried up, they spent some time in New York City. The Big Apple didn't cut it for them; it was too much of an urban canyon; too expensive, too concrete, too gray.
They had met Pittsburgh poet (we do have some, and they are quite good if greatly undervalued by the locals) Scott Reagan while they were in Montana, and he invited them to the Steel City if they ever reached the east coast. They took him up on the offer in October of last year, and been here ever since.
The Rust Belt image and the reality of Pittsburgh were quite different, they found. The vibrant arts scene, green spaces, friendly vibe, and affordable living blew them away. They rented a flat in Lawrenceville, scored artist visas, and planted roots.
They've played several gigs around town, released their CD, and found studio space and day jobs to support their arts jones. They met drummer Al Vish (Una De Luna) and guitarist David Wallace (ex-Boxstep/Underflowers), who back the Jilted Brides' live show, and were dubbed the "Jilted Grooms" by Caralyn Green of
Pop City
.
Stadelman, who is a filmmaker and a photographer by calling, is teaching a course in film production at Point Park University. She's also involved with the Squonk Opera, doing video clips for them. She and Skeltys just finished a vid for Pittsburgh Citiparks.
Skeltys has started up a music-writing shop called "Pittsburgh In Love," crafting songs for weddings, anniversaries, birthdays, and other special occasions.
Hey, so Jilted Brides they may be, but we wouldn't feel very sorry for them. Nicole Skeltys and Tanya Andrea Stadelmann are riding life's waves just fine, thank you.

Jilted Brides - "Feelings Never Felt Before"