Perry Como
Perry Como was born Pierino Ronald Como in Canonsburg, Pennsylvania on May 18, 1912, the son of Pietro Como, a mill worker, and Lucia Travaglini Como, both immigrants from Palena, Italy. He was the seventh of thirteen children (he was in fact the seventh son of a seventh son, so you knew he was destined for big things.) Although he always liked to sing, doing wedding gigs and other local bookings, his first great ambition was to be the best barber in Canonsburg.
After graduation from high school, he fulfilled his life ambition by opening his own barbershop. In 1933, he married his teenage sweetheart, Roselle Belline, whom he had met at a picnic when he was just 17. They would remain husband and wife for over 50 years.
Como also joined Freddy Carlone 's band that year, and in 1935 moved to the Ted Weem' Orchestra and his first recording dates. Weem folded his band in 1942, and Como went on to CBS, where he sang for a couple of years without any noticeable success. By this time he had decided to return to Canonsburg, his family of three, and his barbering career.
But just as he was about to abandon his singing career forever, two producers stepped in, talking him into a return to show business for the NBC radio program Chesterfield Supper Club. It was such a big hit that it went to Friday night television in the late 1940s. Como continued to be the featured vocalist, supported by the Mitchell Ayres Orchestra and the Fontane Sisters (later he was backed by the Ray Charles Singers.)
Comedy skits, dancing, and singing gave him the opportunity to show his audience a down home, laid back personality. He developed that casual style and in later shows he wore cardigans, dubbed Perry Como sweaters by his fans. They were comfortable inviting him into their living rooms.
Filmmakers lured Como to the silver screen, and though he was a teen heart throb, his Hollywood career was brief and forgettable. Three of his movies, Something for the Boys (1944), Doll Face (1945) and If I'm Lucky (1946), were memorable only because they featured Carmen Miranda . "I was wasting their time and they were wasting mine," Como admitted. Television, however, seemed a natural fit for his singing style and persona.
Supper Club continued until he moved back to NBC in 1955 on Saturdays, where it grew into an hour long show. On Sept. 15, 1956, the season premiere of The Perry Como Show was broadcast from NBC's new studios at the New York City Ziegfeld Theater, making it one of the first weekly color TV programs. In 1959, he moved to Wednesday night, hosting the Perry Como Kraft Music Hall for the next five years.
Como became the highest-paid performer during that era of television. His time slot was opposite Jackie Gleason in what was billed the "Battle of the Giants", and Como won the ratings war. This is now rarely remembered, in part because Como commonly played down his own achievements and in part because Gleason trumpeted his.
His weekly run ended in 1963, and he starred in specials and seasonal shows afterwards until 1994. Como's Christmas shows began in 1948 and become can't miss TV for many American families (including mine.) His Dublin Christmas special in 1994 would be his last TV offering.
In 1945 , Como recorded the pop ballad "Till the End of Time" (based on Chopin's "Heroic Polonaise"), which marked the beginning of a spectacular recording career. He had so many recordings achieve gold-record status that he didn't bother to have all of them certified, but he was the first artist to have ten records sell more than one million copies.
Como had fourteen U.S. #1 singles over a thirteen year span: "Till the End of Time" (1945); "Prisoner of Love" (1946); "Surrender" (1946); "Chi-Baba Chi-Baba" (1947); "A - You're Adorable" (1949); "Some Enchanted Evening" (1949); "Hoop-De-Doo" (1950); "If" (1951); "Don't Let the Stars Get In Your Eyes" (1952); "No Other Love" (1953); "Wanted" (1954); "Hot Diggety Dog Ziggety Boom" (1956); "Round and Round" (1957); and "Catch a Falling Star" (1957).
Among his other popular ballads were "And I Love You So," "Dream Along with Me," "Temptation," "Because," and "It's Impossible." Como sold more than one hundred million records in his recording career. In 1946 he was named top-selling male singer by Billboard.
On March 14, 1958, the RIAA certified Como's hit single, "Catch a Falling Star" as its first ever gold record. He won a 1958 Grammy for it, and in 2002 he was honored with a Grammy Lifetime Achievement Award. Como was inducted into the Hit Parade Hall of Fame in 2007.
Perry and Roselle remained married until her death in 1988 at age 84. Como was reportedly devastated by her passing. He died quietly in his sleep in 2001 at his home in Florida six days before his eighty-ninth birthday.
As Wikipedia notes, his greatest contribution to American pop culture outside of entertainment might be schmaltzy statues:
* Perry Como's birthplace of Canonsburg erected a statue of Como in the middle of town on a base that reads, "To this place God has brought me." He was never able to see the statue due to his death, which might be a blessing in disguise: The statue "sings" by playing recordings of Como's music.
* If you visit downtown Gettysburg , you'll see two statues on the sidewalk in front of the Wills House where Lincoln stayed the night before he gave the Gettysburg Address. One is of Abe, with his left arm raised, using his stove-pipe hat to point to the window of the room he stayed in. His right hand is on the arm of a "tourist", as if he's showing him the room. The tourist is Perry Como in his famous cardigan sweater.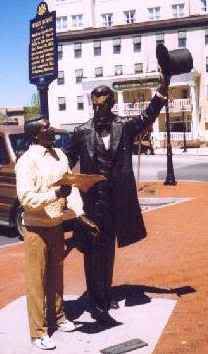 All he ever really wanted was a striped barber pole with his name beside it.

"Don't Let The Stars Get In Your Eyes" - Perry Como, 1952