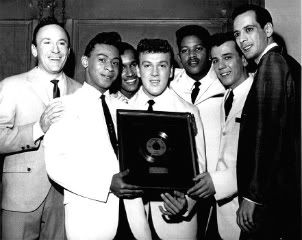 The Original Marcels from Singers
In 1959 Cornelius "Neeny" Harp, Fred Johnson, Gene Bricker, Ron "Bingo" Mundy and Dick Knauss, (Harp, Johnson and Mundy were cousins; all five were schoolmates at Oliver High on Allegheny Avenue in North Side) decided to put their voices together and form a group.
They would practice in Johnson's Woods Run house, often singing for a one-man audience of Jules Kruspir, who would one day run local label St. Clair. He became their manager, and Johnson's little sister Priscella came up with the name when she dubbed the quintet The Marcels, after the hair style of Harp (he was sporting a Marcelle wave.)
The Marcels were a cover band, and Kruspir sent a tape of seven tunes originally done by the Del Vikings, Imperials, Harptones, Spaniels, and other big doo-wop acts of the era to Colpix, a subsidiary of the Columbia label in 1961. Stu Phillips, the A&R director of the label, was impressed enough to invite them to New York to audition. They arrived during a blizzard, and Phillips didn't have any studio time set aside for them.
He hustled them into the RCA studio after the Cadillacs were done with it, and in their remaining eight minutes had them tape a song, in two takes. They decided to do a real oldie, "Blue Moon," (the Marcels didn't know the words to the original choice of "Heart and Soul") and Phillips had Fred Johnson scat the bass line from the Cadillac's "Zoom," one of their demo tracks. It ended up a pretty worthwhile eight minutes.
A promo guy for Colpix picked up the tape and played it for WINS jock Murray the K. He liked "Blue Moon" so much that he played the bootleg 26 times during his four hour show. Even with the overkill, the fans couldn't get enough of it. Colpix signed the group, started pressing wax, and in a month it was #1 on both the pop and R&B charts. "Blue Moon" topped the US chart for three weeks, displacing Elvis Presley's "Surrender," and was on top of the R&B charts for two weeks.
It was a worldwide hit, too, landing in the top ten in England, Australia, Holland, Sweden, France, Belgium, Denmark, New Zealand, Israel, Spain, and South Africa.
The record was a million seller. The R&R Hall of Fame would later select Blue Moon as one of the 500 songs that shaped rock and roll. The Pittsburgh boys did themselves and the city proud.
They cut an album called "Blue Moon" (what else?) that also included the modest hit "Summertime" that charted in the Top 100. They were in a movie called "Twist Around the Clock" with Dion and Chubby Checker. But their fifteen minutes as hitmakers were ticking away for the North Side group.
The LP was the last recording from the original Marcels. Knauss and Bricker left the band after feuding with Kruspir following a southern swing. The Marcels encountered overall problems with bookings in that era as a biracial group, and live shows were the bread-and-butter paydays. Fred's brother Allen Johnson and Walt Maddox took their place, and cranked out another big hit with "Heartache," a million seller that reached #7, and another song that made the charts, "My Melancholy Baby."
Mundy left at the end of 1961, and lead baritone Harp joined him a year later. Allen Johnson dropped out in 1964, and they picked up a couple of local singers from the
Altairs
, Fred Herndon and Richard Harris. But their heyday had run its' course, and they hit the oldies circuit.
In 1973, the five original members got together one last time at the Villa Madrid bar on the North Side. Mundy and Knauss then went back to their then-current group, the Memories. The four remaining members would sing once more in 1999 (Bricker died in 1983) for the PBS Doo Wop 50 show. And they were recognized by being elected to the Vocalist Hall of Fame in 2002.
The current version of The Marcels is managed by Walt Maddox, and consists of members Jules Hopson, Kenny Mitchell, Richard Harris and Ted "Reno" Smith, all who have been around the local R&B/doo-wop block a few times. They're still quite a popular act on the oldies circuit.
As for the other members:
Harp passed away in 2013. At last report, Mundy was a PAT bus driver, Knauss a school custodian (both retired by now, we'd hope), Maddox sings and manages the current Marcels act, and Fred Johnson is fronting his version of the Marcels. Rich Merritt is still singing and swinging in Florida, Gene Bricker passed away in 1983 and Allen Johnson, who worked at Pitt, died in 1995.
Bomp-baba-bomp, ba bomp ba bomp bomp, baba bomp baba bomp, da dang da dang dang, da ding dong ding...Bluuuuuue Moon.
(If you want to find out what the current Blue Moon crooners are doing, check out the Marcels.com
)

"Blue Moon" by the Marcels - 1961