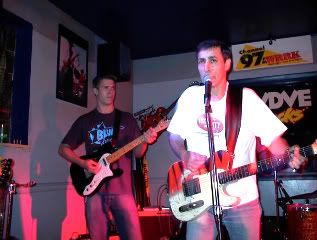 Norman Nardini
Homewood native Norman Nardini sang "I've Been Doin It For Years Before Ya' All Was Here" in 1979. And he's still doing it, three decades later.
Nardini started playing covers with long-time collaborator Robbie Johns in 1966, when Johns was the guitarist and Nardini tickled the keyboards for a band called the Yardleys. (Johns eventually switched to drums and Nardini became an ax man).
In 1971, living in Boston and attending the Berklee School of Music, Nardini spent a week playing guitar for Big Mama Thornton and George "Harmonica' Smith at The Jazz Workshop. Then, in 1974, Nardini, Johns, and Bob "Bubs" McKeag recorded the Marvin Gaye hit "Ain't That Peculiar" at East Liberty's Red Fox Studios, and a Pittsburgh rock legend was born: Diamond Reo.
"Ain't It Peculiar" became a top 40 hit and the band soon had a national deal with an Atlantic Record's subsidiary, Big Tree Records. They added
Frank Czuri
of the Igniters &
Jaggerz
on lead vocals, Warren King on guitar, and cut "Diamond Reo" (BT8950).
Diamond Reo schmoozed with Dick Clark on American Bandstand and opened shows for Aerosmith, Ted Nugent, Kiss, Rush, Canned Heat, Kansas, Blue Oyster Cult, and other seventies' rockers as they relentlessly toured and lived the high life.
Life on the road brought pressures and changes to the group. First, McKeag left to form the McKeag/Lawson Blues Band. Their format progressed, too. Diamond Reo became less top 40 and moved towards the metal/punk music emerging from the era.
Nardini thought they were introducing their fans to the future of rock, but many of their followers couldn't figure out what band they were listening to from album to album.
Their second album, 1976's "Dirty Diamonds" (Kama Sutra #B0016PC7EA), was heavy rockin' and featured King wailing on his ax. As they moved towards the 80's, they became a punk/new wave band, capped by the 1978 "Ruff Cuts" for Piccadilly (PIC3311).
But living large was taking its toll on the group, and dabbling with drugs wasn't helping the cause. In 1979, Nardini left the band to start Norman Nardini & The East Side Tigers. He thought the time was ripe to step out and become a frontman and writer for his own group. (Czuri and King went on to form the Silencers.)
The 1981 release "Eat'n Alive" (Sutra #SUS 1012) was recorded live at Cleveland's Agora Club and earned a 4 Star Review from
Rolling Stone
. In 1983, the band released "Norman Nardini and The Tigers" (CBS #BFZ35497), which featured Jon Bon Jovi on background vocals. In 1987, CBS released "Love Dog" (#BFZ40435), which had Rick Derringer, Dr. John and Paul Schaeffer scattered among its grooves. Warren King even added a few chops to the tracks.
But Nardini and the Tigers were given no radio love at home, in spite of the CBS record deal,
Rolling Stone's
rave, and playing to packed houses. Hey, Pittsburgh doesn't eat its young; it just ignores them. The Tigers did their last tour in 1986.
But Nardini soldiered on and released 3 CDs on the New York City's indie Circumstantial label. 1991's "This Ole Train" (#28121-1001-2), with an appearance by his old buds Bon Jovi, led to a German tour with the Blues Brothers. Circumstantial also issued the 1994 "Breakdown In Paradise" (#28121-1004-2) and 1996's "It's Alive" (#28121-1008-2).
In 1998, Moondog Records released "There Was A Time," followed by "Redemption" in 2004. Subtitled "Best of 1977 – 1988" Nardini went back to the studio and recut the tunes from his heyday when he ruled the town from Swissvale's Fat City stage.
There was a time when Norm Nardini and and the Tigers, along with
Joe Grushecky and the Houserockers
, were the heart and soul of rock in Pittsburgh. Grushecky and Nardini had a reunion gig at Altar in the Strip in early 2009; it was a real trip for
Old Mon
to see the bands together once again just like back in the day.
But Nardini is hardly retired. He's still a hard-working regular on the club circuit, performing from his home base of Moondogs in Blawnox and gigging in the Southside, Uniontown, Mon Valley, Wexford, Corapolis, eastern Ohio, and anywhere and everywhere in between. He never held a day job; his music is his life.
And he still puts on a great show. Nardini became a prolific writer, and his stage personna has evolved from an acrobatic wired guitarist thrashing his tiger-striped ax to a comfortable frontman that connects with his fans. The music still pulsates, too - no musings from a guy that's seen it all, but straight ahead rock.
To demonstrate the point, he just opened for Jon Bon Jovi when the band stopped at the Consol Center in early 2011 in front of 17,000 fans. They're long time friends, dating back to an Asbury Park meeting in 1980. In 1987, Nardini played on stage with Bon Jovi doing CCR's "Travelin' Band" at the Civic Arena. That same night, they hooked up again at the Decade, where Bon Jovi joined Norm Nardini and the Tigers for an impromptu set.
He also came out with a new LP, "Bone A Fide," in 2011, his first album of original material since 1998 (he has dozens of unrecorded songs he's written in the past decade).
Hey, the days of Fat City and the Decade are behind us. But at least Norm Nardini is still around to remind us of the home-grown rock glory that was once Pittsburgh's.