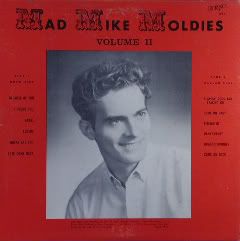 Mad Mike's Moldies from Jancee Records
Yah, we know everyone and his momma has a Mad Mike piece this week, as Brooklyn's Norton Records is issuing its 3-record set of "Mad Mike's Monsters." The release party is tonight, starting at 7 PM at Pietro's Pizza Pub at 2957 Banksville Road.
But hey, nothing like striking while the iron's hot, right?
Mad Mike Metro was part of the fearsome foursome of influential underground jocks in the 1960's, along with Porky, TL, and Bob Livorio, ruling Pittsburgh's airways from their small town thrones.
His given name was Mike Metrovich. He was born in Manchester in 1936 and grew up in Overbrook. While in the Navy and stationed at the Brooklyn Yards, Metrovich was turned on to the music of the Turbans, Big Joe Turner and Fats Domino.
When Uncle Sam set him free in 1959, Mad Mike, by now an avid record collector, started hosting hops, which led to his first radio job. He started at WPIT-AM in 1964, and quickly moved on to what would become his radio home until 1972, a small Carnegie station with the call letters WZUM-AM. His first show there was aired on August 2, 1964.
Metro would make those Carnegie call letters as familiar as Chedwick made Homestead's WHOD and WAMO, Lee made McKeesport's WMCK, and Livorio made New Kensington's WKPA. They were preset on every kid's car radio. He later hosted oldies shows on WYEP-FM, WEDO, WWCS and WARO/WCNG.
Old DJ Charlie Apple called Mad Mike's music "obscure, highly desirable, and extremely danceable." Right on. Not only was he an avaricious collector, but Mike managed Bob Mack's Tri-State Record Store in town, surrounded by discs. He even picked out records for Mack to spin on his "Wax Museum" show on WZUM.
Metrovich was famous for his bargain bin searches, and he'd hit the buried stacks of unknown tunes from coast-to-coast or work out swaps at the shop. He's sometimes credited with launching Tommy James and the Shondell's career when he dug out a copy of "Hanky Panky."
That's not the only act Mad Mike uncovered. He introduced the East Coast to punk when he brought Tacoma's Sonics to town to play "The Witch" and "Psycho." It was allegedly the only gig the Sonics performed outside of the Pacific Northwest during their heyday.
Another quirk he was noted for was not announcing the group that cut the song he was spinning. The odds were that the band was obscure, and Mad Mike didn't see any reason to turn his hours of digging through dusty discs into someone else's glory. His theory was it was the sound that counted anyway, not the band.
Besides, if you wanted to hear what Metro was playing, well, you had to listen to him because no one else had the song. That's one way to build fan loyalty. Needless to say, it provided the Moldie record anthology folk with quite a headache when they tried to run down whose songs the Mad One was spinning.
His privacy phobia with his beloved vinyl was legendary. He'd scratch off the name of the song and group, or cut out the record circle of another song and paste over the real one, sometimes even gluing the comics over the record info. He'd regularly talk over a song, or invent a new name and band for it. Metro didn't want anyone at the hops to discover the tunes he had rescued from obscurity, nor tape them while he was on the air and then make a bootleg.
Some discs he'd only play a couple of times before tossing them back into his disarrayed collection - and he was one of the great record collectors of his time, filling his crib with vinyl. When he said "Listen in - you may never hear this song again," Metro meant it.
Unknown bands or not, Mad Mike packed the rooms he played. He was a regular at West View's Teen Danceland, Mt. Lebanon's Lebanon Lodge, Castle Shannon's Linden Grove, North Park's Wildwood (his first major gig; Mack hired him to be the house DJ), and McKeesport's White Elephant. It wasn't unknown for Metro to do three shows a night, and if you weren't in the house by nine, the odds were you weren't getting in.
One famous story has Mad Mike at Danceland in 1964, spinning records for a couple of thousand teens, while the live act next door drew 200 fans. That band was the Rolling Stones.
His show covered all the bases. His first segment, Mad Mike's Moldies, spun R&B and doo-wop tunes. His second segment, Mad Mike's Monsters, featured garage rock, surf music, wild instrumentals, and just about anything he could slap on a turntable that would get your feet movin' and booty shakin'.
Do "Goo Goo Muck" by the Gaylads or "Sen-Di" by King Rock ring a bell?
He countered the English invasion by almost single-handedly introducing Pittsburgh to wailing guitar instrumentals, a new sound to a city weaned on R&B flavored sax and piano grooves, with an occasional rock-a-billy twanger thrown into the mix.
Metro was also a studio electronics whiz. Over the years, he worked as an engineer at many stations around town. He even built the studio used at Pietro's, and repaired transmitters and broadcast equipment for area radio booths.
After a hiatus from spinning wax, he returned to the airwaves in 2000 to host an oldies show on WZUM. Mad Mike was back where it all started for him. He launched "Nostalgia Music 2000," hosting his own show and putting together a group of other DJs, many of whom grew up listening to him, to man time slots he and son-in-law Pete Shanley purchased from the station.
The shows grew from weekends to weeknights, airing live from Pietro's Pizza Pub. We've heard that every Tuesday night a group of fans still meet at Pietro's for a weekly Mad Mike Metro Memorial Cruise. What goes around...
But it was to be a short-lived, if sweet, comeback. Mike Metrovich passed away on October 31, 2000, at the age of 63 after battling various ailments. Somehow, Mad Mike joining the other side on Halloween seems appropriate.
Though he jocked in Pittsburgh all his days, his popularity was nation-wide. The six volume "Mad Mike's Moldies" (missing #3 & 6, which never were released because of a rights imbroglio), were pressed by NRM on discs made of different colored vinyl (
Old Mon
recalls red and green), and were huge hits. Collectors still go ga-ga over them today.
Hey, maybe we'll see you at the release party tonight.
Old Mon
thought it'd be a good way to introduce his 26 year-old son to the ways of the world, as it once was. And if nothing else, it promises to deliver some great sounds, memories, pizza, and a cold one or two on a Saturday night. Sounds alright to us.
And it was. The joint was packed, the turnable was rockin' with "Camel Walk," a vanload of fresh brews arrived in the nick of time, and it was bedlam. The Norton Records girl was selling LP's and CD's outta her trunk, and we're sure it was a scene Mad Mike woulda loved.
Hey, TJ, if you're reading this, here's your shoutout, and some love to New Eagle. We moldie South Hill's dinosaurs gotta hang together.