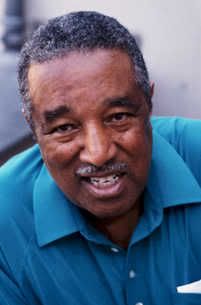 Ray Brown from Hopper Management
Raymond Matthews Brown was born in Pittsburgh on Oct. 13, 1926. His father was an avid jazz piano fan, and Brown grew up surrounded by the sounds of Duke Ellington, Count Basie, Fats Waller and Art Tatum. He began studying the piano at 8.
He decided to switch to the bass while in high school. After noticing how many pianists were in the band (14!), he had thought of taking up the trombone, but couldn't afford one. The school orchestra needed a bass player and had an extra one available. Talk about serendipity.
Brown was allowed to bring the bass home on weekends. The band director figured he was practicing. But after Brown's picture was published in the local newspaper showing him playing the school's bass at a gig, he had to keep it at school. His dad shelled out and finally bought him one.
Drawn to Duke Ellington tunes playing in the city's jukeboxes, Brown locked in on the bass lines of bass legend Jimmy Blanton. He would practice Blanton's lines every day. He plucked at the bass strings like he was gonna yank them off of the fret.
Brown quickly became so good that he had to turn down offers to join touring bands. He had promised his parents he would finish high school. In the meanwhile, Brown became a star in the Pittsburgh jazz scene.
After high school, Brown joined the Jimmy Hinsely Sextet and traveled with the group for six months. The following year, he joined the Snookum Russell band, playing larger clubs throughout the United States. He left Russell's band while in Miami to make his way as a freelance musician in New York City.
Stories about 52nd Street from the pages of
Down Beat
drove him to buy that one-way ticket to the Big Apple. On his first night in the city, he bumped into a friend from the road, pianist Hank Jones, who introduced him to trumpeter Dizzy Gillespie.
"That night, I saw Erroll Garner, Art Tatum, Billie Holiday, Billie Daniels, Coleman Hawkins, and Hank Jones. I'd known Hank before. While we were talking, he said 'Dizzy Gillespie just came in.' I said, 'Where? Introduce me! I want to meet him.'"
"So Hank introduced us. Hank said to Dizzy,'This is Ray Brown, a friend of mine, and a very good bass player.' "Dizzy said, 'You want a gig?' I almost had a heart attack! Dizzy said, 'Be at my house for rehearsal at 7 o'clock tomorrow.'"
"I went up there the next night and got the fright of my life. The band consisted of Dizzy, Bud Powell, Max Roach, Charlie Parker - and me!" Brown was only eighteen years old. A few weeks later, Milt Jackson was added to the band, and he and Brown became very close friends and roomies, so inseparable that they were called "the twins."
He soon began playing with such established musicians as Art Tatum and Charlie Parker and his jazz rep took off.
From 1946 to 1951 he played in Gillespie's band. Brown, along with the vibraphonist Milt Jackson, drummer Kenny Clarke, and the pianist John Lewis formed the rhythm section of the Gillespie band. Their work together was the genesis of the Modern Jazz Quartet.
Brown met singer Ella Fitzgerald when she joined the Gillespie band during a tour of the southern United States in 1947. The two married that year, and together they adopted a child born to Fitzgerald's half-sister Frances, whom they christened Ray Brown, Jr. Fitzgerald and Brown divorced in 1952, but Ray Jr. is carrying on the family tradition as a jazz/R&B vocalist.
In 1949, Ray began an 18 year partnership with Norman Granz' Jazz at the Philharmonic. With JATP, Brown took the stage with Roy Eldridge, Ben Webster, Flip Phillips, Benny Carter and numerous others, including pianist Oscar Peterson on a fateful night at Carnegie Hall.
When drummer Buddy Rich cancelled at the last minute, Brown and Peterson were suddenly a duo, and they were magic together. He went on to play with the Oscar Peterson Trio for 15 years. The group consistently ranked as among jazz's most popular groups during the 1960's.
Following the example of another great bassist, Oscar Pettiford, he took up the cello, and in 1960 Brown jury rigged a hybrid instrument combining features of the cello and double bass, the forerunner of the piccolo bass.
After the Trio disbanded in 1966, he became a manager and promoter as well as a performer. He settled in Los Angeles where he free lanced and did gigs with the TV bands of the time. Brown accompanied some of the leading artists of the day, including Frank Sinatra (he played in all his TV specials), Billy Eckstine, Tony Bennett, Sarah Vaughan, and Nancy Wilson.
He also managed his former group, the Modern Jazz Quartet, as well as a young Quincy Jones, produced some shows for the Hollywood Bowl, wrote jazz double bass instruction books, and was the music director of the Concord Summer Festival in 1976 and 1977.
He composed music for films and television shows. Brown was awarded his first Grammy for his composition, "Gravy Waltz", a tune which would later be used as the theme song for
The Steve Allen Show
.
In 1973, he recorded an album with Ellington, "This One's for Blanton," a tribute to his musical roots. From 1974 to 1982, Brown performed and recorded a series of albums with a quartet called The L.A. Four.
He joined up with Jackson again to record the classic "Jackson, Johnson, Brown & Company" (1983), featuring Jackson and Brown with J. J. Johnson on trombone, Tom Ranier on piano, guitarist John Collins, and drummer Roy McCurdy.
In the 1980s and 1990s he led his own trios and toured extensively with pianist Gene Harris. In the early 1980s, he discovered Diana Krall in a restaurant in Nanaimo, British Columbia. He heard her playing and was so impressed that he took her under his wing. Brown suggested Krall move to LA, and her career flourished as he mentored her.
He continued to perform until his death. On Tuesday, July 2, 2002, Brown was in Indianapolis, Indiana for a gig. That afternoon, he played some golf, his favorite pastime. It was said that if there wasn't a course nearby for him to play, a club owner had no chance of booking the legendary bassist.
After his round, Ray returned to his hotel to catch a quick nap before performing at the Jazz Kitchen that night. When he missed the sound check, a band member went to his room to check on him. Ray Brown had died in his sleep.
In 2003, Brown was inducted into the
Down Beat
Jazz Hall of Fame. He received many awards, including the All-Star Poll Award in
Playboy
nearly every year since its inception in 1958 until he died.
He also won
Down Beat
's Reader's Poll Awards, several Grammy's,
Jazz Critic
's Poll Awards and many other honors. Along with Pettiford, Jimmy Blanton, and Charles Mingus, Brown established himself one of the legends of bop bass.
And no, we never did figure out what high school he went to. Give us a yell if you know.