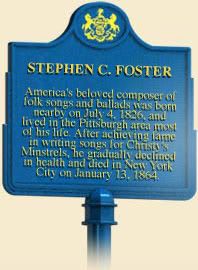 Stephen Foster marker from Explore Pennsylvania History
Stephen Collins Foster was born on the 4th of July, 1826 in Lawrenceville, on the same day that both Presidents Jefferson and Madison died. And as they were the early fathers of America, he became known as the "father of American music."
Foster was the primo songwriter in the 19th century United States. His songs, such as "Oh! Susanna", "Camptown Races", "My Old Kentucky Home", "Old Black Joe", "Beautiful Dreamer", "Jeannie With the Light Brown Hair", and "Old Folks at Home" ("Swanee River") are still popular over 150 years after he penned them.
He was the ninth child of william, a merchant who became a member of the state legislature and was an in-law of sorts to President James Buchanan. But the family would eventually become near destitute after a streak of bad luck in business and his father's fall into alcoholism.
The Fosters moved from apartment to apartment, and many believe that's why so many of his songs express a longing for home (although his dad did eventually see the light, and became a noted speaker on the virtues of temperance.)
He was sent to school in Towanda, Pennsylvania, and spent one month at Washington & Jefferson College. But he had little formal music training. Despite this, he published several songs before the age of twenty. His first, "Open Thy Lattice Love," appeared in music stores when he was 18.
Foster was greatly influenced by two men during his teenage years: Henry Kleber and Dan Rice. Kleber was a classically trained musician who immigrated from the German city of Darmstadt and opened a music store in Pittsburgh.
Kleber was among Stephen Foster's few formal music instructors. He was an accomplished and versatile musician who had a major influence on Pittsburgh's musical life as a performer, composer, music merchant, impresario, and teacher.
Rice, on the other hand, was an famous entertainer of the era. He played a clown and blackface minstrel, making his living in traveling circuses. These two divergent worlds of classical and popular music created a long lasting tension for Foster.
Foster, his brother Morrison, and his close friend, Charles Shiras (who would later win fame as the "Iron City Poet" and as a writer), were members of an all male secret club called Knights of the Square Table that met twice weekly at the Fosters' home. He and his compadres would often sit at a piano, writing and singing songs through the night.
Foster acted first as song leader and then composer. Some of his earliest songs, perhaps even "Oh! Susanna", were composed for the group. Eventually, Foster would learn to blend the two skills thanks to his boys' club.
In 1846 he moved to Cincinnati and became a bookkeeper with his brother's steamship company. While there, Foster penned his first hit songs, among them "Oh! Susanna". It would become the anthem of the California Gold Rush Forty Niners. In 1849 he published
Foster's Ethiopian Melodies
, which included the hit song "Nelly Was a Lady", made famous by an international touring act, the Christy Minstrels.
In 1850, with 12 compositions already in print, the 24-year-old Foster returned to Pittsburgh and married 20-year-old Jane Denny MacDowell. Their daughter Marion was born the following year. In 1852, the couple took a delayed honeymoon, a month long steamship ride to New Orleans with friends. It was the only trip Foster ever made further south than Kentucky.
Then he returned to Pittsburgh and signed a contract with the Christy Minstrels. It was during this period that Foster would write most of his better known songs: "Camptown Races" (1850), "Nelly Bly" (1850), "Old Folks at Home" ("Swanee River," 1851), "My Old Kentucky Home" (1853), "Old Dog Tray" (1853), "Hard Times Come Again No More" (1854) and "Jeannie With the Light Brown Hair" (1854), penned for his wife Jane.
Black culture produced a treasure trove of spirituals, gospel songs, and work tunes, and Foster tapped into it wholeheartedly. He was influenced in part by black church services he attended with the family's servant, Olivia Pise, and by songs sung by local black laborers.
Rather than trivializing slavery, Foster tried to humanize the characters in his songs. He wanted to convey the sense that everyone shared the same feelings for family and home.
Foster, in fact, instructed white performers of his songs not to mock slaves by overly emoting but to play it straight and get their audiences to feel compassion for them. He wouldn't allow his sheet music to have caricatures on the cover.
His songs were written to be played not only on the stage, but in parlors all over America. Foster was a fence-straddler on the question of slavery. But even African-American abolitionist Frederick Douglass became a fan of his, writing that his songs "awaken the sympathies for the slave, in which antislavery principles take root and flourish."
His intentions were to simply write in a black spiritual vein, including the idiom. The minstrel shows were far and away the most popular vehicle available to showcase his music to the 19th century public.
History is still judging whether he perpetuated the status quo or showed some sympathy in his music for the black condition. It's never easy to walk in another man's shoes, especially some 150 years after the fact. But there is no doubt that his overriding concern was earning a buck, a lifelong problem for Foster.
Foster tried to make a go of it as a professional songwriter and was a pioneer in this respect, since the field didn't really exist as we know it back then. Because of the poor legal protections given for copyright and royalties, Foster saw very little of the profits which his works generated for sheet music printers, the RIAA of the 19th century. Nothing was on CD or vinyl. Songs were sold as sheet music.
Multiple publishers often printed their own versions of Foster's tunes, paying him nothing. For "Oh, Susanna", he received $100. He did hit it big with "Old Folks at Home," bringing him a reported $15,000. But by and large, his popularity rewarded everyone in the business but him. It's said that he sold the rights to all his future works for $1,900 when he was destitute in New York City.
Foster could also turn a fine ballad, and the bulk of his music was one of those two genres, still showing the conflict that Kleber and Rice created. Between his minstrel songs and parlor pieces, he could be called America's first great pop writer.
One myth about Foster was that his songs struck him out of the blue like a lightning bolt. The truth was that he sometimes spent months crafting a tune until he got it just so, as shown in the voluminous notebooks he left behind.
Foster moved to New York City in 1860. About a year later, his wife and daughter left him and returned to Pittsburgh, retreating from marital problems caused by financial difficulties and Foster's alcoholism.
Beginning in 1862, his fortunes would further decline, and as they plummeted, so did the quality of his new songs. He began working with humorist George Cooper early in 1863, trying to appeal to musical theater audiences. But the Civil War ruined the commercial market for newly written music. Who woulda guessed?
Foster spent his last years in New York City, living in a Bowery hotel and writing songs for pocket cash. In today's music industry he would be worth millions.
But on January 13, 1864, he died at the age of 37 with 38 cents in his pocket and a scrap of paper that read, "dear friends and gentle hearts."
Bedridden for days by a fever, Foster tried to call a maid, but collapsed. He fell against a washbasin next to his bed and shattered it, gashing his head. It took three hours to get him to a hospital, and back before there were transfusions and antibiotics, it was too late. He died three days later, though his music went on. One of his more popular ballads, "Beautiful Dreamer," was released after his death.
He made his final trip home to Lawrenceville to be buried in Allegheny Cemetery.
"All the world is sad and dreary,
Everywhere I roam,
Oh, Lordy, how my heart grows weary,
Far from the old folks at home."

Foster's tortured soul will never again roam far from home.
And though Halls of Fame were an unknown concept in Foster's time, his work finally earned him a spot in one - the Nashville Songwriters Hall of Fame. It's only fitting; SCF is known as America's first professional songwriter. He was inducted in October of 2010, 150+ years after his death.

"Beautiful Dreamer" - Robert Merrill