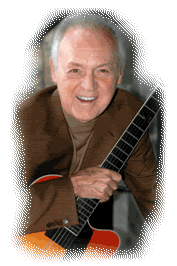 Joe Negri
Joe Negri grew up on Mount Washington, and by the time he was 3, he was already performing. He sang on the weekly "Uncle Henry" children's show, a 1930s radio program on KDKA, airing tunes such as "Sunny Side of the Street" and "Love Thy Neighbor". Negri's early talents earned him accolades as one of Pittsburgh's "Stars of Tomorrow."
"I think it was the hope and dream of many parents during the 1930s that their children, if they had musical talent, would make it to Hollywood," Negri told the
Post Gazette's
Nate Guidry, sitting at a table in his home in Scott.
"We were hard-pressed for money, and many child performers were making it big in Hollywood, people like Shirley Temple, Jackie Cooper and Judy Garland."
Negri never made it to Hollywood, but he did pretty well staying in Pittsburgh.
After the radio show, his dad Michael gave him a ukulele, and he began to sing and accompany himself on stage. The solo act grew into "Joe Negri and the Rhythm Boys," a group that featured his brother, Bobby, and his cousin, Harold "Mutsy" Amato.
Still, Negri wasn't happy, and for a while he lost interest in music. A voice change shook his confidence and Negri stopped performing. Shortly after, he began to seriously study the guitar. For the next five years, Negri took lessons from Victor Lawrence, who had a studio at Volkwein's Music on Liberty Avenue.
"My dad was having a tough time trying to keep me focused," says Negri. "I was playing well and could even play 'Flight of the Bumblebee,' (an especially advanced piece for guitarists.) I was 13, and I really wanted to become a sports announcer."
He was hoping to follow in the footsteps of his childhood idols, Pirate broadcasters Bob Prince and Rosey Roswell.
Concerned, his dad introduced him to the late Dom Trimarkie, a local accordion player and family friend. "My dad told Trimarkie, 'I don't know what to do with this kid. He doesn't seem to want to play anymore. Maybe you can come down and talk to him.'"
"I took him under my wing," says Trimarkie. "His dad asked me to help him, and I am proud of what that kid has become. I took him around town and introduced him to some of the players. We eventually worked together at the Roosevelt and William Penn hotels and other places. He did all right for himself."
The Pirate's loss would become Pittsburgh's music game's gain.
After Negri started playing again, he joined a local dance band and was introduced to jazz recordings by guitarists Charlie Christian, Django Reinhardt and Les Paul. He was hooked on their music.
When Shep Fields had an opening for a guitar player, Negri quit school and joined his swing band at the tender age of 16. The group crisscrossed the country and featured the licks of saxophonist Serge Chaloff, who later joined Woody Herman's Second Herd.
He also became a featured member of the Fields' band and traveled nationally with them for a couple of years, when a two year Army stint sidetracked his career.
After his discharge, Negri turned down the chance to join Woody Herman's band because he wanted to return to Pittsburgh. "I had been gone since I was 16. I never really had the constitution for the road," he says.
He eventually started the Joe Negri Trio with his brother Bobby, a pianist, and bassist John Vance. The group worked in popular local clubs such as the Midway Lounge, Mercer's and the Hollywood Showbar.
"The scene was really great then," recalls Negri, whose group would back up featured artists such as Bobby Hackett, Charlie Shavers and Roy Eldridge.
In 1950, Negri met the late pianist Johnny Costa, who was to become music director of "Mister Rogers' Neighborhood." He encouraged Negri to attend Carnegie Mellon University.
"Johnny kept saying, 'Why don't you come to school?'" Negri was always interested in writing music, so he had an audition and was accepted into the music school as a composition major.
"I picked up a lot of stuff growing up -- pop, jazz -- and I knew about harmony. But I had never had any real formal training," he says. "I learned about harmony and counterpoint. It was like this great awakening."
Negri continued to perform in clubs and concerts. During a performance at Conneaut Lake in 1953, he met his future wife, Joni Serafini. The couple were married a year later and have three daughters.
"She has helped me to organize my career," he says of Joni. "She has made a business of my career. She convinced me to stop quoting 1950 prices for my band."
They seriously considered making a move to the Big Apple shortly after they were hitched. New York City's recording studios, the major radio stations and TV networks represented the big time of 1950's music action.
Negri and his wife visited with several musician friends that lived there and they checked out the music scene closely. Even though they found plenty of professional opportunities, the Negri's decided to make Pittsburgh their home.
The thought of raising their new daughter Lisa and a family in NYC's dog eat dog atmosphere overrode any ideas he had of becoming a New York musician. Family trumped fame.
After 2-1/2 years, he left CMU to lead a trio on the "Buzz 'N' Bill Show," a weekday program carried on WDTV-TV (now KDKA) in 1954. The other players were accordionist Trimarkie and bassist Lou Mauro.
After the "Buzz 'N' Bill Show" ended, Negri moved to "The John Reed King Show," a variety-music-talk show. Negri led another trio with drummer Chuck Spadifore and bassist Jimmy DeJulio.
In the early '60s, Negri became music director of WTAE-TV's live programs, a position he held for more than 20 years. It was around this time he entered the Neighborhood of Make-Believe, joining Fred Rogers' cast of characters. A child performer himself, Negri became familiar in neighborhoods throughout America beginning in 1968 when PBS began beaming Fred Rogers' show across the country.
"I'm known to millions of children for my appearances as 'Handyman Negri' on 'Mister Rogers Neighborhood,'" he said in his bio. "That is a role I have played for over 30 years." And it got him national recognition that even the Big Apple couldn't match.
Negri is a part of the second wave of American jazz guitarists that came into prominence after World War II. Some of his peers include Johnny Smith, Jimmy Rainey, Wes Montgomery, Tal Farlow, Herb Ellis, Kenny Burrell, and Barney Kessel. He was also a friend and fan of the late guitar great Joe Pass.
Negri is recognized as one of the top guns in Pittsburgh music circles and considered among the elite jazz guitarist between New York and Chicago. Apart from his featured concerts, he's in demand as backup guitarist for acts performing in Pittsburgh.
He's featured often as a guest soloist with the Pittsburgh Symphony and Pops. Negri has accompanied performers such as Michael Feinstein, Itzhak Perlman, Johnny Mathis, Tony Bennett, Andy Williams, Wynton Bradford, Ellis Marsalis, and Yo Yo Ma when they visit the 'Burgh.
As a composer, he has written music for many documentary film scores. In addition, Negri's works include The Crossing (scored for Brass Band and Jazz Trio) and the "Mass of Hope: A Mass in the Jazz Idiom." (scored for mixed choir and jazz ensemble). He's currently composing music set to the poetry of black poets, known as the Black Renaissance Poets.
Negri's written a guitar method book to help pass his knowledge on to other young performers. In 1990, he and drummer H.B. Bennett started the Jazz for Juniors program. He's an associate professor and teacher of jazz guitar at Duquesne, CMU and Pitt. Negri's recorded four albums.
His jazz combo is still very much in demand on the college circuit, at area festivals, and local clubs. They also perform at William Penn Jazz Society nights and Shadyside's Walnut Grille. Negri also played recently at Lincoln Center with the Duquesne Jazz Ensemble in a tribute to Pittsburgh jazz musicians.
In 1999, the Pittsburgh Cultural Trust honored Negri by naming him the "Established Artist of the Year." In 2006, Mayor Bob O'Connor recognized him at the Bidwell Center with a proclamation to honor his contributions to music-based youth education.
He credits his wife, Joni, with moving him along. "She keeps me going," he says shyly. "Truthfully, family is what matters most to me.
"I'm aware of age, the passing of time," the 78 year old Negri told the
Post Gazette's
Barbara Cloud. "You have to keep up and stay current or you'll fall by the wayside. I try to do that. In this business, age isn't always a positive thing, but I know myself pretty well after all these years, and I know I remain optimistic and energetic."
"Actually, maturity helps me be better, I think. Experience makes me better. I like playing as much as ever -- maybe even more.
"What I like about where I am now," he says thoughtfully, "is that I am more or less in the driver's seat. I can accept or turn down jobs. You know, my job as a musician wasn't always for kicks. I did weddings and stuff. I had a family. It was my job, and I was earning a living."
"I'd like to record more. I'd like to do something by myself that is just Joe, the guitar player."
"Just Joe, the guitar player" - a fitting title for humble homeboy Joe Negri, who along with George Benson give the city two of the top pickers in the business.
(His career is kept up to date on his website Joe Negri. We'd like to recognize and thank the Pittsburgh Post Gazette, from which many of the post's quotes were taken from a series of articles written about Joe Negri over the years.)