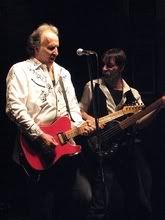 Joe Grushecky
Guitarist and singer Joe Grushecky first stepped on stage in the late seventies as the frontman for the Brick Alley Band, named after a famous (or maybe infamous) McKeesport red light district. In short order, the group become the Iron City Houserockers, a bar band with a jolt of punk.
Their first album
Love's So Tough
was released in 1979. Its' production standards left a bit to be desired, but "Dance With Me" and "I Can't Take It" were strong cuts. Filled with harmonica and piano riffs, the music was driven.
Rolling Stone Magazine
featured the album as its showcase review under the headline "New American Classic" and called it the "debut record of the year."
The band's follow-up album
Have A Good Time (But Get Out Alive)
is considered a classic for its' raw energy. The tracks "Old Man Bar" and "Junior's Bar" were its' highlights. Production was credited to Ian Hunter and Mick Ronson, but much of the album was produced by Steven Van Zandt, who didn't make the credits.
The Iron City Houserockers were being compared to groups like the Clash and they looked like they would become an unstoppable rock force.
The Houserockers' third album,
Blood On The Bricks
, was more mature and more professionally produced, and Grushecky's ballads measured up to his garage band wailers. Its' producer was soul legend Steve Cropper. The 1983
Rolling Stone Record Guide
called it the band's best album, and gave high marks to all three releases.
The band changed its' name to The Houserockers after that, in an effort to shed their image as just a regional Pittsburgh act and hopefully boost national sales of its' records. The subsequent album,
Cracking Under Pressure
, again drew critical accolades, but didn't sell many records, either. None of them did.
All the albums received rave reviews from
Billboard
,
Creem
,
The Village Voice
and other industry publications. Grushecky was at his pinnacle. "We were this close to making the big, big time," he told
CNN
, holding up two fingers an inch apart.
But the band never did make a dent in the national scene. "The sales never matched the reviews, ever," he said. "It really took the wind out of our sails," Grushecky recalled.
He tried to explain it. "I don't know if the record company didn't know how to market us, or maybe we didn't have all cylinders firing at the same time." MCA dropped the group, deciding to focus on Meatloaf instead, and the band broke up. Meatloaf???
He did win over one fan, though. He met Bruce Springsteen in New York City in 1980, and "to this day, we're close friends," said Grushecky. They were introduced by Steve Van Zandt. And they still collaborate, sharing a stage whenever they're in the same town.
Springsteen produced Grushecky's 1995
American Babylon
CD, played on four of its' tracks, and toured live with the band in support of it for eight days. Grushecky helped cowrite The Boss' 2005 Grammy winning hit "Code of Silence."
Grushecky told
National Public Radio
of his relationship with Springsteen: "He casts a big shadow. You know, it's like playing baseball with Mickey Mantle or Roberto Clemente or playing football with Joe Montana. You work with one of the best and I think that says something about your talent also."
The current lineup goes by the name of Joe Grushecky and the Houserockers, and has released several more CD's. Four were Grushecky solo acts, and seven others were with the Houserockers.
The band lost its' punk image and starting pumping out blues, roots rock, hard rock, pop, and even some crossover country. They are still one helluva good bar band. You couldn't get within a block of the old Decade in Oakland when they were playing.
The Houserockers still fill nightclubs of all shapes and sizes in the East. They've also toured overseas a few times in venues teeming with appreciative audiences with an ear for good ol' American rock and roll.
They've packed houses like the Tradewinds NJ, The Stone Pony, and Fat City. Grushecky has shared the stage with Springsteen, Bon Jovi, and Southside Johnny, along with many other bands. The Houserockers could easily make their living in Asbury Park if Grushecky and the boys weren't such yinzers at heart.
Grushecky has a devoted fan base, which he describes as "a pretty loyal bunch. I like to think they're a little more intelligent than the average rock fan. It takes a little bit more effort to be a Grushecky fan," he said with a laugh.
He and his band are almost famous rock and rollers. But music is just an avocation now. Holding a special ed degree and a gaggle of postgraduate credits (his dad, a coal miner, told him to get an education in case the music gig didn't pay the bills), Grushecky's real job is teaching special needs kids. It's a high stress, high burnout career, and he's been doing it for more than 25 years.
"He's the patron saint of causes," says Larry Kuzmanko, director of special events for Allegheny County's Parks. And a pretty good humanitarian, too. He puts his money where his mouth is.
Grushecky recruited Springsteen for "Flood Aid," a benefit concert that helped locals who were beat up by the worst inland flooding in a century, after Hurricane Ivan raised cain with Pittsburgh's three rivers in 2004.
He and The House Rockers recently headlined a show to raise money for the Sto-Rox High arts program. Grushecky's son, Johnny, jammed with his group, Dirty Sunshine. He even holds "guitar school" for the kids there. And Grushecky and the band still play the community halls and clubs to stay in touch with the people that have supported him over the years.
Grushecky is married to Lee Ann, and they have a son, Johnny, and a daughter, Desiree. He's also the star of a newly released DVD, "A Good Life: The Joe Grushecky Story," taking the name of his CD; in 2016, he issued his ninth post-Houserockers album, "It's in My Song."
But don't worry about Grushecky's music turning into too much of a hobby or him becoming a homebody or movie star. He has a lot of rock and roll left in him. "I'm gonna keep on till I can't do it anymore," he says. And he can still do it; he was voted a 2016 Pittsburgh Rock 'N Roll Legends Award.
His music is more mature now, as befitting a man that's been around the block and figured out what's important in life as the years roll by. Grushecky can't wait to find out what's gonna happen next. As he sings on "True Companion," "I'm only in my fifties. I got a long, long way to go."
East Carson Street
(You can track Joe's action on Joe Grushecky.com )