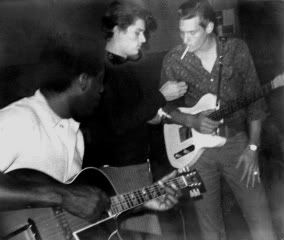 Otis Redding, Johnny Daye & Steve Cropper from Stax Records
Johnny Daye (born John DiBucci) was one of the top white soul singers of the '60s. He made the rounds of the the Chitlin circuit (he performed at the Apollo several times as part of Bobby Bland's review) and did the college gig scene. He had an electrifying stage act that was compared to the Godfather of Soul's performances.
Daye would slide, dip, and strut on stage just like a blue eyed James Brown (without the falling down and being dragged off stage by his cape bit). Born and still living around Pittsburgh, he did a lot of the local shows as a headliner.
Johnny Nash signed him to Jomada Records where he cut "Marry Me" b/w "Give Me Back My Ring" in 1965 (quick engagement, hey?) and "A Lot of Progress" b/w "You're on Top" for Parkway Cameo Records in 1966. Both were produced by Nash. He also recorded on Blue Star Records, taping "I'll Keep on Loving You."
Otis Redding, who befriended the singer and served as his mentor, as he did with Arthur Conley, brought Daye to Stax Records. He released a pair of powerful 45's for the label, produced by Booker T's sideman Steve Cropper.
"I Need Somebody" was the flip to "What I'll Do For Satisfaction" (which Janet Jackson covered in her Janet CD of 1993 and shows up in several Stax retrospectives) featuring the Muscle Shoals beat, brass, and Daye's great pipes.
The second, "Stay Baby Stay" b/w "I Love Love," is a deep soul ballad. The tracks were recorded live, with backing from the Sweet Inspirations.
The label didn't push any of his songs, and none of his records ever charted. The Stax sides were Daye's last known recordings. He never cut an LP, and seemed to have fallen off of the face of the earth after the death of his sponsor, Otis Redding, much like Conley.
That is, until last year, when a Mon Valley blues label, Bonedog Records, released "Stirrin' Up Bees," Robert Peckman's first solo album. He's yet another underappreciated soul man from the City who somehow stirred Daye out of his self imposed deep freeze and back to the mike.
Bonedog honcho Jeffrey Ingersoll managed to coax Daye out of retirement to sing two songs. "He was a little reluctant," Peckman told the
Beaver County Times
. "He told me he hadn't been in a studio in more than 30 years and I said, so what, let's just have some fun." And they did.
Daye's two tracks, "Let's Talk It Over" & "Stop And Take A Look," just about steal the album. He never missed a beat; it was like 1965 all over again.
And like all fairy tale endings, our hero resurrects his career ala Roy Orbison and reclaims his rightful spot in the Pittsburgh blues Olympus, right? Well, not exactly. Johnny Daye is still in the area, doing whatever it is he does. His entire recorded discography now consists of 12 songs. And that's a pity for the local soul crowd, as the vid below proves: