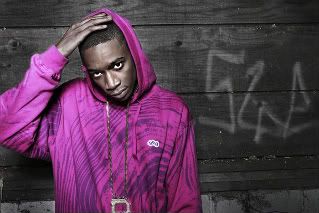 Wiz Khalifa
Cameron Thomaz was born in Minot, North Dakota in 1987 to military parents and moved to Pittsburgh at the age of 2. You probably know him as Wiz Khalifa. His show biz name came from Khalifa, an Arabic word meaning "successor", and Wisdom, which was shortened to Wiz when Khalifa was 15.
He roamed all over the world during the next thirteen years as an Army brat. He would move between Pittsburgh and South Carolina, Georgia, Oklahoma, Germany, Japan, and England as his family hopped from one military base to another.
In October of 1990, Khalifa was separated from his mother, who left him in the hands of her sister while she served in Operation Desert Storm. He was always in new schools, and friends would come and go. And like many kids in unsettled circumstances, he developed an identity through music. (Today he's 6'5" and has ink from neck to toe; Wiz would be a standout with or without rap.)
By the age of 14, he had a few songs under his belt. Ready to move on up, Khalifa began to record in Lawrenceville's ID Labs, where owner Eric Dan recognized his talents with a beat. Along with Chad Glick of ID Labs, they turned to another Pittsburgh native, Benjy Grinberg, to take the next step.
Grinberg was a former executive assistant at Arista Records who had started up a new independent label, Rostrum Records, in Pittsburgh. Signed to Rostrum, Khalifa built a buzz in town.
He began to draw serious notice during his senior year at Allderdice (the same school Pittsburgh Slim went to, making it the hip hop high of Pittsburgh) with his first mixtape, "Prince of the City: Welcome to Pistolvania", in early 2006. (No, "Pistolvania" isn't a Khalifa invention. We can't trace its' orgin, but think it started out east, as in "Kiladephelia, Pistolvania.")
Khalifa has released an album, three mixtapes (EP's), and a half dozen singles for Rostrum so far. Following the release of his full-length debut, "Show and Prove," later in 2006, major music publications began to beat a path to his door.
Rolling Stone
called him a "New Artist To Watch" and his "Pittsburgh Sound" video was selected for the Editor's Hot List a few months later.
Mass Appeal
featured him as its' lead artist for 2007's "Next of Kin."
He was written up by
VIBE magazine
as "an East Coast star in the waiting," while also featured as a "Next" artist. Major Euro magazines also took notice of the 20-year old with features in UK's
Hip-Hop Connection
and France's
RAP US
.
In early 2007, Khalifa won "Best Male Artist" and "Lyrcist Of The Year" at the Pittsburgh Hip Hop awards. A couple of months later, he made hip hop history for his home town by signing a major record deal with Warner Brothers, the first 'Burgh-based rapper to ink a national contract. In summer 2007, Khalifa and Rostrum joined Warner and cut his first major label single, "Young'n on His Grind."
Besides heavy local and some national airplay, plus touring exposure, he has leaned mightily on the web to spread his sounds. Khalifa gets lots of love back from the online hip hop community.
AllHipHop.com
named him as one of the Best New Artists of 2006. His debut street album "Show and Prove" was labeled by
Okayplayer.com
as "arguably the best hip hop release of the year". The "Prince of the City" had nine songs featured on
XXLMag.com
's "Bangers" section and seven on
AllHipHop.com
's media zone.
Khalifa premiered his video "Pittsburgh Sound" on the Net and it took off. In the spring of 2007
FUSE TV
debuted it on cable, and it was chosen by the fans as an "Oven Fresh Keeper." In the summer of 2007, he put out a new mixtape, "Grow Season," with DJ Green Lantern, performed on the DUB tour, and released another Net video for "Youngin On His Grind."
He's also getting his music out by playing live with national acts such as Nas, T.I., Rich Boy, Lil Scrappy, Young Jeezy, Lil Wayne, T-Pain, The Clipse, Ghostface, Lupe Fiasco, Styles P, and Bone Thugs N Harmony.
In late 2009, he parted ways with Warner Brothers; it seems the original suits he dealt with are no longer with the label, and they never released a Khalifa CD.
So Wiz is back on his own, releasing some mix tapes and redoubling his web efforts (he did keep control of his Warner material). In fact, his Tweeter account alone has over 40,000 subscribers. He's recently released "Deal or No Deal," through Rostrum Records, Frank Radio and iHipHop Distribution.
"Deal or No Deal" hit the #1 spot on iTunes Top Hip Hop/Rap Albums in November. It was followed by "Kush & Orange Juice," a mixtape that became the rage of the Internet. An MTVnews.com readers poll voted him the Hottest Breakthrough MC of 2010; he outpolled 19 other artists, including Nicki Minaj.
He appeared at New York's annual Rock the Bells festival in June, and began his 70-city "Waken Baken" tour in Philly in September of 2010. Beside getting Khalifa busted for weed, which is about as hard as getting Santa arrested for reindeer abuse, it also left a series of packed houses in its wake.
Khalifa helped christen the Northshore AE Amphitheater in mid-December with a couple of sold-out shows, and released a new album, "Rolling Papers," on the Atlantic label in March, 2011.
The 'Burgh anthem "Black and Yellow," from his Atlantic/Rostrum debut, was top ten on the iTunes hip-hop chart, and it vaulted into the Top 15 on the Billboard Hot 100, making him the first Pittsburgh-based artist to crack the Top Forty since X-Tina,
Christina Aguilera
. After 18 weeks on the Hot 100, it finally hit the top spot, one week after the Super Bowl.
Recognition for the artist just kept pilin' up. The Pittsburgh rapper won the 2010 Woodie "Artist of the Year" honor, awarded by mtvU at the SXSW Music Conference in Austin, outpolling Arcade Fire, Black Keys, LCD Soundsystem and B.o.B.in a college fan vote.
Khalifa's sound has been compared to Bone Thugs N Harmony, but it's distinctly his own, rap with a sort of dance hall ambiance and some great wordplay in the lyrics. Wiz Khalifa has broken out of the local market and is a national phenomena now - all because of a home town rap.

Wiz Khalifa - "Black and Yellow"