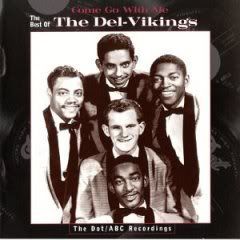 The Del Vikings from Amazon
The Del Vikings formed in 1955 at Pittsburgh's Air Force Base in Coraopolis when five airmen, Corinthian "Kripp" Johnson (first tenor), Clarence Quick, who had sung with his cousin William Blakely in Brooklyn with a group called the Mellowlarks, (bass), Don Jackson (second tenor), Bernard Robertson, and Samuel Paterson, began singing together at the camp hall.
Their name came from...well, who knows? Maybe it was from stories the guys had been reading about Vikings. It may also have come from the the publisher of some of the paperbacks that they liked to read, the
Viking Press
. The Vikings was also the name of a basketball playing social club in Brooklyn that Quick belonged to.
No matter where it came from, they threw in a "Del" for some alliteration, and a group was born.
They won a talent contest on the base in early 1956, and then competed nationally in New York and Bermuda, where they placed first and second out of 700 groups. By that time they were drawing local attention, and DJ Barry Kaye of WJAS wanted to record them and get their sound on the air.
In 1956, Robertson and Paterson left the group when they were transferred to Germany. They were replaced by Norman Wright (lead tenor) and David Lerchey (baritone). Wright grew up in Philly and was a product of Northeast High School. Upon graduating from high school in January 1956, he was sworn into the Air Force and stationed in Amarillo, Texas.
Wright transferred to Pittsburgh, where he hooked up with the other members of the Del Vikings. He auditioned and was picked to join the group because, as he recalled, he could "sing 'Hey Senorita' better than any of 'em." Quick liked what he heard and Wright became the group's new lead singer.
David Lerchey was white, and when he joined the Del Vikings, they became one of the earliest integrated doo-wop groups along with the Meadowlarks and the Mariners. They also were the first integrated group to ever score a Top 10 hit
Kaye recorded nine accapella songs, including a version of "Come Go With Me" written by Quick. All the tracks were taped in Kaye's cellar. It was so small that several members had to sing from a closet (it was cramped, but did provide a nice reverb.) It was probably a good thing for them that he didn't have a basement bathroom.
Major labels passed on the chance to sign the group. Band manager Kaye finally settled on Joe Averbach, the owner of a small Pittsburgh label called Fee Bee. He cut their tunes in a hotel room/studio he kept, backed by a pickup band of Air Force buddies.
The group recorded a fully scored version of "Come Go With Me." Wright sang the lead and it was released late in 1956. The song took off, and Fee Bee proved too small a label to handle the demand. Averbach passed it on to Dot.
The record exploded onto the national scene and remained on the charts for 31 weeks, reaching #4 on the pop chart and #2 on the R&B chart.
The group was booked on tours across the country and was featured in one of Alan Freed's Brooklyn Paramount shows. They would end up doing TV shows like "The Ed Sullivan Show", "The Tonight Show", and Dick Clark's "Bandstand."
Wright recalls that being in the service made it hard for the group to tour. "If everyone had enough days, we could get away for a weekend gig." But extended tours were hard to plan because if you weren't on base, you were AWOL. And that's not a good thing, show or not, for a military man.
The group tried to sing in uniform but this practice was stopped by the Air Force. It wanted to use the group as an official service act. Rather than be transferred to a special services outfit to recruit, the group's members stayed at their regular posts. They did do some unofficial recruitment tours around Pittsburgh to satisfy the brass.
The make-up of the group would once again change, with its second white member, Gus Backus, replacing Don Jackson as second tenor after he was transferred. With a hit record under their belt, the group was about to cause mass musical confusion.
The group's manager Alan Strauss was wheeling and dealing behind the scenes, and most of the Del Vikings went to Mercury Records. They had been underage when they signed up with Fee Bee, and Strauss used that loophole to lead them to greener pastures. Kripp Johnson, however, had been legal and had to stay at Fee Bee/Dot.
The resulting split resulted in one group calling itself the the Dell-Vikings (the spelling of the group that released "Whispering Bells") on Dot Records, with Johnson and the returning Don Jackson. The other rival Del-Vikings, as their name was spelled, recorded on Mercury, led by Quick and featuring Wright, Lerchey, Backus and new member William Blakely.
But Johnson's group had an advantage. He had been discharged and his group could tour freely, while the original group still needed leave time in order to tour.
The Mercury Del-Vikings released "Cool Shake" in 1957 with Backus on lead, but record stores were confused by the presence of two different groups. Court action ensued, with Mercury winning the rights to the group and the name the Del Vikings, starting in December.
Mercury didn't wait until December, judges order notwithstanding, before renaming the group the "Del Vikings." The result was that Mercury's Del Vikings and Dot's Dell-Vikings had singles released the same week in June. Mercury's "Cool Shake" sold moderately well. Fee-Bee recorded "I'm Spinning" in October on Dot with Johnson and the Dell-Vikings listed as the artist.
The Fee Bee/Dot Dell-Vikings released a single "Whispering Bells," written by Quick, in the late summer of 1957. It reached number nine on the pop charts.
Kaye also joined the action by taking the original Del Viking demo tape and dubbing a band over the vocals. He sold the album tape to Luniverse Records as well as a 45 with "Over the Rainbow" and "Hey Senorita."
"Over the Rainbow" is one of the great doo wop songs, but never hit it big, probably because of the plethora of Del Vikings floating around when it was released.
With records being issued on four labels by three groups of Del Vikings, they managed three charted singles in August of 1957. No singer before Elvis had charted three times in a month and no artist would do that again until the Beatles in 1964.
Yet another group lineup (with band guitarist Joe Lopes replacing Backus, who was transferred) played alongside Fats Domino and the Diamonds in the movie
The Big Beat
in 1957. These guys had more spin-offs than "Happy Days!"
The Dot version of the group with Kripp Johnson became known as the Versatiles (a judge's order banned them from using any Del Viking spinoff name), featuring Chuck Jackson,
Chuck Jackson
, Arthur Budd, and Ed Everette, and recorded without much success. The group broke up, with Jackson going on to a successful solo career as an R&B artist with Scepter/Wand and Motown.
Johnson's contract with Fee Bee terminated in 1958 and he rejoined his original Del Vikings buds at Mercury, effectively killing off the second group. But while the nucleus of the group was back, it never scored another big hit.
Quick restructured the group with new talent from the Pittsburgh area (Willie Green, Douglass White, Billy Woodruff, and Ritzy Lee), and inked a contract with ABC-Paramount, but still had little recording success. The group had a brief revival under Quick in 1972 when they recorded a new version of "Come Go With Me" for the New York-based Scepter label.
In 1980, Kripp Johnson formed his own Dell-Vikings with Wright, Lerchey, Ritzy Lee, and John Byas. Quick passed away in 1985 and Johnson in 1990.
However, Wright continues to keep the original Del Viking's name alive today, performing with his sons Norman Jr. and Anthony along with Mike Machado. And he makes a point of it, so audiences know that he is the only original Del Viking still standing. (EDIT - Norman Wright, Sr. passed away during April of 2010 at the age of 72, the last of the original Del Vikings. His sons are keeping the group going.)
Of course there's a competing Dell Vikings on the oldies circuit. It consists of Arthur "Kooky" Martinez, Les Levine, Ron Coleman, Reggie Walker and Louis Velez, the old Clarence Quick version of the DV's, and still maintains a racially mixed group.
Whether they were spelling their name Del-Vikings, Del Vikings, or Dell-Vikings, the group left behind a great body of R&B and doo wop work. The Del Vikings were inducted into the Vocal Group Hall of Fame in 2005 (although we have no idea what the lineup would be. Good luck on that.)
"Come Go with Me" and "Whispering Bells" are still popular movie fodder, included in the soundtracks
American Graffiti
,
American Hot Wax
,
The Hollywood Knights
,
Diner
,
Stand by Me
, and
Joe Versus the Volcano
.
If only they could have stuck together, the Del Vikings could have been one of the great R&B groups of the era, bridging the doo wop sound to Motown. And as is, they created enough music to almost justify them being four groups at once. It was worth the confusion.