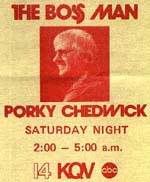 Porky Chedwick poster from South Pittsburgh On Line
Back in the late 1940s and early 1950s, a relatively unknown DJ named Porky Chedwick was making quite a splash here in Pittsburgh. He was a white man broadcasting "race" music; blues, R&B, doo-wop, gospel and jazz.
Some parents went as far as to call him a satanic influence on their children. In fact, the nuns that taught his future wife said he did "the devil's work."
The innuendoes were put to rest when he was commended by Senator Estes Kefauver for his work organizing youth baseball teams to combat juvenile delinquency. He even had a few kids remanded to his custody from juvenile court.
Actually, Chedwick was one of the first DJs to promote a Christian lifestyle, free of alcohol, drugs and tobacco (By his own admission, Porky's only vice was girls, although his friends say the only thing he really can't resist is coconut creme pie!)
His generosity is legendary. He's made millions, and given away whatever business leeches didn't swindle from him. One well known story tells of Chedwick giving a homeless man some change. The change was his bus fare, and he walked home so the more unfortunate guy could eat.
In a time when Frank Sinatra, crooners, and big bands reigned, Chedwick broke all the radio rules, and the kids flocked to him and his shows.
"Pork the Tork", the "Daddio of the Raddio," your "Platter Pushin' Papa," the "Boss Hoss with the Hot Sauce," the "Pied Piper of Platter," had rubbed the magic lamp, and the R&B genie would never get stuffed back into the bottle. "Porky's golden ear, breaking hits from year to year," was his credo.
He was born George Jacob Chedwick on February 4, 1918 in Homestead, one of ten children of a steelworking father. His mom passed away when he was still a child. He was raised in a close-knit, culturally and racially diverse neighborhood, which he often compared to "a secluded island," where skin color didn't matter.
As Chedwick told
Wikipedia
, "We all had one thing in common - poverty." The origin of the nickname, "Porky" remains up for debate, but he insists it was given to him by his mother because he was a stubby youngster.
His old Munhall high school classmates claim it was because...ah, we won't get into that, hehe.
He had changed his first name from George to the more flowing Craig Chedwick when he got his first job as a sports stringer for the
Daily Messenger
in Homestead and as a PA announcer at local sporting events. Then he heard about an opportunity to broadcast on the new Homestead radio station.
And so his career in radio began on August 1, 1948 with a stint on WHOD, a tiny station located behind a Homestead candy store known as "The Station of Nations," doing a 10 minute sports and music program. The station was the forerunner of WAMO.
Chedwick began playing blues and R&B records by musicians like Bo Diddley and Little Anthony and the Imperials. He introduced the new material as his "movers and groovers," and never pushed any vinyl because of payola. Chedwick spun his beloved oldies, too, his "dusty disks." He appreciated soul and put it on the air.
Most of his listeners, who tuned in for Chedwick's music and off-the-cuff rhymes and patter (he claimed "I had more lines than Bell Telephone. I was the original rapper," or "I'm going to shatter this platter and make your liver quiver"), had no idea that he was white.
A sizzling performance from a band would make him say, "This record is on fire. We're burning," (which once led to a listener calling the Homestead fire department!) or just alerting the audience that he had a "hot platter." He'd infuriate labels by turning a record over and featuring the B side if he thought it was a better song.
And Chedwick refused to play covers of those songs copied by white musicians on the big labels. As the told the
Tribune-Review
in 1998, "I wouldn't even play Elvis Presley's version of 'Hound Dog.' I played Big Mama Thornton's."
To this day, many of those black artists pay tribute to Chedwick for giving them their first air play and sticking with them. As Bo Diddley said "Any entertainer of my era who say they don't know who Porky Chedwick is ... they're damn lyin'! That's the cat that played the records. I know."
Besides Diddley, some of his R&B admirers are Smoky Robinson, Hank Ballard, and Little Anthony.
Chedwick essentially invented the concept of oldies 60 years ago with his "dusty disks." They were oldies even when Chedwick first played them. He bought or was given unwanted 78s, records by black acts, and dropped the needle on them.
"The falsettos, the bass, the togetherness. They wrote about poverty and handicaps I could understand. This was a message nobody was getting. I blew the dust off them. I was giving kids the music. One day they would know I was speaking the truth." He had invented his signature "Porky Sound."
Chedwick is responsible for making Pittsburgh "The Oldies Capitol of the World," a reputation it still carries today in the music industry.
Chedwick's career moved from WHOD and WAMO to KQV in 1972, and then to WNRZ from 1985 to 1986. After a 10 year hiatus, Pork returned to WAMO in 1996, then moved to WWSW in 1998 and to WLSW in 2000. Chedwick is currently spinning disks for WKHB.
Luigi Sacco, aka Lou Christie, said being cool when he grew up meant listening to Porky Chedwick. His hops and R&B revues were on the must-see list of every Pittsburgh teen. Chedwick still likes to say that he has seen "more hops than the Easter Bunny." He estimates he's done well over 7,000 of them.
It's reputed that his excellent physical condition (except for his eyesight and bad hearing - not bad for a 90-year old man) is partly due to the times he had to resort to taking the shoe leather express to his record hops. Many nights he'd walk for miles, lugging along his records, when he couldn't bum a ride.
He did have one health bump in 1991, when Porky had a benign brain tumor removed. The troops held a benefit for him at the Syria Mosque, and they couldn't keep away the acts: Wolfman Jack emceed the show, and Jim Quinn, Bob Livorio and Charlie Appel said a few words.
The performers were Hank Ballard and the Midnighters, the Moonglows, Lou Christie, Jimmy Beaumont and the Skyliners, the Vogues, the Marcels, the Cleftones, Johnnie and Joe, Bobby Comstock, the Contrails and the Elmonics. Others sent their wishes by tape and letter, including the Coasters, Bo Diddley, Dick Clark, the Chirelles, Bobby Vinton, the Penguins, Danny and the Juniors, the Cadillacs, the Chantels, Marv Johnson, Phil Phillips, the Tune Weavers, Lenny Welch, Jerry Blavat, Jay Michael and Barry Kaye.
His best known story is of the time when Chedwick did a live show at the Stanley Theater. An hour before he went on the air, 500 people crowded around the building. Before the show was over, 10,000 people surrounded the theater. Downtown Pittsburgh became a parking lot.
Kids were stuck on buses in the logjam created by Chedwick's appearance. They got off, crossed the bridges and walked to the Stanley Theater to see him. He told the teens pouring into town to stop their cars and listen to the music wherever they were at because there was no more room for the fans of Porkology in the Golden Triangle.
They did. Chedwick spun "Dancin' in the Streets," and they hopped out of their cars on streets all over the city and started dancing. Pittsburgh was tied up for hours. Porky-mania had taken control. It still rules.
Chedwick has been recognized on the floor of the United States Congress for his pioneering contributions to radio and rock and roll (and countless times around Pittsburgh, including a 50th anniversary oldies concert called "Porkstock," in 1998 at Three Rivers Stadium.)
A bronze plaque commemorating Chedwick and WAMO was placed on the building that housed WAMO on 107 E. Eighth St., near the Homestead Grays Bridge. The plaque is partially dedicated to "The Bossman." September 23, 2006 was declared "Porky Chedwick Day" in Allegheny County by the elected suits.
WQED-TV has featured Chedwick on their nationally broadcast PBS R&B/doo wop television specials, taped at The Benedum Center.
He's the only Pittsburgh DJ to be recognized in the Rock and Roll Hall of Fame. At age 88, Chedwick celebrated his 58th anniversary on the air at Hall of Fame's Alan Freed Radio Studio on August 12, 2006.
He'll be the subject of an upcoming documentary that was begun that day by Emmy Award winning producer Daniel Friedman, the son of one of the original owners of WAMO in Pittsburgh.
Pittsburghers can still find him packing local nightclubs with his sock hops, just as he has since the late 1940s. He lives in Brookline with his wife and business manager, Jeannie, and their two little dogs. (As of this writing, he's back in Florida.) The two met at a hop at the Linden Grove in 1990, and were married a few months later. His surviving sons are Paul of Mount Washington and Michael, who lives in Atlanta.
He decided to move in 2008 to Florida to soak up the sun in his twilight; Porky decided instead to come back home for good before the year ran out - there were too many old people in the Sunshine State to suit his taste. (He did move back, and is said to be looking to return to the Steel City. With our recent winters, we'd strongly suggest dual residency!)
Hey, Porky Chedwick did more to put Pittsburgh on the music map than any other performer in the City. R&B acts opened here because he made the 'Burgh the hottest soul market of his time. Oldies radio began because of his playlist. Everyone made money off of Chedwick - except Chedwick. He doesn't care.
He's what everyone in Pittsburgh aspires to be - a honest, hard working family man with a soul (and ear) of gold, talkin' trash and boppin' through life. Porky will always be the city's "Boss Hoss."
(A portion of this post and a very good bio of Porky is available South Pittsburgh on Line - "Daddio of the Raddio")

Dave Crawley KD Country report on Porky from 1989