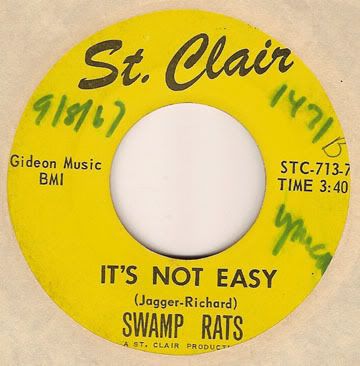 Office Naps
Formed in McKeesport, the Fantastic Dee-Jays started as Bob and the Highlanders, and then became the Larks, with Denny Nicholson on lead guitar, Dick Newton on rhythm (those two were the remnants of the Highlanders), and Tom Juneko on drums. They were 16 years old.
In early 1965, WMCK jock Terry Lee caught their act, and was impressed enough to become their manager. The band changed its' name to the Dee-Jays, maybe as a nod to TL. After school they practiced in the basement of Newton's family home.
TL would show up, working them hard. The Dee-Jays would gig on the weekend, and Lee was their Svengali. He made sure the sets were no longer than a half hour, because he wanted the audience to be left wanting more from the group.
They'd record in the WMCK studio (the old Elks's Temple Building in McKeesport) after midnight, when the hops were done, and were on the air all day. Their songs featured lots of reverb, one of Lee's favorite touches.
That's the nice thing about having a DJ run your act. The guys didn't have to worry about studio time or promoting their act. TL took care of the business end. Lee began his radio hype with an urgent "You've got to see the Dee-Jays. They are fantastic!" The name stuck, and they became known as the Fantastic Dee-Jays.
They were a big draw on the local circuit, and were regulars at Elizabeth's Night Train teen club, conveniently owned by TL. They were kinda a pop group, playing in a British Invasion style, although the WMCK recordings were crude enough to qualify as garage rock. Their label was Sherry, Lee's personal wax domain.
One of their first singles was 1965's cover of the Golliwogs's (later to be known as CCR) "Fight Fire" b/w "Get Away Girl", issued after they released a version of "Apache" b/w "This Love Of Ours" (#196).
They scored a local hit with
"Love Is Tuff"
(#200), and "Mr. Sad" got some Pittsburgh airtime, too, as did "Two Tymes Too" and "You're The One." The highlight of their career was opening at the Civic Arena in 1965 for the Rolling Stones.
After five singles and an album ("The Fantastic Dee-Jays," Stone #44, 1966, reissued on EVA #1202 in 1983 and Millenia in 1996), the group disbanded and morphed into the Swamp Rats when Junecko went to college and Nicholson was drafted.
The full line-up was now Dick Newton, Donny Shriner and Dave Gannon. Bob Hocko of McKeesport trio The Chains and Paul Shalako would later join the group as replacement players.
Newton left the Rats when he bumped heads with TL, who wanted the group to stick to tried and true covers while he wanted to write more original stuff. Newton also had a clash with Hocko, who was looking for a harder edge for the Rats.
Harder edge? They became the godfathers of punk in Pittsburgh. The Rats played twin fuzzed guitars, drums and no bass (the Dee-Jay's never used a bass, either.)
Their first record, "Louie Louie"/"Hey Joe," was grunge at its' best. They did a version of "Psycho" (St. Clair 2222) that made the Sonics sound like the Mormon Tabernacle Choir. Many compare their sound to the Stooges and the MC5.
Lee eventually dropped the rockers from his roster. Punk didn't fit in with the mainstream TL sound, and the Rats didn't move much wax, working for the tiny St. Clair label. According to local lore, Lee signed the band over to Nick Cenci for an audition spot for "Come Alive," a TV dance show Lee would host.
Cenci released "In The Midnight Hour" b/w "It's Not Easy" (Co and Ce 245) in 1967. But they would only last a few more months.
Although wildly popular in the region, Cenci couldn't get them on the national map. It may be their music was a decade ahead of acceptability, or maybe Newton was right.
The Swamp Rats did basically all covers ("Till The End Of The Day," "No Friend of Mine," "Here, There, and Everywhere," and "Tobacco Road" among others) and a lack of an original signature tune may have cut them out of consideration by major labels.
Whatever the reason, they disbanded shortly after Newton's replacement, Joey Guido, fled to Canada to avoid the draft, replaced by ex-Fantastic Dee-Jay Denny Nicholson for their two final gigs. The Swamp Rats had a shelf life of 18 months.
A couple of decades later, collectors began to sniff around the seminal punkers, and there was renewed interest in the Swamp Rat's stuff.
In 1980, Keystone released a bootleg album of old cuts, demos, Fantastic Dee-Jay songs, and a couple of Galactus tunes (Hocko's later band.) It was called "Disco Sucks" (Keystone 111541-39), but in truth, it was the album that sucked, though it did come on a nice red vinyl slab.
Far better was the 2003 compilation from Canonsburg's Get Hip label "Disco Still Sucks!" (GHAS 5067) issued under the name Bob Hocko & the Swamp Rats.
It had all their singles (except "Two Tymes Too" and "Mr. Sad," which had already been reissued under the Fantastic Dee-Jays name.) It also included lengthy liner notes and several outtakes. Richie Unterberger of the
All Music Guide
gives this CD a thumbs up.
That would be it for Bob Hocko, too. He passed away from lung cancer that same year, at the age of 54.
If you're into the roots of Pittsburgh rock, dig up a copy of "Disco Still Sucks!" and listen to the progression of a Brit-pop band gone punk. It's good head-banging stuff.

"Love Is So Tuff" by the Fantastic Dee-Jays, 1965