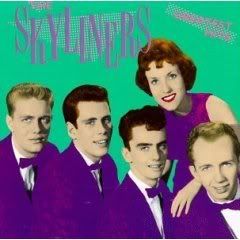 In 1958, Jimmy Beaumont (formerly of the Montereys), Wally Lester and Jack Taylor, who were singing with promoter Joe Rock's Allentown group, The Crescents, combined with Joe Versharen and Janet Vogel from South Hill's based El Rios. The resulting mash would become the Skyliners.
The way they got together was a little odd. Rock had talked a promotion man from Specialty Records into coming to Pittsburgh to hear the original Crescents, but half of them decided to go joy riding rather than sing for him. The three who kept the appointment were Beaumont, Lester, and Taylor.
Vogel and Versharen were recruited as replacements for the AWOL Crescent cruisers who were booted out of the band by Rock. The rest, as they say, is history.
The song that would lead to their success was inspired by a secretary that broke up with Rock. Driving away from the encounter, Rock's head filled with the lyrics for a jilted lover song. Beaumont provided the music the next night. (Which, btw, was a formula they stuck to - Rock doing the lyrics and Beaumont the scoring and arrangements.)
The song, of course, was "Since I Don't Have You," a timeless 1958 ballad of love gone astray. But not everyone saw its' potential.
Rock sent the demo tape to 13 big time labels, including Chess, ABC, Imperial, and RCA. All 13 rejected the song. One said it was too negative and should have been "Since I Have You." Another wrote, "A song with 13 'yous' at the end will never sell!" Not exactly Nostrademus, that guy.
Rock and the Crescents finally had it recorded by Pittsburgh's Calico label, which was owned by Lou Caposi and Bill Lawrence.
Legend has it that Vogel ad libbed the song's memorable ending in high C as a joke during rehearsals. The guys liked it so much they kept it as part of the song's studio arrangement.
Whether that's so or not, she added it after the third and final take during the NY taping, and the song wouldn't be the same without that last note. Vogel was ensured a spot in rock history with that one final, seemingly never ending "you."
"Since I Don't Have You" was recorded on December 3, 1958, at Capitol Studios in New York. 18 musicians were used, a huge number for a teen vocal group at the time and the first time a full orchestra had been used with a pop group.
Phil Spector was there with the Teddy Bears and he later cited "Since I Don't Have You" as an influence on his "wall of sound" style of the 1960s.
When the test pressing came back there was no group name on the label, which prompted Rock and the Crescents to think about a new nom d' plume. They came up with the title of an old 1945 Charlie Barnett hit, "Skyliner."
Vogel's wail, Beaumont's blue-eyed soul delivery, the Skyliner harmony and the string background combined to make "Since I Don't Have You" a runaway hit.
Credit for breaking "Since I Don't Have You" was given to Art Pallan of KDKA - Radio. Dick Clark was also an early fan of the group and featured them on American Bandstand on Friday, February 13, 1959, a lucky Friday the 13th for the Skyliners if ever there was one.
Within three days of the Dick Clark performance, "Since I Don't Have You" charted on Billboard's Top 100 and had sold 100,000 records. The Skyliner's debut single did better on the R&B (#3) than Pop (#12) charts, and the group began to perform on the chitlin' circuit.
In the early days stunned silence usually greeted them in the black halls until they began singing and gradually converted the audiences into Skyliner fans. They became the first white group ever to top the R&B charts of Cashbox.
"Since I Don't Have You" has since been covered by Chuck Jackson, Don McLean, Guns N' Roses, The Brian Setzer Orchestra, Ronnie Milsap, and Buckaroo Banzai.
Alan Freed invited the Skyliners to New York to appear on his 1959 Easter show with Jackie Wilson, Fats Domino, and Bobby Darin. They also made eight appearances at the Apollo Theatre in Harlem.
Dick Clark took them on his "Caravan of Stars" tour, which stopped at the Syria Mosque in the fall with the Drifters, Paul Anka, Lloyd Price and Duane Eddy, and featured them on Bandstand and his Saturday night television show numerous times.
In 1960, Calico released its first album, "The Skyliners", with twelve tracks, including both sides of the group's first two singles, "Since I Don't Have You", B/W "One Night, One Night", and "This I Swear," B/W "Tomorrow". What a pair of singles to start a career with!
"This I Swear" also did better on the black charts than pop (#20 R&B to #26 Pop.) The LP charted in the top fifty.
After the album, the singles "Lonely Way" B/W "It Happened Today" and "How Much" B/W "Lorraine From Spain" were released by Calico. Their sixth and final Calico single was "Believe Me" B/W "Happy Time".
In 1961, The Skyliners moved to the larger Colpix label. They did three records for them, most notably "The End Of A Story."
The Skyliners then recorded "Comes Love," written by Johnny Jack and released it on the local Viscount Label. It was backed by "Tell Me." Many consider "Comes Love" to be the equal of "Since I Don't Have You" and "This I Swear." Though it didn't do much on the charts, today it's still a hot 45.
By 1963 the group had signed with Atco Records, which released "Since I Fell For You." Lenny Welch had the national hit with his version that same year. It was a case of a good song with bad timing for the local band.
The B side, "I'd Die", was rediscovered in the mid-70's by 13-Q DJ Don Bombard and remains a popular request among oldie stations to this day.
But the fun was running out, and by the mid-1960s they had gone their separate ways. Touring and near miss songs were taking their toll on the group.
In 1965, Jack Taylor, with Rock's permission, fronted a faux Skyliner group which recorded "The Loser" on Jubilee Records. This ballad, written by Taylor and Rock, became a popular slow drag at area hops and charted Top 40 nationally, both on pop and R&B lists, and was covered by Sonny DiNunzio's
Racket Squad
.
But collectors beware - the Jubilee sessions are not Beaumont, Vogel, and the guys, but the Taylor group.
The original Skyliners finally got back together, but they didn't satisfy themselves by just riding along the oldies circuit. They added some new material, too. Their Capitol recording of "Where Have They Gone" became a Number 1 hit in the Pittsburgh market in 1974.
But the Skyliner era had run its' course. On New Years Day, 1976, Lester and Verscharen retired permanently from the group.
Taylor became an Army captain during Vietnam and then went into computers. Lester is a VP for the Clairol Corporation and Verscharen bought a motel in North Carolina and went to rock 'n' roll heaven last year.
Janet Vogel-Rapp, wife, mother, and soprano songbird, passed away on February 21, 1980, at the age of 37. She died of carbon monoxide poisoning in her car, a victim of suicide. Her boy, Gavin, graduated from Central Catholic HS and Pitt, and went from computer whiz to indy film maker.
Rock continues to manage the band with Beaumont's pipes still soundin' sweet at its' lead.
Beaumont, along with Nick Pociask, Dick Muse, Mark Groom, and Donna Groom carry the Skyliner banner. They tour pretty regularly, especially in the East and Midwest, hitting the odd cruise, and pop up on PBS with the other great acts of old.
The Skyliners were inducted into The Vocal Group Hall of Fame in 2002.

Skyliners - "Since I Don't Have You" (1959)