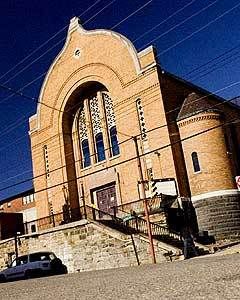 Mr. Smalls from Pop City Media
St. Anne's in Millvale used to be filled with the joyful sounds of a choir and pipe organ resounding through the building every Sunday. And though the church has gone the way of the steel mills, it's still shaking its' walls with music.
"When I saw the church, I said, 'My God, it's my dream come true,'" said Mike Speranzo to the
Pittsburgh Business Times
.
Speranzo and his wife, Liz Berlin of Rusted Root, along with partner Peter Beckerman, make up Together Holdings Inc., which operates Mr. Small's SkatePark and Funhouse, a collaboration of businesses in Millvale and North Side.
Mr. Small's features a skatepark, headboard shop, concert facility, recording studio, production offices, art gallery, and apartment complex.
It's a karmic combo of talents - Sperzano and Berlin had band and industry experience, while Beckerman was a New York sound engineer. They have extensive national music connections. All their talents came into play in forming the hodge-podge know as the Funhouse.
First, why Mr. Small's? It's the nickname Speranzo and Berlin came up with for their son, Jordan.
Together Holdings paid $85,000 for the church, and sank six figures worth of bucks into the Funhouse complex.
Mr. Small's Funhouse began as a single recording studio and has evolved into a vast network of businesses. The heart of Mr Small's Funhouse is its 650 seat theatre. It hosted Ryan Adams for a month of rehearsal before his tour with the Rolling Stones.
National artists such as Rusted Root, They Might Be Giants, Anti-Flag, the Donnas, Puddle of Mudd, Girl Talk, and Ziggy Marley have played there along with dozens of touring major label and indy acts.
MTV also stopped by to film an episode of
Advanced Warning
. Heck, Bill Clinton even made an appearance there to sing the praises of his wife last week during the presidential primary.
They also have a set-up where the performing bands can get a top flight live recording of their Mr. Small's gig on the cheap, no little thing for an aspiring act.
Expanding its' Millvale presence to the central North Side, Mr. Small's switched the sound back on at 922 West North Avenue, previously AAM (Audiomation) Studios, and new home to Mr. Smalls Funhouse Studios. Rapper 50 Cent and the Black Eyed Peas have recorded in its' Millvale studios.
Their Millvale facilities will re-open as the new Creative.Life.Support Center providing developmental and educational resources for new musicians. The renamed Real.Life.Recording Studio will occupy the Rectory House recording studio.
It will function primarily as a demo EP studio offering a studio rate of $25 per hour. Also, it will continue to offer the live-show recording packages, with a price of only $150. Basically, Mr. Small's is giving new bands a chance to record and forge a name for themselves without busting the bank.
The Rectory House is now Recording Studio B and the Rock Hostel for Artists. What once was the priests' living quarters now offers 6 bedrooms for musicians.
St. Anne's Schoolhouse, located beside the Theatre and Rectory House, was redesigned into Small's main offices, Recording Studio C, Opus One Productions, an art gallery, and a pair of two-bedroom, low-income apartments that are specifically geared towards artists high on talent but low on bread.
Mr. Small's SkatePark is located along the Allegheny River, three blocks from the Theatre. It offers an in-depth street course with a quadzillion skateboarding ramps, and in-line and freestyle biking, including a 40 foot wide vertical ramp, ala the X-Games. It also features a rock climbing wall.
How's this fit in with the music biz? Well, Speranzo spent nearly 10 years as the director of one of the largest summer skateboarding camps in the country. And hey, entertainment is entertainment, no?
The SkatePark is host to many summertime demos and workshops like the ZooYork Tour. It also has a cafe overlooking the Allegheny, a handy spot for locals and for parents to hang out while their kids are playing their gnarly games.
Segments from the monthly Sonic Funhouse series hosted by Mr. Smalls will be available on Comcast's "On Demand" service under the "Your Town/Local Music" categories. There are also plans afoot for a Mr. Small's folder that will include concert footage and band interviews for cable viewers.
Mr. Smalls employs 30 staffers, and every year it draws 80,000 folk to its music and skatepark venues. So next time you think of Mr. Small's Millvale stage as just a rock hall, think again. It offers it all, and may be the best thing to ever hit the 'Burgh as far as nurturing local bands hoping to make the scene.
Mr Small's helps its' fans keep up with all the action at
My Space Mr. Smalls