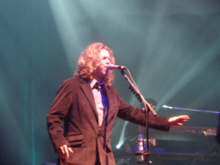 BE Taylor from Wikipedia
William Edward Taylor - B.E. to Pittsburgh music fans - was born and raised in Aliquippa.
He was struck with Bright's Disease at the age of 11. Taylor was shuttled between the hospital and home for a year, pretty much on his own because of the constant threat of infection. He passed the time by reading and listening to music.
His parents bought him a guitar, and that's where it all began to fall in place. By the time he recovered, Taylor was on the road to becoming Pittsburgh's pop master.
After high school, he formed the B.E. Taylor Group with the Crack The Sky trio of guitarist Rick Witkowski, bassist Joe Macre and drummer Joey D'Amico.
The band's debut album, Innermission, was produced by Mark Avsec and Donnie Iris, of Donnie Iris and the Cruisers renown. The pair also sang some background vocals.
The group was an AOR smash. They released three major label albums in six years, had several regional top ten hits and charted twice on Billboard with the singles "Karen" on Epic Records and "Vitamin L" on the MCA label.
1986's Our World album on Epic was the last gasp of the B.E. Taylor Group. Taylor left and launched himself as a Christian artist. During 1994-97, he was the music director of the cable show LightMusic, and toured with Kathy Troccoli. He and Troccoli performed in Central Park for Pope John Paul II's visit in 1994.
Taylor wrote, performed, and produced for LightMusic, which won the award for best Contemporary Christian/Mainstream Video Show in 1993, 1994, and 1995. LightMusic aired on over 1000 cable systems in America and nine foreign countries in its' heyday.
Taylor has kept busy doing spots for Nickelodeon, Nick at Nite, Old Navy, the Cleveland Indians, and others. He was part of the WWWS morning show and performed live from Disney World and on the Disney Cruise Ship.
He's also been featured on several rock compilation albums put out by WDVE. But now he's really known for his holiday albums. B.E. Taylor Christmas, on Chrishae Records, was released in 1994 and became a Tri-State Yuletide favorite. It's even gotten some national play, with "Silent Night" leading the request list.
Taylor makes the rounds every Christmas season, playing in regional venues large and small. He'll be at Heinz Hall this year in what's becoming a local Christmas tradition.
In 1996, Taylor reentered the studio with Rick Witkowski and released Try Love on Chrishae Records in 1997. Try Love featured "This Time," and "Love You All Over Again," a pair of big Adult Contemporary hits.
He followed that with another holiday special, B.E. Taylor Christmas 2. Then Taylor released a couple of more albums, One Nation Under God in 2004 and Love Never Fails in 2006 (the name is a reference from Corinthians in the Bible.)
Besides gigging with Witkowski (who reformed Crack The Sky), Taylor dedicates a lot of his time to charitable and educational functions around the area, and still cranks out his Christian rock.
So hey, if you're looking for some sounds to sooth the savage breast, run down to Heinz Hall. He'll be there December 1st & 2nd and is guaranteed to get your holiday off to a joyous start.
If you want to scope out Taylor's bio and upcoming gigs, stop by
B.E. Taylor.com
(
BTW, we took a couple of days off - the tax procrastinator in us couldn't put off pulling out the shoebox and filling out the ol' 1040 any longer.)

BE Taylor - "Karen"