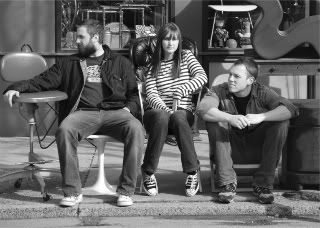 Donora from Donora Music
Hey, the indy trio Donora did it kinda backwards - first they cut their debut album, "Donora", then they went out and found a local label, Rostrum, to push it. They're the first pop band the label has signed; Rostrum is best known for breaking Wiz Khalifa.
It's working out OK, too - they released "Donora" last month at a coming-out party at the Rex in South Side, and the label has plans for full tilt distribution in the near future.
Don't accuse the group of not knowing the business. Jake and Casey Hanner, brother and sister, are the kids of country music man Dave Hanner, who wrote tunes for Mel Tillis, the Oak Ridge Boys and Lee Ann Womack, and showed his licks with the Corbin-Hanner band and Gravel.
They grew up with a recording studio in their Gibsonia basement, and put it to good use. In fact, they hooked up with their band mate, Jake Churton, while he was jamming in the cellar studio with another now-defunct act. Jake Hanner learned his electronic chops there, and co-produced "Donora" with his dad.
Casey, who started out as a solo acoustic act, does the lead vocals and guitar work, her brother Jake handles the skins and backup, and Churton adds the bass lines. But he's not just a background thumper. Churton plays the bass like it's a lead axe, adding to a full pop sound pumped up with Jake's mastery of sampling.
They came this close to naming themselves "Casey and the Two Jakes," proposed by Casey, of course, but ended up with "Donora" instead just because they liked it. While Donora was a tough steel town, this version is its bright, hook filled antithesis. And like the town, this Donora is a throwback to a different era.
They've been playing the local clubs for three years or so, and did some touring in places like New York, Indianapolis, Morgantown, and Dayton while releasing a couple of EPs and licensing some background music for films and vids, and a few of their songs have popped up on MTV and BBC shows.
Fans of Donora will recognize a lot of the stuff on their CD.
"Shh," "Weekend Tongue," "Shak'ida," and "The Chorus" are favs from their live sets. They added a couple of lesser known tracks, too. "I Think I Like You," was written for a film deal that fell through, and the ballad "London" goes back to Casey's solo days.
Scott Mervis of the
Pittsburgh Post Gazette
picked the track "Shh" as one of the top ten singles of 2008 and the album as one of the "Best of the 'Burgh." The CD is getting a lot of love from WYEP. Sweet debut, hey?
How would you pigeon hole their sound? They've been compared to Death Cab for Cutie, Radiohead, and the Throwing Muses, and they consider themselves a garage pop band.
The siblings told the
Pittsburgh Tribune Review
that "I would call us a pop band, but fun," Casey Hanner says. "We try to make music that's fun, but with the samples, there's a serious undertone. In general, it's about having a good time."
"And generating catchy melodies," Jake Hanner adds.
Mervis says it best: "The trio generates some of the poppiest songs this city has to offer, harking back to that golden era of New Wave/power pop when bands like the Go-Go's, Missing Persons and Blondie lit up the airwaves."

Donora - "Shh"