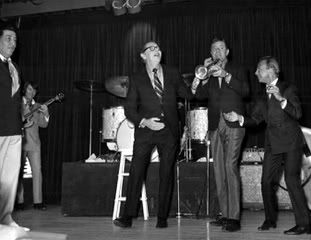 Louis Prima, Milton Berle, Jerry Lewis and Little Jackie Heller,
from the blog When Legends Gather by Tom Sutpen
Today's post is about a guy who helped keep the Pittsburgh brand alive on the big-time club circuit from the thirties into the eighties, a tiny bundle of entertainment energy known as Little Jackie Heller. The nickname was earned honestly; Heller was all of 5'1" and 105 pounds.
Little Jackie was born in the Lower Hill District, the son of the cantor for the nearby Beth Shalom Synagogue.
He was always a writer and singer. The first mention
Old Mon
found of him was as a ten year-old, when he made the rounds of the Uptown music shops, then an industry hub, peddling his songs and accompanying himself with his ukulele. Even his guitar was little!
A Fifth Avenue High drop-out (he went to work as a Frank and Seder stockboy to help support his family), Heller was athletic, excelling at track and swimming. He even tried his hand at prizefighting, but decided life was easier on a stage than it was in a ring.
He did have some talent as a writer and arranger, though he never had a big hit. During at least the Depression Years he was selling sheet music of his work, still a popular coin of the realm back before vinyl took off, via his Little Jack Little Sheet Music company.
Heller got his break in 1931, when Benny Davis selected him to join his "Stars of Tomorrow" tour after a plug from vaudevillian Eddie Cantor, who Heller had met and auditioned for a bit earlier. He took advantage of the opportunity, and formed a band.
The Little Jackie Heller Band found work as a barnstorming touring act during that lean decade, gigging throughout the Midwest at hotels, ballrooms, and theaters, often being broadcast live over the radio. It's said that one night in Philadelphia, Heller drew a mental blank, forgot the words to the song he was performing, dashed off stage, and that gaffe ended the band's career.
But Little Jackie turned that lemon into lemonade, and emerged as a popular lounge, radio, and film headliner.
He sang in a few movies during the '30s and '40s, was a popular ballad singer and club showman, and frequently performed on the radio. He was a regular guest on the long-running "Ben Bernie, The Old Maestro," musical radio show.
In 1942, Heller even got a credit playing in the flick "The Yanks Are Coming," a flag-waving musical comedy that featured him playing the role of Sammy Winkle, who seemed suspiciously to imitate, well, Little Jackie Heller.
(The film credit has "Jackie Heller playing Sam Winkle, playing Little Jackie Heller." We can only suppose the writers knew a good plot twist when they saw one.)
During the Second World War, he worked with the USO and entertained troops overseas. In 1943-44, Heller departed on a sixteen month tour of the Southern Pacific, including a month-long stop at Bougainville while the fighting was still hot.
He would later receive an Army commendation for performing while bombs were bursting and bullets flying, the first trouper of WW 2 to merit the military honor.
And in true Steel City style, when Heller returned to his old stomping grounds, he called all the families of the local soldiers he met while on tour. He earned the moniker "Pittsburgh's #1 Soldier in Greasepaint," along with the gratitude of GI wives, parents and girlfriends across the region.
Once settled in back home, he became a regular at the old Showboat and with sibs Bill and Sol, bought the Carousel Lounge on Liberty Avenue. The brothers ran it until 1954, eventually losing the battle against the newer and bigger suburban venues.
The 300 seat club was a showcase stage, featuring top shelf performers like (Dean) Martin & (Jerry) Lewis, Joe E. Brown, Sheckey Green, Jackie Gleason, Victor Borge, Joey Bishop, Don Rickles and Buddy Hackett, all heavy hitters of the golden era of lounge acts.
Between shows, he married model Phyllis Ruth Thalborne at B'nai Israel Temple on Negley Avenue in 1948.
Heller even became a piece of Pittsburgh TV history. On January 11 1949, live from the Syria Mosque in Oakland, he performed during the first-ever local program, a variety special aired by DuMont's WDTV, which later became KDKA-TV.
For you history buffs, he was part of a lineup that included
Slim Bryant and the Wildcats
, the Homestead Steel Choir, soprano Mary Martha Briney, the Polish Falcons, and the Pittsburgh Savoyards. And at the time it was Channel 3; it didn't move to 2 on your clicker until 1952.
Pittsburgh couldn't hold its native son, though. Heller spent the second half of his career, some thirty years, as an entertainer at the Vahalla for lounge performers, Las Vegas. He also scored gigs in New York City and the popular-even-then cruise ship circuit. It was said that it never took him longer than five minutes to own a room he played.
Heller passed away at the age of 82 in Vegas on July 15th, 1988, from heart problems. He died two days after his wife of 41 years, Phyllis, lost her fight with cancer. We imagine he's still playing that Big Room in the Sky, with his bride by his side.
Jackie Heller in his younger days. Thanks to Joyce for the photograph from her private collection. It was a keepsake from her aunt Betty who worked in Rochester's Loew Theater where Jackie appeared.