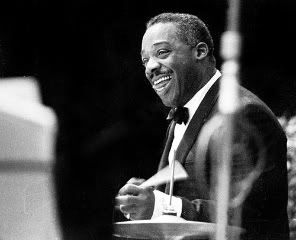 Kenny Clark picture by Karlheinz Klüter from Drummerworld
Kenneth Spearman Clarke was born on Wylie Avenue in Pittsburgh's Hill District on January 9, 1914, to Charles Spearman and Martha Grace Scott. Martha was a pianist, and taught her boy how to tickle the ivories.
But when Clarke was only six and a half years old, his mother died, and his father left the family. He and his older brother Chuck were sent to the Coleman Industrial Home for Abandoned Children to be raised.
At Coleman, Clarke's interest in music grew, and he learned to play the drum, trombone and vibraphone as well as music theory and composition. He first started playing snare drums with the school marching band at the age of twelve.
Around age seventeen, he began to work professionally in Pittsburgh with bands led by Leroy Bradley and George Hornsby. Hornsby's band was taken over by Pittsburgh natives Roy Eldridge and his brother Joe and became the Eldridge Brothers' Rhythm Team.
In 1934, while performing in Cincinnati, Clarke ran into members of Andy Kirk's band who were stranded when Kirk disbanded his group. One of the artists was East Liberty native
Mary Lou Williams
. Impressed by Clarke's play, Williams suggested that he audition for the Jeter-Pillars band in St Louis.
Williams even drove Clarke to St. Louis on her way back to Kansas City, and he got the job. He toured around the Midwest for several years with the band, which also featured bassist Jimmy Blanton and guitarist Charlie Christian. By 1935, Clarke was a frequent visitor to New York, where he eventually moved.
By this time, he got bored of playing like Buddy Rich and the other big band bangers, keeping time on the bass drum. He took the main beat away from the bass drum and put it up on the ride cymbal (the single cymbal generally on the drummer's right side). The bass drum was then used for providing accents instead of the beat, or "dropping bombs" as it was called by the players.
It basically took timekeeping away from the bass and allowed the drummer to interact with the rest of the band instead of just boom-boom-booming along. The drum became an instrument instead of a mere metronome. It may sound like a simple innovation, but it placed Clarke in the be-bop triumvirate of holies, along with Max Roach and Pittsburgh's
Art Blakey
.
In New York, he worked in groups led by Edgar Hayes and Lonnie Smith, and began honing his drumming concepts. Working a little later for big band leader Ted Hill, he was actually fired for "dropping bombs" during the set. He was obviously a man ahead of his time.
But Hill would soon give Clarke an opportunity to father be-bop. One year later he called Clarke and asked him to organize a band for Minton's, a club he was managing on 118th street in Harlem.
Clarke hired pianist Thelonious Monk along with Dizzy Gillespie, Charlie Christian, and Charlie Parker as regular players, and that was the birth of be-bop and later, modern jazz.
He still sat in with the traditional music-makers of the time, like Louis Armstrong, Ella Fitzgerald, and the combos of Benny Carter, Red Allen and Coleman Hawkins; he also recorded with Sidney Bechet.
Clarke was drafted into the Army in mid-1943. Like many musicians, Clarke didn't take to the structure of Army life (the only bombs he cared to drop were from behind his kit), and went AWOL for 107 days, during which time he managed to gig with Dinah Washington and Cootie Williams. Make music, not war.
He did eventually serve out his time and returned to New York in 1946. By this time, he had converted to Islam and taken the name Liaquat Ali Salaam. In 1944, Clarke married singer Carmen McRae when she visited him on an Army base in Alabama, and their marriage lasted until 1956.
Clarke worked with Dizzy Gillespie's big band and led his own sessions; he co-wrote "Epistrophy" with Monk and "Salt Peanuts" with Gillespie. Clarke spent the late '40s in Europe, and drummed for
Billy Eckstine
when he was in the U.S. And he picked up a nickname, too.
The combination of a rim shot on the snare followed by a bass drum accent was known by jazzmen as a "Klook-mop", an imitation of the sound it produced (otherwise known as onomatopoeia, to those who stayed awake during English class).
Clarke's nickname of Klook was immortalized by "Oop Bop Sh'Bam," a song recorded by Dizzy Gillespie in 1946 with Clarke on drums, where the scat lyric to the bebop tune goes "oop bop sh'bam a klook a mop." Guess who the klook doing the mopping was?
In 1951, Clarke was a member of the Milt Jackson Quartet, comprised of himself, Milt Jackson (vibes), John Lewis (piano), and
Ray Brown
(bass), all musicians he had met through Mintons.
After a gig, the guys were driving home together in Jackson's car, vaguely dissatisfied with the music they were playing. They put their heads together, and the Milt Jackson Quartet had become the Modern Jazz Quartet by the time Jackson parked his Caddy. And they didn't even have to change their MJQ monogram.
Lewis become the quartet's musical director, and the group pioneered what would later be called "third stream", an alternative to the hard-bop blues then in vogue.
Clarke stayed with the MJQ until 1955, when he felt somewhat trapped by the genre, and began contemplating a move to Paris, a place he fell in love with during his European tours of the 1940s. He filled the time with studio work during 1955-56, the results being preserved on a 4-disc retrospective titled "Kenny Clarke: Klook's The Man."
He made the move to Paree in 1956, at the urging of pianist and composer Michel Legrand. Clarke was drawn by the slower paced life style and better pay, and perhaps the more accepting attitude towards African-Americans in France than in his homeland, although he never made an issue of racism.
As soon as he moved to Paris, he regularly worked with other visiting and ex-pat American musicians, as well as forming a trio named "The Bosses" with Bud Powell and Pierre Michelot.
Later in 1961, with Belgian pianist Francy Boland, he formed a band, The Kenny Clarke-Francy Boland Big Band, featuring leading European and expatriate American musicians. The big band, which had been the idea of Italian producer Gigi Campi, lasted for eleven years.
He was involved a bit with French cinema, playing for the film "Ascenseur Pour L'Echafaud" (1957), appearing in "Les Liaisons Dangereuses 1960" (1959), and writing music for "On N'Enterre Pas Dimanche" (1959) and "La Riviere Du Hibou" (1961). Clarke also established a drumming school in 1967.
After 1968, Clarke played and recorded with the French composer and clarinetist Jean-Christian Michel for a decade. He continued recording and playing with both U.S. musicians and his regular French band mates until his death.
He had one oddity among the great jazz drummers. Clarke had a life long distaste for drum solos, seeing his role as supporting soloists rather than claiming the limelight for himself. Too bad Ginger Baker didn't have the same sensibility.
Klook had settled in the Parisian suburb of Montreuil-sous-Bois, and in 1962, he married a Dutch woman, Daisy Wallbach. The couple had a son, Laurent, in 1964. On January 26, 1985, Clarke died at home of a heart attack at the age of 71. He is survived by his first son, Kenny Clark Jr. (Liaquat Ali Salaam Jr.), born in 1950 to Clarke and singer Annie Ross.
He was buried at Paris' most celebrated resting place, the Père-LaChaise Cemetery (The "East" cemetery, established in 1804 by Napoleon), not far from his home. In 2005, the city of Montreuil-sous-Bois named a street after him, Rue Kenny Clarke.
In 1988, Clarke was inducted posthumously into the
Down Beat
Jazz Hall of Fame.

Kenny Clarke Septet with Cannonball Adderly - "Bohemia After Dark" 1955