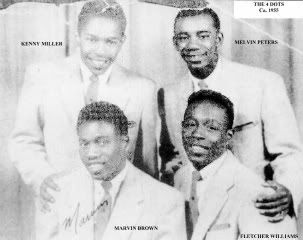 The Four Dots from Marv Goldberg's R&B Notebook
The 4 Dots can be traced back to the Hill and Homewood where the Mellows formed around 1950. The original group members, all of whom were 15 and 16, were Fletcher Williams (lead tenor), Edgar Lee (first tenor), Melvin Peters (second tenor), and Kenny Miller (baritone).
Later that year, they heard 13-year-old bass Marvin Brown singing at the Musicians' Club in East Liberty, and they enlisted him as the newest Mellow.
The group changed its name to the 5 Mellows, and started practicing at William's house. They sang both standards and the R&B/doo wop songs that were popular back in the day.
Soon they were performing at record hops, in clubs like McKeesport's White Elephant, the Diamond Skating Rink on Market Street, the Blue Ridge, the Cobe Hotel and at their manager Cutty Albert's place, the Bonange Club on Route 51.
You needed a scorecard to keep up with the personnel changes around then. Edgar Lee left and was replaced by Edward Johnson. Then Johnson went, and his place was taken by
Chuck Jackson
for about 6 months. (Jackson would go on to sing with the
Del Vikings
, and then have a sweet solo career.)
When Jackson's get up and go got up and left in 1955, they gave in to the inevitable and decided to just go with four singers. They changed the name back to the Mellows.
They found a booking agent named Don DeCarlo. He suggested that they change their name to the 4 Dots. His theory was that appearing at the hops didn't bring home the bacon. The real money was in playing supper clubs and night spots.
Their playlist was tilted towards standards, the staples of the club circuit, so he chose a name that sounded like the 800 pound gorilla of the day, the Ink Spots. That way, he could get them better bookings and a bigger payday. So the 4 Dots were born.
Porky Chedwick
, who helped many local careers along, called Woody Hinderling, who owned Bullseye Records in New York, and talked him into setting up a session with the 4 Dots in February, 1956. The guys drove from Pittsburgh to Manhattan for their demo taping. They found Manhattan, but not Hinderling. They spent their Saturday night sleeping in their car.
The next day, they located Hinderling, and he gave them four songs he wanted them to do. They spent the night practicing - in a hotel, not their jalopy - and then went off to the studio to sing. (They didn't bring any original material along to tape because all they did at the time were covers.)
The first record they cut was "Rita/He Man Looking For A She Girl," (#B-103) and it was released in March, 1956. Back in Pittsburgh, the platter aired on Homestead's WHOD, played by Porky and Bill Powell, and on Wilkinsburg's WCAE, where it was spun by Jay Michael. It was a local hit, but went nowhere nationally.
But life was good. They had a record and still played hops and clubs. They even did a brief southern tour with Stanley and Tommy Turentine.
Bullseye released the 4 Dots' second disk ("Peace Of Mind/Kiss Me Sugar Plum", #B-104) in June, 1956. Once again the record sold well locally, but had no love outside of the region. And that was the end of their association with Bullseye Records.
The group went through some changes in 1957. Miller left, replaced by Manning Rosemond. The newly married Williams also hit the road. He tried to start a solo career, releasing "Mary Lou/Stop, Look And Love Me" on Bullseye in September. It didn't chart, either. William's place was taken by Kenny Jackson. And then the 4 Dot story gets kinda weird.
In September, 1958, Liberty Records formed a subsidiary label, Freedom. One of the first performers that Freedom signed was the 4 Dots. However, it wasn't Pittsburgh's 4 Dots, but a California group led by Jewel Akens.
Here's where it gets weird. The Steel City's 4 Dots were also signed by Freedom. So the 4 Dots became the 4 Troys, as the label couldn't push two acts with the same name. They only released one 45 for Freedom, but it's enough to make for a quite confusing discography to the casual fan.
As the 4 Troys, they recorded at least three songs for Freedom. They were "In The Moonlight/Suddenly You Want To Dance," and "Weeping Willow," (which never got to see the light of day). "Moonlight" was released in April, 1959, and flopped. The group fell apart.
The 4 Dots eventually re-formed, with former members Williams and Brown, first tenor Aubry Kirkland and baritone Nate Benson.
A final bit of weirdness - they often sang "Pleading For Your Love," one of their more popular requests. Except the song was done by the Jewel Aken 4 Dots, not them. They've learned to roll with it. Hey, whatever brings 'em in.
(Fletcher Williams passed away in 2005, and we haven't found anything that makes us think the Four Dots are still performing. If you know, give us a yell. And thanks greatly to Marv Goldberg's R&B Notebook for keeping their tale alive.)

Four Dots - "Peace of Mind" (1956)