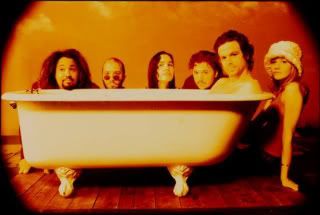 Rusted Root
Rusted Root is a Pittsburgh band known for their fusion of Grateful Dead-style bluegrass rock with a driving percussion section that features reggae, African, Latino, Native American, and Mid Eastern influences. They're often called a jam band, though they disagree with that label. Still, it's fair to say their sound is Woodstock mashing with world music.
Michael Glabicki founded Rusted Root in 1990. He called Liz Berlin, an old friend with whom he'd collaborated previously, and asked her to sing with him. Through her came drummer Jim Donovan, with whom she'd taken an African drumming class.
Donovan recruited Patrick Norman to play guitar (he'd later switch to bass, helping shape Rusted Root's rhythm-centric sound). A year later, multi-instrumentalist, visual artist, and bicycle messenger John Buynak and singer Jenn Wertz, originally hired to photograph the group, signed on. Buynak's distinctive artwork would give Rusted Root a strong visual image.
In 1990, they self-released a CD, "Cruel Sun." The disc attracted Mercury Records, which signed the band and released "When I Woke" in 1994. The album hit the top 40 in early 1995, peaking at #33. Sales were driven by the single "Send Me On My Way", which hit #72 on the Billboard Hot 100 in 1995.
Two more records ("Remember" in 1996 and "Rusted Root" in 1998), three EPs ("Evil Ways", "Live", and "Airplane"), and varied film and TV soundtrack credits (Twister, Mathilda, Home For the Holidays, Party of Five, Homicide, Pie In the Sky, Are We There Yet, World Adventure, and Ice Age), followed.
"Remember" reached the Top 40 in the US, its' sale pumped by the band's cover of The Rolling Stones' "You Can't Always Get What You Want" that played on an episode of Ally McBeal. "Welcome To My Party" was released in 2002, a "Live" double disk CD/DVD was pressed in 2004, and a "Greatest Hits" compilation was issued in 2005.
They hit a bump in the road when "Welcome to My Party" was rapped by some of their hard core fans, the Rootheads.
Many of them felt the band's departure from purely tribal grooves to a more mainstream sound was a sell out. Such is the conundrum facing all bands. The critics thought the CD was the lovechild of a hippie karma circle and the fan base thought it was pop music. Ya can't win.
They've earned a reputation as a hard-working live band, and they've toured with Santana, Joan Osbourne, Sting, Sheryl Crow, Toad the Wet Sprocket, Grateful Dead, Dave Matthews Band, Allman Brothers Band, and the Jimmy Page/Robert Plant reunion show. They also played as part of the HORDE Festival.
Although the group continues to tour, their hard-traveling days appear to be over (although the new band seems to be revving it up to support the upcoming CD) as they devoted more time to pursue individual projects.
Glabicki has released a CD, "Uprooted" as have Berlin with "AudioBioGraphical", Norman with "Digital World", and Wertz with her band Isabella's (she also plays with Lovechild) "Shotgun Sessions". Former percussionist Jim DiSpirito released "Big Silence" in 2003. Berlin also co-owns Mr. Small's Funhouse, so she's been occupied with the industry side of music, too.
Drummer Donovan has released 5 well received solo CDs as well as 4 instructional drumming CDs. His newest releases include "Drum the Ecstatic International", "The Yoga of Drum and Chant" and a hand drumming instructional series called "Rhythmic Foundation Volumes 1 and 2".
Donovan has recently became a full time instructor of music at Saint Francis University in Loretto and directs the school's World Drumming Ensemble. He's also a featured monthly columnist in Drum! Magazine. Donovan runs a series of drumming workshops that he teaches across the US and Europe.
The band is recording again, for the first time in five years, and is planning for a late spring release of a new CD. Berlin doesn't expect Rusted Root to sign a label deal for the new album.
"We don't feel a need or an intention to go shop this around," she told
Billboard
. "I think the industry has changed so much that it's not really a necessary thing. Now you can pretty much do everything yourself."
Of course, she's quick to add, if the right deal comes along...
Berlin says the gap since 2002's "Welcome to My Party" has been marked by a "kind of restructuring emotionally and personnel-wise" which has left only herself, Glabicki and Norman from Rusted Root's original lineup, although it's not unusual to see current and past members playing together in one configuration or another.
The new roster includes Jason Miller, who filled in during the group's 2006 tour for Donovan (drums, percussion), Colter Harper (guitar), Preach Freedom (percussion), and Dirk Miller (guitar). Anyway, we think this is it. We've seen the band listed with anywhere from 4-7 members, so...
Jason Miller is the percussion director for Upper St. Clair High and plays a standard drum kit. Harper received a bachelors in jazz performance from Duquesne and is completing a masters degree in ethnomusicology at Pitt. Freedom, originally Ron Williams, played for One World Tribe. Dirk Miller was a member of the fusion group Yves Jean Band.
"It's been pretty challenging," notes Berlin. "I think the creative energy's been a little stifled over the last few years, and we're just coming out of it right now."
Not that they've disappeared quietly into the solo project scene. Rusted Root went on national tour in 2010 and also played at the Benedum and Hartwood Acres.
On its' website, the band compares itself to a biological organism, morphing, splitting, and reinventing itself all the time. It's an apt description.
If you want to keep up on Rusted Root's many tendrils, just type a band member's name, past or present, into Google. The odds are he or she has a web or social site just waiting for you.

Rusted Root - "Send Me On My Way" (1995)