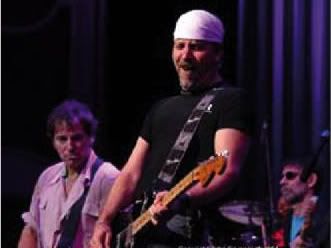 Bill Toms from Music Club
Bill Toms is a full fledged member of the Bruce Springsteen and
Joe Grushecky
singer/songwriter school of narrative Americana rock, and small wonder - his influences are Leadbelly, Tom Waits and Bob Dylan, and he was the lead guitarist for Grushecky's Houserockers for nineteen years, beginning in 1987.
While the band may not have rocked the national airwaves, it ruled in the Steel City. During his two decades of playing guitar and singing back-up harmonies, Toms recorded seven albums with Grushecky and the Houserockers.
They opened for groups like The Band, Bob Dylan, Bruce Springsteen, Little Feat and Stevie Ray Vaughn and toured the United States and Europe.
Toms eventually started up his own band, Hard Rain, named after the old Bob Dylan song, made up of Houserockers. And guess what - he's still a local phenomena with an international following, just like during the Houserocker days.
They've played local venues like Moondogs, the Altar Bar, Frankie & Georgie's, Cefalos, Club Cafe and festivals such as "Guitars Over Cancer," the Flood City Music Festival and the Carnegie Arts & Heritage Festival.
Toms and the band have performed in West Virginia, New Jersey, Michigan, New York and Virginia with a couple of road trips to Italy and Spain with Marc Reisman, his old Houserocker bud harp man, and sax blower Phil Brontz. His European exploits have made him a movie star of sorts.
Tomorrow night (Saturday December 11th), he's having a film release party at Frankie & Georgie's 4 Wood Grill (formerly PD's Pub) on Forward Avenue in Squirrel Hill, where he'll debut "A Troubadour's Journey."
The documentary film was shot during Toms' 2008 Italian tour, capturing band footage, the road diary, and a side bar story of how the band helped inspire a filmmaker. The party starts at 10 PM, with Toms and Hard Rain performing as the flick rolls, we assume.
Hard Rain is a pretty sweet collection of local players, all former members of the Houserockers. It consists of Toms (vocals, guitar), Tom Breiding (guitar, vocals), Phil Brontz (sax), Scott "Scooter" Tamulinas (bass), Bernie Herr (drums) and "Sudden" Steve Binsberger (keyboards).
Breiding, a Wheeling native who lives in McMurray, has several albums to his credit: Railroad Town (1992), The Next Heartache (1997), Guitar and Pen (1998), Happy Hour in the Round Hotel (2000), American Son (2001), Two Tone Chevrolet (2004), Guitar and Pen Volume II (2005), Time to Roll (2006), and The Unbroken Circle (2007).
His style has been compared to John Mellencamp's. He also operates the AmeriSon Studios and label that Toms uses to record.
Brontz has tooted on more than a dozen albums himself, playing since 1983 with artists like
Jill West
,
Norm Nardini
,
Glenn Pavone
, Erin Burkett and Gary Belloma beside Toms and Grushecky. He also performs with 8th Street Rox.
Scott "Scooter" Tamulinas has played with
Bill Deasy
and
Patti Spadaro
. Bernie Herr has spent most of his career as the Houserocker percussionist, and recorded eight albums with that band. Philly's Sudden Steve also plays with Jill West & the Blues Attack, and was a member of
Billy Price
's band and 8th Street Rox.
And then there's the 49 year old Bill Toms. Beside his band, he can be found on stage with "Friends" or sponsoring community events with his wife, Joyce. The Scott resident also teaches guitar as his day job, both to individuals and in workshops.
His discography is pretty lengthy, as this list will bear out:
With Joe Grushecky and the Houserockers:
"Rock and Real" - Rounder Records, 1989
"Swimming with the Sharks" - Rounder Records, 1991
"End of the Century" - Razor and Tie, 1992
"American Babylon"- Razor and Tie, 1995
"Coming Home" - Big Star, 1997
"Down the Road Apiece, Live" - Schoolhouse Records, 1999
"True Companion" – Schoolhouse Records, 2003
Bill Toms & Hard Rain:
"Paradise Avenue" - Schoolhouse Records, 1997
"My Own Eyes" - Moondog Records, 1999
"This Old World" - Moondog/Schoolhouse Records, 2001
"The West End Kid" – Moondog Records, 2005
"Spirits, Chaos, and a Troubadour Soul' – AmeriSon Records, 2008
"Live at Moondogs: Another Moonlight Mystery" – AmeriSon Records, 2010
Bill Toms Solo:
"One Lonesome Moment" - Out of the Rain Records, 2002
Bill Toms & Hard Rain Documentary:
"A Troubadour's Journey" - 2010
At the end of January, Bill Toms and Hard Rain will start recording their new and as of yet unnamed studio CD. They may not have the national rep of Springsteen or the local cachet of Grushecky, but Hard Rain is on the same short list.

Bill Toms & Hard Rain - "Move It On Down The Road"