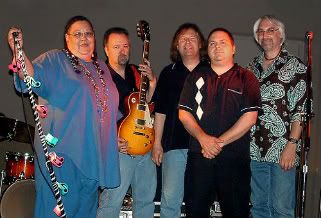 Jill West and the Blues Attack
Hey, the Pittsburgh blues genre has remained pretty strong, even as the local venues for it have dried up, making it hard for fans to follow the bands.
But one act that you'll have no trouble finding is Jill West and the Blues Attack. It's a safe bet that they'll be playing a gig at a club, festival, or jam somewhere near you soon.
Jill West, the Queen of the Pittsburgh Blues scene, was born in the City's West End neighborhood of Elliott. She was a little diva from the get-go, performing for her family and neighbors at the drop of a hat. But the blues didn't find the 55 year-old West until Bob Beach, a local bluesman, asked her to do gig with him in the mid-eighties.
She hadn't been exposed to the blues, musically or literally, while growing up, so she ran down to the local record store - remember them? - and snatched a copy of Koko Taylor's "Live From Chicago: An Audience With the Queen." She was wowed.
Why the late epiphany? As she told Rebecca Sodergren of the
Post Gazette
in 2001: "I am not a blues woman. I have been very comfortable my entire life. My man wasn't beating me and stealing my money. I didn't have any of those terrible things."
While she may not have had any personal demons to exorcise, she said her "...blues music has become more of a treatment for the blues" rather than a symptom. Doctor, doctor, find me a cure...
As Phil Harris once wrote in
Pittsburgh Magazine
: "You won't find her singing about throwing herself off a bridge because her man left her. She says I'm gonna sing 'My man left me and I'm gonna throw him off a bridge.'" She's sure tough enough to be a blueswoman.
In 1991, West joined a group called the Hell Hounds (West, Don Hollowood, Hank Raffetto, Bird Foster, Jack Sanso and George Kasalaswhich) that evolved into the Blues Attack, and they've been mainstays of the local blues circuit ever since. West is a big, brassy blues belter, and she's surrounded by some veteran players with enough confidence in their chops to take local up-and-comers under their wing, like
Jimmy Adler
and
Zach Wiesinger
, until they can fly on their own.
Mark Cholewski (rhythm guitar), Gregg Krupa (lead guitar), "Hammerin' Hank" Raffetto (bass guitar), " Sudden Steve" Binsberger (keyboards) and Nicky "No Shoes" Crano (drums) can lay down a slow blues ballad or pump up an ax-driven rocker. And West's pipes can handle any tempo they can deliver.
The Blues Attack plays all over the tri-state area as well as opening for national acts like Koko Taylor, Buddy Guy, Bo Diddley, and B. B. King when they're in town. In fact, they celebrated their tenth anniversary by opening for Taylor, West's first role model, at the 2001 Pittsburgh Blues Festival.
They've had their moment in the national sun, too. In 2006, they placed third out of one hundred and sixty two international bands in the International Blues Competiton held in Memphis. The Blues Attack has captured the Western Pennsylvania crown twice, and they're finalists for the 2009 title, too.
Besides laying down tracks for a few Pittsburgh compilation albums, they have a trio of pretty good CDs of their own out, too. In 1997, the band released "Code Blue," (no longer in print) featuring "He's No Good" and "The Mirror."
Their second album, 2002's "Faceful of Blues," was recorded at Mr. Small's and has four covers and ten original tunes on the playlist. "Four Letter Word," "The Other Woman," "Begging Song," Screamin' Jay Hawkin's "I Put A Spell On You," and Tyrone Davis' "Change My Mind," are all strong tracks.
Their latest is 2009's "Headline Blues." It features originals like "Don't Burn the Barbeque," "Needful Things" and "Love Song in C" plus covers of the Lazy Lester tune "Sugar Coated Love," "How You Carry On" by Dr. John, "Boomerang" by Roomful of Blues' Chris Vachon, and Ray Charles' "Unchain My Heart."
But for all that, Jill West knows enough about the blues to keep her day job. She's an operating room nurse at Children's Hospital, to go along with her almost full time gig as a singer. And hey, a schedule like that is plenty to give anyone the blues.

"He's The One" - Jill West & the Blues Attack Live at Kendrews in Aliquippa on April 5th, 2009