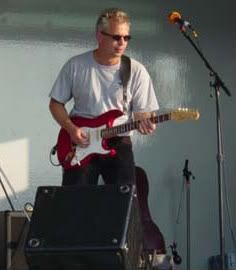 Glenn Pavone
Glenn Pavone, the long-time frontman for the Cyclones and the axeman of the
Billy Price Band
for nearly a decade, died last night after a three-year battle with cancer at the age of 52.
Visitation will be from 2 to 4 and 6 to 9 p.m. Thursday in the Burket-Truby Funeral Home, 421 Allegheny Avenue in Oakmont. The funeral will be held at 11:30 a.m. Friday in Riverside Community Church, 401 Allegheny Avenue, Oakmont.
Pavone was a native of Alexandria, Va., and started playing the guitar at seven, inspired by "Purple Haze." He started performing on stage when he was nine.
He first played with the Bill Blue Band. Their album "Sing Like Thunder," on Adelphi Records was a regional hit in the Washington D.C., Virginia, and North Carolina areas. Looking for a new guitarist, Billy Price had him sit in with his band, gigging at Desperado's in the Georgetown section of Washington, D.C., and he blew Price away.
Pavone came to Pittsburgh and spent nine years with Price's Keystone Rhythm Band during the '80s. While with the KRB, Pavone recorded the albums "Billy Price and the Keystone Rhythm Band Live" and "Free at Last" on Antenna Records. The latter featured "I'm Gonna Win The War," where his writing was nominated for a W. C. Handy Award.
He went on his own to record and perform with The Cyclones afterward for the next two decades. Their debut CD "Twist This" had a hit track "Oh Babe" that was a local big seller, and was aired heavily on WDVE in 1994. They recorded two more CDs, "Twist That" and "Cyclones R.U.L.E."
Pavone was noted for two things. First was the way he could make a guitar wail. He played bluesy rock from the Jimi/Stevie Ray school, and was equally adept at lead or rhythm guitar. And he could finger the strings on his Strat like an old timey picker. He knew his tool; Pavone built his own axes, even the necks; nothing off the shelf for him.
He was voted Pittsburgh's best guitarist several times, and even received national recognition for his work. He turned down an opportunity to go national and join the Nighthawks, who knew well of his work (Jimmy Thackery was the one who set up his audition with Billy Price), because he didn't want to leave Pittsburgh.
Pavone was also known as one of the friendliest, funniest, and most humble guys in the local music world, always dressed in shades, a polo or tee shirt and slacks. In a City whose musicians sit in with one another and run in the same circles as a rule, Glenn Pavone was everyone's BFF.
Heck,
Norm Nardini
called Pavone "the Big Cheese, Glenn Provolone." And Pavone himself, as related by Rege Behe in the
Tribune Review
, when told he had won the Pittsburgh's best guitarist award, asked if the voters didn't mean the best golfer.
The Cyclones played everywhere. Not only did they hit the clubs and festivals, but they'd perform for the low-pay music series sponsored by municipal rec departments from Allegheny County, Pittsburgh and Monroeville so everyone could get a taste of the blues.
He got to be part of the documentary "Pittsburgh: Getting to the Bottom of our Blues (2009)" by Rodney Underwood, sharing the spotlight with the region's other talented but often overlooked blues players.
Like a lot of Pittsburgh music men, Pavone had a day job. His was with Field Environmental Instruments in Point Breeze, and he'd bike to work from his Edgewood home. He had two passions in his life besides music: his wife Nancy, who he met while with the KRB, and golf.
Now Pittsburgh's finest guitarist is gone, and way too soon. Charon is the only one that could take the title from him.

Glenn Pavone - "Voodoo Child" jam at Rosebud