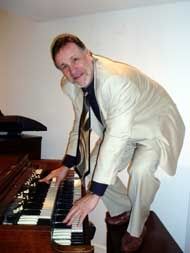 John Papi from International Archives for the Jazz Organ
Hey, if you were a South Hills brat like
Old Mon
and his buds and boogied at the clubs on 51 in the late sixties to mid-seventies, the Panther Room, Garage, and Haunted House were the places to be. And they all had one thing in common; they were run by organ meister John Papi.
Papi, now 70, wasn't originally from the far side of the Tubes; he was raised in Uptown. When he was a boy, the hot sounds of jazz regularly pulsed through the lower Hill District streets of his youth.
He was particularly entranced by
Birdie Dunlop's Hurricane Bar
and Hammond killers Jimmy McGriff and Wendel Byrd, and he'd sneak in to catch their act. Papi dreamed of becoming a jazz organ maestro, falling hard for the sounds coming from the keyboard of choice in that era, the Hammond B-3.
While the rich and famous might drop a few shekels in the Hill clubs, the locals weren't exactly rolling in green. His family couldn't afford to buy him an organ, so in grand Pittsburgh tradition, he started saving his money from his paper route and put it aside for his own B-3. But it takes a lot of extra editions to raise that kind of cash.
When Papi was 17, he joined the Navy and saw the world during his four year tour. Home at 21, he became a welder at John Harrison Sheet Metal in Glenshaw and started gigging on weekends.
He bought an accordion, taught himself how to play, and put together a wedding band, The Montclairs. But his dreams soared beyond polkas; he still wanted to become the jazz organist that he envisioned himself being as a kid.
So Papi bought a second-hand cordovox (an organ inside of an accordion), took it apart, and packed the pipes into a console. Looked like an organ, sounded like an organ...hey, it was an organ! Gigs and a day job pay a little better than bouncing papers off of people's stoops, and he soon had enough to buy his first Hammond B-3.
He formed his own band, the John Papi Organ Trio, with guitarist Jack Petit, and got to play on his dream stage, The Hurricane. Papi hooked up with an agent, Johnny Adams, who booked the act at The Golden Nugget by the Liberty Tubes and other local night spots. They even recorded a Petit tune "Tribute to Wes Montgomery," that got a bit of radio love from Porky, charting at #38 on WAMO in 1968.
After tinkering some with the band personnel, Papi's group morphed into Fairchange, featuring soul frontman Chuck Corby and saxman Johnnie Vann, and took off (Papi and Corby were both managed by Johnny Adams, local rep, promoter, producer and club owner.)
Fairchange played across the states on the Holiday Inn circuit. Papi returned home in 1968, and put down some roots when he bought the Panther Room club on Route 51, where his band had a home to rock.
The nightclub was intimate (or small; use your own adjective), and he needed more space to pack in his fans. Papi moved down the road two years later, to Overbrook, and opened the Cocktail Garage.
In its former life, the Garage was a used car lot. Going with the old vibes, Papi hoisted a car body on the building's roof. The city was not amused, and made him take it down. But a VW Beetle hanging off the inside wall was cool by the City Code, and it made for a pretty remarkable - and memorable - motif.
When the car schmooze got stale, Papi remodeled the building into a horror themed spot he called the Haunted House. He sold the venue in 1973, and went back to club gigs and the hotel circuit.
Papi's Haunted House band also opened shows at the Stanley Theatre, prepping the audience for acts like Chubby Checker, Joey Dee & the Starlighters, and Gary "U.S." Bonds. The emcee was often Jeff Christie, who you may know better today as Rush Limbaugh.
In fact, the Stanley is where Papi put on one of his most dramatic acts. Called to the front of the stage during his intro, he was blinded by a spotlight and stepped straight down into the band pit. It was a pretty nasty nosh dive, but he just got up, dusted himself off, and the show went on without skipping a beat.
In 1975, he opened Papi's Deli and Restaurant at Pennsbury Village, and led the day job life for four years. He sold the shop in 1979, and went back out on the road with Fairchange. Papi's group became the house band at Joeys Restaurant in McKeesport and Johnny Monzo's in Monroeville. He also tossed in with Corby as part-owner of the Vegas Show Bar in Carrick for a spell.
He married and re-opened the Panther Room in 1981. Papi unloaded it again in 1984, and went back to the club circuit.
1990 is the year when he dropped out of the City's jazz scene. Papi was involved in a serious car crash, and his arm and hand lost feeling. His days as a musician appeared over.
Papi, a fundamentalist Christian, rolled with the punches. In fact, he's part of the musical ministry at South Park Baptist Church in Bethel Park. He took to the sunny side of the street. "It was hard to survive" just doing music, Papi said, "not to mention carrying a 500 pound organ up and down steps six nights a week."
He went to work for a contracting company that taught him plan drawing and design. Papi eventually formed his own construction firm in 1993, Pap-Pone Builders. And it's been every bit as successful as his musical career.
Pap-Pone Builders designed and built over 150 homes in the region's exburbs. His house in Peters Township, which he designed and shares with his wife of 28 years, Charm, served as a model home. Papi did well enough with his home-building career that he's finally retired from the bricks and mortar business.
He still has his first Hammond B-3 front and center in his music room. And Papi can play again; his bum wing has recovered 100%.
John Papi is the guy that Porky Chedwick called "the man with the thousand fingers" for his playing style (he would hang a mirror above the organ, just so the fans could see his hands fly over the keyboard.) He played with Joe Negri on AM Pittsburgh. Papi's stage act and comic patter were crowd-pleasers; Holiday Inn even put him on the cover of one of its national promotional brochures.
His band's recordings include "For Once in My Life", "JP's Blues", "Dude", "Let Me Be Good To You", "One More Time", "Love Is A Hurting Thing," "Boogie Woogie Big Daddy," "Your Mine and Pledging of Love," and "Ebb Tide." "One More Time" and "Dude" are still selling like hotcakes in England, where they're considered classic "head banging music."
And guess what? He's not quite done yet.
One of the hotels in Las Vegas called, and they want him to gig. John Papi accepted; he'll be movin' on as soon as he sells his crib. Papi's going to spend his golden years coaxing some blasts from the B-3 and living with Charm in the City of Lights.
Sounds like a sweet start to Part II of a career, swapping Pittsburgh's Route 51 for the Las Vegas Strip. And we'll bet their code allows for roof ornaments, just in case he finds a little club...

You're Mine & Pledge Of Love: John Papi, Chuck Corby & Duke LaManna.