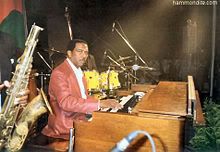 Jimmy Smith at his Hammond from Wikipedia
The Hurricane Lounge opened for business in 1954 on Centre Avenue, between Roberts and Miller Streets, after spending its first 15 years of life as a Hill District after-hours club.
Anna Simmons "Birdie" Dunlap, a striking woman who according to local lore was a descendant of Thomas Jefferson's mistress, Sally Hemings, and her husband Shine owned the Lounge.
She was a hard-nosed business woman, and ran a tight ship with an iron fist. No credit, no idlers, and no fooling around in her place. Frank Bolden, the late
Pittsburgh Courier
editor, remembered in a
Pittsburgh Post Gazette
interview that the "Girls were safer at the Hurricane than at the YMCA."
Small and cozy - it sat 120 people, max - the Hurricane was often packed. It drew an upscale crowd, unlike Gus Greenlee's more diverse
Crawford Grill
up the street. The patrons were surrounded by a faux tropical setting, enjoying dinner and drinks while they grooved to the latest acts jamming away on its raised stage tucked against the back wall.
Bobby Layne, the old Steeler quarterback and well-known nightcrawler (he also frequented Dantes in Brentwood), was a regular. The clubs and the bands loved seeing him stroll through the door, because he was a big spender and tipper. It's said that the Texan once stuffed two C-Notes in the bell of Big Jay McNeely's sax for a Lounge gig well done. And that was in 1960 money.
The Hurricane was renowned for its food, too, with its Brazilian shrimp and fried chicken topping the menu, but it was better known for its sizzling music.
The club featured performers such as
Stanley Turrentine
, Roy Eldridge, Sonny Stitt, Kenny Burrell, Bill Doggett, Jack McDuff, Ramsey Lewis, Nancy Wilson and Sarah Vaughan. It was an established stop on the "Chitlin' Circuit" of black entertainers, and was especially noted for bringing in hot organists.
"All the organ players at the time came through there - Jimmy Smith, Johnny Hammond Smith, Wild Bill Davis, Timmy McGriff. People would be crowded in this little club and it was a swinging little club. And everybody just had a ball there," recalled Pittsburgh jazz musician
Kenny Fisher
for
WYEP
.
In fact, it was at the Hurricane that
Gene Ludwig
heard Jimmy Smith making some magical sounds that turned him on to the Hammond B3 organ. Ludwig told
All About Jazz
that "I met Jimmy Smith (at the Hurricane) and heard the Hammond...and I knew that's what I wanted to be: a Hammond organ player". That's one wish that came true.
But like the other clubs born in the Hill's glory years as Little Harlem, it met the same inescapable fate. First, it had to deal with the massive upheaval brought about by the Civic Arena construction in the fifties. Then, a decade later, the Martin Luther King Jr. riots in 1968 drove the last nail home in the shuttering of the Hill.
Over 8,000 residents were gone, whites were leery to roam Centre Avenue, and the Hill businesses that weren't barred and gated were boarded up. The Hurricane joined the list of victims, closing down in 1970 and ending another chapter of Pittsburgh's jazz legacy.
But it's not entirely forgotten. The Hill House runs an annual "Jazz Live at the Hurricane" series, begun in 2007. They trick out the Blakey Program Center, the multi-purpose room of House, and transform it into jazz club setting inspired by The Hurricane Lounge with a little help from some CMU architectural dudes. A five-piece band of Pittsburgh all-stars, led by Kenny Blakey and
Roger Humphries
, performed the concerts last year.
So the Hurricane still lives on, even if in spirit only. And a thing remembered is never gone.