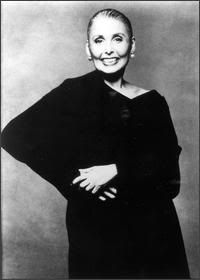 Lena Horne image from Star Pulse
The Lena Horne story starts in Brooklyn, where she was born in 1917 to Edwin "Teddy" Fletcher Horne, Jr., who worked for the New York State Department of Labor, but better known as a numbers writer and gambler, and Edna Louise (Scottron) Horne, an aspiring actress.
Horne's father and mother separated in August 1920 when she was three, and later divorced. Her father moved to Seattle before settling in Pittsburgh.
He ran the Belmont Hotel on Wylie Avenue in the Hill, home to the black entertainers who passed through the City (they weren't welcome at the Downtown hotels during the Jim Crow era), when he wasn't traveling to gamble on sporting events, his true love. His chief running mate was bookie and sportsman Gus Greenlee, owner of the legendary Pittsburgh Crawfords baseball team.
Horne lived from a suitcase with her mom, first with her grandparents and later with a variety of relatives and nannies when not on the road with her mother. Edna remarried and moved to Harlem, where Lena eventually joined her. When she was 16, she got a steady gig as a chorus girl at the famed Cotton Club for $25 per week.
She got a bit part in a Broadway play, and then left the CC to sing with Noble Sissle & His Orchestra. It was a decidedly inauspicious start to a fabulous career.
Around that time, Horne was introduced by her father to Louis Jordan Jones, a small-time Pittsburgh politico 28 years her senior. In January 1937, at the age of 19, she retired from show business to marry him (though some suspect it was just a bid to escape her home life and spread her own wings). Their daughter, Gail, was born December 21, 1937, in Herron Hill.
Jones, even though a college graduate, was a clerk in the Allegheny County coroner's office, a steady but low-paying patronage position. So in 1938, when Horne was approached by an agent with an offer to co-star in a low-budget black movie musical with a quickie ten-day shooting schedule in Hollywood, she had little choice but to accept the opportunity.
She just had her first child and wasn't looking forward to leaving her to go to California. But her husband and friends encouraged her to do the film. The movie was "The Duke Is Tops," released in July 1938, and later retitled and released as "The Bronze Venus," with Horne's name prominently displayed on the top of the credits.
Horne was never fully paid for her role in this film and when the movie opened in Pittsburgh, her husband refused to take her to the premier because of the snub, despite being sponsored by the NAACP.
Later in the year, Horne was asked to take on a more time-consuming project in a black musical revue. Again, she accepted to boost the family income, spending months in rehearsals and out-of-town tryouts before "Lew Leslie's Blackbirds of 1939" opened on Broadway on February 11, 1939.
One of Horne's numbers was "You're So Indifferent," written by Sammy Fain and Mitchell Parish, a song she would keep in her club repertoire. The show ran only nine performances, calling it a wrap on February 18.
Horne returned to Pittsburgh, where she briefly separated from her husband. They made up pretty quickly. Lena became pregnant again, and her son, Edwin Fletcher "Teddy" Jones, Jr., was born in February 1940.
She took private house-party engagements (a common practice back in her day among both black and white artists; the soirees were hosted by families like the Mellons) to fatten the family take-home.
She also performed on the soul circuit of Hill District hot spots like the Leoni Club, the Bamboola Club, the Savoy Ballroom and the
Crawford Grill
, where she met locals
Billy Eckstine
and
Billy Strayhorn
, who would become a life-long friend.
That fall, she split from Jones, this time for keeps - they were formally divorced in June 1944 - and moved to New York to rekindle her career. Teddy stayed with his father, and Horne took Gail with her.
The rest, as they say, is history. She became a world-trotting nightclub performer. Horne's recording career, spanning 1936 to 2000, earned her three Grammys and a Lifetime Achievement Award in 1989. She sang with Artie Shaw, Teddy Wilson, Billy Strayhorn, Duke Ellington, Charlie Barnet, Benny Carter, and Billy Eckstine.
Lena appeared in 16 feature films and several shorts between 1938 and 1978. But her film career was hindered by a clause her dad had put into her MGM contract that she would never play a stereotyped servant role in a movie.
Her "no maid or mammy" rider was controversial, even among black performers, and the industry had trouble casting her in a highly segregated business. Hey, Hollywood's loss.
She performed occasionally on Broadway, including in her own Tony-winning one-woman show, "Lena Horne: The Lady and Her Music," in 1981-1982. She often sang and acted on radio and television, and visited the occasional talk show.
In 2007, Horne's life story was told on stage via the musical "Stormy Weather."
Lena Horne was also a vocal Civil Rights supporter, having come up during America's unofficial apartheid era. She died at the age of 92 in her hometown of New York.
But for a brief period, Pittsburgh could call her its own, and her children are forever Steel City natives. For once, the Three Rivers took someone from the bosom of the Big Apple and launched her, even if in a small way, on her road to stardom.

Lena Horne singing "Stormy Weather" from the 1943 movie