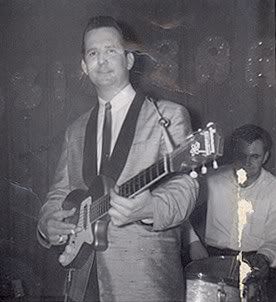 Buddy Sharpe from the Rockabilly Hall of Fame collection.
Hey, everyone remembers Pittsburgh for its jazz, evolving eventually into a huge doo-wop and soul scene. But the roots of rock 'n' roll go back to the south, when the white guys started putting their spin on the blues.
And the Steel City, while never really embracing rockabilly, still had its' champions. Joe Averbach, promoter extraordinaire and the man behind Fee Bee records, might have been best known for managing groups like the
Del Vikings
and
El Capris
, but he hedged his bets, too.
His label had a good mix of early rockabilly acts like Davey "Diddle" Day of "Motorcycle Mike" and "Blue Moon Baby" fame and Willie Ward, who cut "Ooo Wee Baby" and "I'm A Madman". The biggest roots rock group, though, was Buddy Sharpe and the Shakers.
Born Bernard E. Gareis in Atlasburg PA in 1937 (thanks to reader Ray for the bio info), Buddy Sharpe began playing in Washington County's Burgettstown in 1957, starting off with outdoor shows at the Slovin Drive-In, and made a name for himself within a matter of months. As Sharpe recalls "A man from Youngstown heard us and took us to New York's Bell Studios. We recorded 'Linda Lee,' which I wrote."
Averbach listened to the rocker's demo, and pressed it for his Pittsburgh-based Fee Bee label. "Linda Lee" b/w novelty song "Bald Headed Baby" (Fee Bee 230) was released in late 1958, and became a doubled-sided regional smash that got some national airplay.
They appeared at local sock hops with Porky Chedwick, and performed on Clark Race's "Dance Party". The Shakers shared the stage with Jimmy Beaumont and The Skyliners, The Del-Vikings, The Platters, The Stereos, and The El Capris, back in the day before groups were pigeon-holed by their musical style. They were either good or not.
In fact, Sharpe and the Shakers backed Butch Martin's soul group
the Diadems
, another Averbach act, during a recording session in 1963. As we said, you could play or you couldn't; there were no stylistic walls back in the day.
Reader T. Rebentine of the blog
Thats All Rite Mama
noted that Buddy Sharpe recorded "Please Please Please Please" b/w "(You Got Me) Movin' & Groovin'" (Spear 2) in 1961 and "I'm Lonely" b/w "The Shake" (Ramble 13132) in 1964.
They also recorded "Fat Mama' b/w "White House Twist" (FeeBee 901) and a reissue of "Linda Lee" b/w "Git It, Git It" (FeeBee 907) for Averbach in 1964.
Nick wrote in to
Old Mon
, and added these tunes to Sharpe's discography; "Toothache" b/w "Good Luck To You" (Star 312) and another version of Fee Bee 907, "Git It, Git It" b/w "One More Chance." It wasn't unknown for labels to reissue wax with different sides, and that seems to be the case here.
But that was a watershed year for American bands. Sharpe remembers the day the music died: "I stopped performing after The Beatles came to America with their new music because there was no place left that wanted to hear the original rock and roll."
Besides that, he adds that "Buddy Sharpe didn't make a penny ... everybody made money but me," a common lament of local bands.
Sharpe tried to make a comeback in 1979, when he recorded "Jump Into The River" b/w "Dry Your Eyes" (Bishop 1000) for the Carnegie-based label Bishop ("Dry Your Eyes" is a ballad, but not the Brenda and Tabs tune.)
Nick owns another bit of vinyl Sharpe did for Ray Bishop: a demo "Sleep All Day, Shake All Night" b/w "The Shakers Rockin' At 47." In 1981 he cut "Midnight Love" b/w "Who Likes To Work" (KIP 500) for KIP of Burgettstown, a Bishop subsidiary, the last record of his that we could find.
While those songs didn't exactly make him a household name, it did ignite his desire to make music again. Eventually, he put together a band, and as Sharpe said to the end "I am still playing and singing - mostly outdoor concerts, private parties and Holiday Inns."
Don't feel too sorry for Sharpe; his place in the Rockabilly pantheon is secure. His music lives on in a number of compilation albums (in fact, two cuts Averbach never released, "Rock and Roll Roman" and "Rocking Chair," were included in 1993's "Rock & Roll Fee Bee" album). His 45s are hot items for Euro collectors.
His band got to open for the Beach Boys in 1999 at Burgettstown's Pepsi Road House. And the crowning touch was his certification into Nashville's Rockabilly Hall of Fame in 2004, along with artists like Jerry Lee Lewis and Elvis.
Buddy Sharpe died Wednesday, October 12th, 2011, in the Washington Hospital at the age of 73. And with him went the area's rockabilly era.
Rockabilly may not have been Pittsburgh's genre of choice, but it sure helped to spawn an explosion of garage bands, and the region was home to one of its great performers - Buddy Sharpe.

"Bald Headed Baby" by Buddy Sharpe (Crypt Records "Sin Alley" promo)