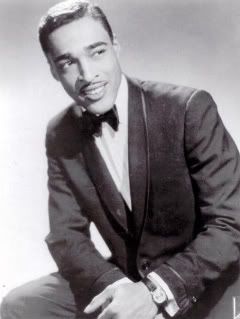 Tommy Hunt
Born on June 18th, 1933, to Georgianna Derico, Tommy Hunt started out life as Charles James Hunt. He become Tommy thanks to his school mates, who didn't think he looked like a Charles, and started calling him Tommy. It's stuck to him to this day.
He grew up in the northern suburb of Perrysville, where he sang for the Peace and Heaven Baptist Church as the youngest member of the choir. Hunt began singing for his family and his mothers' friends at the age of 7, and entered some talent shows.
Despite his choirboy experience, Hunt was no little angel. He was sent to reform school after spending his school hours practicing his singing instead of attending his classes (school was a little more strict back in the Depression era). He was released when he was 10.
He and his mom moved to the Hill when he was a teen, and Hunt tuned in to WHOD DJ Mary Dee's "Movin' Around" on the radio and the harmonies of his favorite singers, renowned gospel group The Dixie Hummingbirds. He never missed a live performance of theirs at the Roosevelt Theater on Centre Avenue, even though he had to listen from the back door because he couldn't afford a ticket.
His mother relocated to Chicago in the early 50s, and he went with her. Hunt wasted no time finding a group to sing with - and getting in more trouble.
He joined the Flames in 1952, and they morphed into the Five Echoes in 1953, with soul superstar Johnnie Taylor and doo-wop legend Earl Lewis as members of the group. Uncle Sam intervened; Hunt was drafted into the Air Force - and went AWOL.
Hunt rejoined The Five Echoes while on the lam, and they recorded for the Sabre and Vee-Jay labels in the Windy City. But eventually, the law found him, and it was off to the stockade, or wherever it is they ship airmen gone astray. The Five Echoes disbanded in 1954, after he was hauled away and their label folded.
As for hard time, it appears Hunt didn't spend much time breaking rocks in the hot sun. It's said that he sang his way out of the hoosegow and was shortly back to singing for his dinner instead.
While performing later in a Chicago club, he was approached by Zeke Carey of the Flamingos to temporarily take his place with the group while he served his time in the Army. (They were once label mates for Chicago's Chance Records.)
So in 1957, Hunt became a Flamingo, and stayed one even after Carey's return. They moved to New York after signing with End Records, and released their biggest hit, the million-selling "I Only Have Eyes For You" (#1046) in 1958. Other strong songs for End were "Lovers Never Say Goodbye" (#1035) and "Mio Amore" (#1065)
After he had a falling out with the Flamingos in 1960, supposedly over religion - The Flamingos formed in 1952 in Chicago, where they sang together in the choir of the black Jewish Church of God and Saints of Christ - he went solo.
A&R man Luther Dixon of Scepter Records promptly offered Hunt a contract (the same dude and label that signed
Chuck Jackson
). He went on to have his most successful solo 45 for Scepter, "Human" (Scepter 1219), which charted (#5 R&B, #48 pop) in 1961. It became his signature song.
The song's lore has a twist to it. The record was slow to be picked up by the radio stations until a New York DJ accidentally flipped the wax to the B side - "Human." The phones rang off the hook after it was spun, and a hit was launched.
And a follow up, the Burt Bacharach composition, "I Just Don't Know What to Do With Myself" (Scepter 1231), released the following year, did well on the charts, too. Hunt became a fixture on many of the R&B caravans of the era and was a regular on the Chitlin' Circuit. He was a fixture at the Apollo, which sports photos of him in the lobby both as a solo act and as a member of the Flamingos.
Hunt sang his uptown soul on stage with R&B acts like Jackie Wilson, Marvin Gaye, Ray Charles, Diana Ross and the Supremes, The Shirelles, Dionne Warwick, Chuck Berry, Bo Diddley & Sam and Dave.
Later in the 60s, he recorded for the Capitol and Dynamo labels without any major success. In 1969, he went on a USO tour of Germany (funny place for an old AWOL flyboy to end up, hey?) and found a new home.
Hunt decided to stay in Europe to take advantage of the Northern Soul craze which was sweeping the continent, and is still going strong. It also gave him a chance to get away from the now well-established British Invasion and the Motown Sound, both of which were making uptown soul a losing battle in America.
After hitting the UK club circuit, Hunt recorded for Polydor in 1972 and Pye in 1974. He was then approached by Russ Winstanly and Mike Walker of Wigan Casino fame and released a string of hits on Spark. They led to Hunt becoming the Brit's 1982-83 Male Vocalist Of The Year, presented by the Club Mirror Award.
He moved to Amsterdam in 1986 and traveled the world with his cabaret shows, where he was famous for his dapper, old-school outfits and pre-song patter. Then, the rewards for him and the Flamingos began to roll in.
In 1996, he won The Rhythm and Blues Foundation Lifetime Achievement Award with the Flamingos. Hunt joined the Flamingos in the Vocal Group Hall of Fame in 2000, followed by the Doo-Wop Hall of Fame in 2001. The Flamingos were then inducted into The Rock and Roll Hall of Fame in Cleveland that year, too.
Hunt now resides in England, and still performs with the Flamingos and as a solo artist while working on his autobiography. Not a bad little life for a reform school graduate from Perrysville, hey?

Tommy Hunt - "Human"