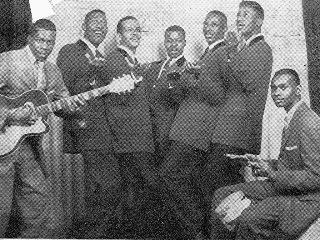 The El Dupreys
Eddie Johnson (now known as Bashir Ansari) had been singing since he was old enough to remember, and his voice was well known on the Hill from a young age.
One day in 1957, as he was walking along Whitehead Road in the Bedford Dwellings, he heard some sweet harmonies coming through a closed building door. He took a seat on the steps and listened.
"They need one more voice," he thought. When the rehearsal broke up, one of the singers recognized Johnson and invited him to come back next week.
A week later, he returned, and this time the door was open. Johnson sang with the guys – Wayne Walker, Ronald Hill, Paul Brentley (Pittsburgh school board director Mark is his nephew), Daryl Gilmore, and Eddie Tyler – and soon was part of the group. The Fifth Avenue High classmates made a pretty soulful sound together.
They hit Pittsburgh's music scene as the El Dupreys, a name thought up by Brentley when the Hill District group first formed in the mid-1950s.
Gilmore left, replaced by Johnson. Willie James was in and out, leaving to join Homewood's Capitols in 1958. Guitar man Leonard Goings, bongo player John Stubbs, and drummer Roosevelt "Donnell" Gloster joined Johnson (lead & keyboards), Walker (bass), Hill (lead & tenor), Brentley (baritone), and Tyler (tenor) to form the classic El Duprey lineup.
Even that roster was fluid. Lonnie Kurt eventually replaced Tyler, who went off to find his fame and fortune in Detroit. Hill left, too, and his spot was taken by LeRoy Grammer.
They joined the city's R&B circuit, gigging at the local clubs. The group did hops for WILY/WAMO's Bill Powell (even making an appearance on his radio show), Porky Chedwick, and Sir Walter, the reigning triumvirate of Pittsburgh soul jocks.
They played at local venues such as Westray's Plaza, Diamond Skating Rink, Union Hall, Ammon Center, North Side Elks and New Savoy.
They were a popular act south of the City, too, often doing shows in little Washington and McDonald. The El Dupreys even went on a month-long regional tour of local super groups, the "Cavalcade of Stars," a takeoff on Dick Clark's national barnstormers.
From 1957-1960, they were front and center in the local scene. The El Dupreys shared the stage with local heavyweights like
George Benson
and the
Altairs
,
the El Capris
, & the
La Rells
, along with national acts such as the Dells and the Clovers.
Their name drew so well that Johnson's sister, Delores, a singer and guitarist, had a group that gigged with them, the El Duprettes. They were pretty good, too. Delores is still in the business, and has a CD, "Central Park," that she cut with Glen Dorsey and the Twilighters.
They covered the hit tunes of the day and did their own compositions, like "Evie." But they never got that recording that would have cemented their reputation, thanks to a youthful business indiscretion.
Deciding to bypass the local route, they hopped in a car and drove off to New York and the bright lights of the Big Apple. The first studio they stopped at gave them an audition, and they did some of their original material. It was show-stopping stuff and sold the suits.
The El Dupreys were signed on the spot, and went home to wait on the call to come back to the city that never sleeps and cut some wax.
That call never came. They were under contract to a label that wouldn't record them, and for good reason. The El Dupreys found out that the studio (they've forgotten its name after the decades) was actually placed under the name of the owner's 15-year old nephew in an effort to evade taxes.
But the Feds weren't fooled by the ploy (they seldom are). They shut the shop down, and with it, the group's shot at pressing their own vinyl.
"We learned a lesson," explained Ansari. "Never sign the first offer. Shop yourself around and see what's available. But we were young at the time, and so was our manager." It was a hard lesson to learn, and there were a lot of tough ones yet to be absorbed.
Ansari remembers one gig when "we were promised $100 and 25% of the gate. After the show, the promoter said there must be some misunderstanding. There was no guarantee, and the gate share was to be split among all the groups, not just ours."
It was quite common, unfortunately, for misunderstandings like that to happen to the era's teen singers. Bring in the money and then hitch a ride home.
In 1960, the group was invited to perform in West Virginia for transportation, room and board – but no guarantee of a fee. Johnson thought that they were beyond playing for free, and when the group voted to take the date for the exposure (and the truth be told, the post-gig party), he left, along with Kurt.
But he picked up another job soon enough. A week later, hanging out on Centre Avenue, he ran across George Benson. It was just after he had left the Altairs. They put their talents together, added drummer Bob Story, a brass section, and began to perform as the Counts.
But in 1961, Johnson "got religion," changed his name to Bashir Ansari, and left the industry for decades. He's back, and has been for the past 15 years, singing and tickling the keys with people like Rodney McCoy and Johnny Smooth, doing jazz and R&B now.
The El Dupreys kept on truckin' for awhile, too. Ron Hill came back, and they added Leon Harvard to replace Johnson and Kurt.
But the wheels soon began to come off the El Dupreys ride. As with virtually every group of the time, the money ended up in every pocket but theirs. There were family and other responsibilities that began to claim their energies. The final blow landed when Brentley, the group's high-energy glue guy, was called to gig with Uncle Sam.
After the breakup, Grammer started LeRoy and the Excitements, later becoming the Enchantments. Walker, Hill, and Brentley threw in with him, and second tenor Leon Howard was added. They sang at all the hot spots in Pittsburgh and even scored some New York gigs.
From what we understand, LeRoy wasn't very excited when his label decided ElRoy was a better name to front the band than LeRoy and flipped his name. Who knows, maybe it was just a typo. Maybe not. That's show biz, although in Pittsburgh they still went by LeRoy and the Excitements.
Instead, they got Joe Rock of the Skyliners to manage them, and in 1961 released the doo wop "My Love Will Never Die," b/w "No One Knows" on Alanna Reords #188 (reissued in 1963 as Alanna #565), a local outfit that still pushes platters from its' Uptown Fifth Avenue HQ. In fact, both songs are still out there on "Alanna Records Presents - Pittsburgh Rhythm and Blues/Rock 1959-1963" (ACD #5551).
The Alanna contract ran its term, and they reformed as LeRoy and the Enchantments. They approached Motown about a contract, and played a soulful Walker ballad, "Lonely Hearts," for the suits. They were told that the times, they were a'changin' in the music world, and to come back with an upbeat song to go with the slow jam before being shown the door. Rebuffed, they decided to stay local.
They cut "Lonely Hearts" b/w "Popeye, the Dance To Do," (Ro-Mac #1001) and "Jelly Roll," also recorded by Ro-Mac Records. That impress was run by Bob Mack, WZUM jock and Liberty Avenue's Tri-State Record Shop owner, whose chief clerk was none other than Mad Mike Metro. Eventually the Enchantments wound down, too.
Walker stayed in the business, though, and was an original member of These Gents when it formed in 1964, with Grammer and a couple of the old Altairs, William Herndon and Richard Harris. Herndon and Harris went on to sing with Fred Johnson's
Marcels
, whose group they often opened for.
These Gents recorded once, cutting "Yesterday Standing By, Parts 1 & 2" for Walt Maddox's Carnegie-based Western World Records in 1974 (#WW55101).
Now Walker performs for a dynamite gospel group, Voices For Christ. Don't miss them if you ever get a chance to catch a performance. They're all that.
The group stays in touch, having forged bonds in their youth that didn't dissolve over the years. Ansari and Stubbs live in the City, Walker in Wilkinsburg, Brentley in Monroeville, Hill in Tempe Hill (MD), Tyler in Detroit, and Gloster near Atlantic City.
The gang, and a lot of the remaining Steel City soul men of the era, got together this summer at Kingsley to celebrate Tyler's birthday. And you know what? They still make beautiful music together.
(Old Mon would like to thank Bashir Ansari for all his time and patience in cobbling the group's history together, Wayne Walker for adding his remembrances & edits, and David Parr for acting as a tireless middleman in getting the story written.)


"My Love Will Never Die" - ElRoy and the Excitements 1961