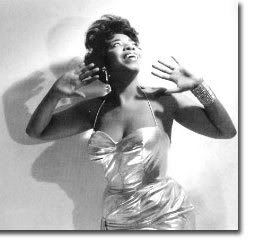 Dakota Staton from Swing Music
Dakota Staton (Stay-ton, not Staten, please!) was born in Homewood on June 3, 1930. She began singing and dancing as a child, emulating screen star Shirley Temple. She learned the basics of her craft at the Filion School of Music.
Staton went to Westinghouse HS and belonged to the renowned Kadets, a swing band that played music ranging from Glenn Miller's "String of Pearls" to Coleman Hawkins' "Body and Soul."
Carl McVicker Sr., a trumpet player, music teacher, and legend at Westinghouse since the 1920s, led the band and taught
local greats
like Earl Garner, Billy Strayhorn, Ahmad Jamal, Nelson Harrison, Frank Cunimondo - and Dakota Staton.
And along with them, she's memorialized as a member of the Bulldog's Wall of Fame.
When Staton was sixteen, she was in a stage revue called Fantastic Rhythm. Thanks to her show-stopping performance, she was chosen to be a vocalist with Joe Westray and his orchestra, a popular band that made the rounds of Hill District nightspots.
She graduated in 1948, and Staton started singing with other show bands. Staton followed her muse to Detroit, where she headlined a regular gig at the Flame Show Bar. She was a rider on the Midwest club circuit, doing shows in Indianapolis, Minnesota, St. Louis, and even Canada before moving to New York City.
While singing in a Harlem nightclub called the Baby Grand, Capitol Records producer Dave Cavanaugh caught Staton's act and signed her to the label.
In 1954, Staton recorded the single "What Do You Know about Love?" b/w "You're My Heart's Delight" for Capitol (Cap #T1170) and toured the East Coast. In 1955,
Down Beat
magazine voted her "the most promising jazz vocalist of the year."
Never strictly a jazz act, she was also a rollicking R&B singer and performed alongside Big Joe Turner and Fats Domino at Cleveland DJ Alan Freed's early Rock 'n' Roll Party showcases.
Freed regularly played Staton's "My Heart's Delight" on his daily WINS show, and when her long-awaited debut album "The Late, Late Show" hit the shelves in 1957, it became a huge crossover hit, charting at #4.
The title track became her most famous number. Other hits on the LP were "Broadway" and "My Funny Valentine."
Staton's next album was "Dynamic!" (Capitol, 1958), which charted at #22 and featured "Anything Goes" and "Too Close For Comfort." They were to be her two best sellers off the LP.
In all, she recorded 29 albums and was loved by the critics. Staton worked with the cream, pianist George Shearing and arrangers Nelson Riddle and Sid Feller. She was a brilliant jazz and blues singer, known for her bright, trumpetlike sound and tough, sassy style.
But Staton never reached the fame of singers like Dinah Washington, whom she cited as a model, and Sarah Vaughan. First, she was tough to pin down stylistically, slipping into pop, R&B, standards, jazz, gospel, and the blues effortlessly, and every genre had its own separate audience to sell.
Secondly, she was an album artist, and didn't really focus on cranking out hit singles, the new benchmark of her times. And finally, she was caught in a Black Muslim firefight.
She married trumpeter Talib Ahmad Dawud in 1958, converted to Islam, and for a time performed under the name Aliyah Rabia.
She became an active member of the Muslim Brotherhood, a moderate Islamic movement that ran counter to the radical stance of Elijah Muhammad. The Brotherhood found itself the eye of the storm when Muhammad claimed "they should be ashamed of trying to make fun of me and my followers while serving the devil in the theatrical world."
The resulting media flap hammered both sides, and put a serious hurting on Staton's commercial appeal. Islamic backlash wasn't unique to the George Bush era, and the black power struggle she was involved with lost her a portion of the record-buying public.
1959's "Crazy He Calls Me" still charted, but she never again enjoyed the crossover success of her previous discs, and her star began to dim.
1961's live "Dakota at Storyville," was her last Capitol session, and she jumped to United Artists for 1963's "From Dakota with Love." After two more UA albums, "Live and Swinging" and "Dakota Staton" with Strings," she left the label and didn't cut another record for eight years.
She moved to England in 1965 and worked hotels across the continent and cruise ship gigs. Staton was yesterday's news by the time she returned to the U.S. in 1971.
She signed with Groove Merchant and cut a 1972 comeback LP "Madame Foo Foo" with Richard "Groove" Holmes. Dates for Muse and Simitar followed, and in 1999 she signed with High Note for her final studio date, "A Packet of Love Letters."
She continued to perform live well into her 60s. Writing for
The New York Times
in 1998, Robert Sherman called Staton "one of America's great vocal stylists."
Over the years, Staton would periodically return to Pittsburgh for concerts, performing with pianist and brother Bulldog Frank Cunimondo at his old place, the Cunimondo Keyboard Club in Verona, and Per Favore restaurant in Oakland. Her last hometown appearance was in 1996, when she performed at the Hill House Auditorium as part of the Mellon Jazz Festival.
In 2001, Staton was inducted to the Gallery of Stars, hosted in the Kelly-Strayhorn Theater lobby, with a star block on the sidewalk in front of the theater. If you're ever passing the Kelly-Strayhorn on Penn Avenue, look down, and there it'll be. She's also a member of the Pittsburgh Jazz Society Hall of Fame, a pretty impressive group by any standards.
Dakota Staton died April 10, 2007 at the Isabella Geriatric Center in New York at the age of 76, and was buried at the Abyssinian Baptist Church in Harlem. She had been going downhill ever since suffering a triple aneurysm in the 1990s.
Caffe Jazz, a label out of Westlake Village, California, released a 14-song concert recording, "Dakota Staton Live at Milestones," a Buffalo nightclub, that was originally a 1986 radio broadcast. Among its highlights is one of Dakota's few compositions, the upbeat blues tune "Play Your Hand," and the old favorite "What Do You See in Her?" It came out a month before her passing.
Staton was one of the great vocalists of her era, belting out show tunes, R&B, jazz, blues and gospel with equal ease. Along with her ever-shifting musical identity, Staton got caught in the crosshairs of a political struggle. She had a sweet career, even though it never got the wind in its sails that it deserved. But if Dakota Staton isn't the best female vocalist from Pittsburgh, she's surely on the short list.
Her bio is available at
Answers.com
.

Dakota Staton - "Round Midnight"