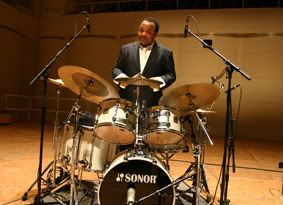 Jeff "Tain" Watts, photo by Oliver Link
Pittsburgh has been blessed with an embarrassment of riches when it comes to drummers -
Art Blakey
,
Kenny Clarke
,
Vinnie Colaiuta
,
Roger Humphries
, J. C. Moses and a pack of others that are internationally known behind the kit. Let's add one more name to the list: Jeff "Tain" Watts.
Born in 1960, he was raised in the Hill District's Sugartop neighborhood, attending Madison Elementary before graduating from East Allegheny High in North Versailles after the family moved. (He's so Pittsburgh that he even slipped a Terrible Towel in on the album cover of the Branford Marsalis Quartet's 2006 "Bragg-town" CD.)
Watts got rolling at Duquesne, where he majored in classical percussion, primarily as a timpanist under the eye of Dave Stock. That's where he really got his start, playing in a band with
Dwayne Dolphin
, Geri Allen, Tony Campbell and Joseph Callins, performing in the City jazz houses.
The drummer transfered to the Berklee School of Music, where he pursued jazz studies. There were a pretty good bunch of classmates in Beantown to hang with, too. He honed his craft with players such as Branford Marsalis, Kevin Eubanks, Greg Osby, Aimee Mann, and Steve Vai.
He joined the Wynton Marsalis Quartet in 1981, picking up three Grammy Awards with the ensemble before leaving the group in 1988. After working with
George Benson
, Harry Connick. Jr. and McCoy Tyner, he joined the Branford Marsalis Quartet in 1989. Hey, guess what? Two more Grammys.
For you trivia buffs, Watts is the only musician to appear on every Grammy Award winning jazz record by both Wynton and Branford Marsalis.
Watts played in Kenny Garrett's band when he returned to New York in 1995 after three years in LA. He also recorded and toured with Branford Marsalis again, as well as with Michael Brecker, Betty Carter, Kenny Kirkland, Geri Allen, Alice Coltrane, Greg Osby and Ravi Coltrane among others. Watts' has recorded over 120 albums as a sideman.
His own band keeps him busy enough. The Jeff Tain Watts Quartet (Jean Toussaint, sax, James Genus, acoustic bass, David Kikoski, piano, and Watts on the skins) plays coast-to-coast, from the Village Vanguard in NY to the Triple Door in Seattle, along with recent side trips to Russia, Scotland and the Netherlands.
Watts also has shown up to give a hand to the Dave Pellow's Carnegie Mellon Jazz Ensembles, and isn't shy about popping up on the home turf to perform or participate in a workshop every so often.
He's released six of his own LPs as a leader (he writes most of the band's songs; he's also a noted jazz composer), the last trio on his own Dark Key Music label. The latest is this year's "Family." And the label landed him another Grammy. Dark Key Music was a 2010 Grammy Award Winner for Best Instrumental Solo, by Terence Blanchard on the release "Dancin' 4 Chicken."
But don't quit counting the Grammys quite yet; he just won one more as part of the "Mingus Big Band Live at Jazz Standard" record which recently was recognized as the "Best Large Jazz Ensemble Album."
Watts has worked in film and TV, too, as both a musician on the Tonight Show with Jay Leno (that was his La-La Land gig) and as an actor, playing Rhythm Jones in Spike Lee's "Mo Better Blues," and contributing some music for the flick. He also had roles in "Throw Momma From the Train" and "The Fresh Prince of Bel-Air."
And his work has been duly recognized. "Modern Drummer" magazine voted him the best drummer twice.
His nickname? He was dubbed "Tain" by Kenny Kirkland when they were on tour in Florida and drove past a Chieftain gas station; Jeff Tain somehow was born from Chief-tain. Guess you had to be there. But he must like it; the adjective "Tainish" is now an accepted part of the jazz jargon.
Hey, the Big Apple may be where Jeff Watts hangs his hat now, but Pittsburgh is his home. And with him and guys like Cecil Brooks around to pass the drum torch on, the jazz circle here should remain unbroken for quite a spell.

Jeff "Tain" Watts - "Return of the Jitney Man" from the 2009 CD "Watts"