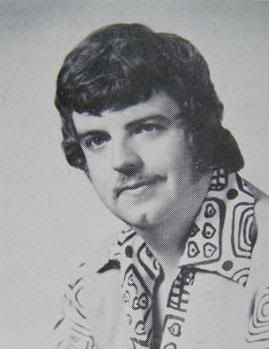 Chuck Brinkman - 1971 from Jeff Roteman's KQV Pages
Hey, who grew up in the sixties without at some time or another flipping the car box to KQV's Fun Lovin' Five of Hal Murray, Steve Rizen, Dave Scott, Dexter Allen and Chuck Brinkman? Broadcasting from the corner of "Walk and Don't Walk" - their studios were in a first floor window of the Chamber of Commerce Building in town - everybody could walk by, mug, and give a wave to their favorite Groovy QV radio jock.
The undisputed king of the gang was Chuck Brinkman.
Brinkman was born a local boy in July of 1935; his family lived on McFarland Road in Dormont, between West Liberty Avenue and Banksville Road. They packed up and went to Cleveland when he was five, but he came back to attend Kiski Prep School.
After graduating, he went to Ohio University in Athens, near Columbus. Brinkman's first radio gig started while he was a student there when he worked for WAND in Canton. He dropped out of school after two and a half years to become a staff announcer on a Warren station, and weeks later he moved on to Dover.
Then his first big break came in 1956 in New Haven, Connecticut, when he joined WELI as their afternoon disc jockey. But his nomadic career continued; Brinkman switched to a station in Mt. Clemens, Michigan, hoping to attract the attention of the Detroit audience.
Well, that plan didn't work; the station was 40 miles outside Motown and couldn't dent the Motor City market. He then worked as a newsman and announcer for station WJW in downtown Cleveland before signing up to serve in the National Guard in 1958. Brinkman spent his six months of active duty at Fort Knox. After his tour, he joined WCUE in Akron for a year and then returned to WELI for a few months.
Then he hit paydirt; Brinkman came aboard KQV in 1960. He worked the graveyard shift for six months, and then filled the 1 to 3 PM and 7 to 9 PM off-prime shifts. But his KQV career ran into a nine month bump. The Russians were getting grumpy in Berlin, and he was recalled to active duty.
Brinkman was stationed at Fort Stewart, Georgia. He kept his skills sharp by moonlighting at a Savannah TV station during his off-duty hours, bringing home the staggering sum of a dollar per hour (hey, after all, it was 1961; it took
Old Mon's
crew until 1967 to earn that much pumping gas!)
He was released from active duty just in time to take over KQV's evening slot in August of 1962 from Larry Aiken, who left the station. Brinkman worked the 7 PM to midnight show for the next five years. He turned his TV gig into an asset in 1966, hosting the "Come Alive" dance show on WIIC-TV for a year-and-a-half.
The DJ gave up his TV duties when he moved to the 3 to 6 PM Monday through Saturday drive-time slot, and also took on the role as music director. He played the hops circuit, too, as did all the spinners of that era.
Brinkman's biggest claim to fame was outdueling
Clark Race
during Pittsburgh's 1964 Beatlemania phase. In March of 1964, he flew to England for interviews with a dozen top British groups. He flew to the Bahamas with the Beatles once, and introduced them at their Civic Arena concert after bumping Race and flying in from NYC with the Fab Four. KQV had a promotional tie-in with local promoters
DiCesare
-
Engler
; the Beatles were just one of many acts Brinkman brought on stage.
He also met his wife, Carmella, thanks to his ability to spin vinyl. She was the chairlady of the Student Nurses Association of Western Pennsylvania, and sat down with Brinkman in 1966 to set up a dance the group wanted him to jock. Guess you could say they made sweet music together.
Aside from his smooth on-air persona, Brinkman introduced several of The Vogues hits as well as breaking Billy Stewart's "Sitting In The Park", Mungo Jerry's "In the Summertime" and Crazy Elephant's "Gimme Gimme Good Lovin'." And while
TL
and
Porky
are often associated with Scott English's "High On A Hill," Brinkman was a big factor in its' rise to Pittsburgh cult status.
Of all the KQV Fun Lovers, Brinkman was there the longest (twelve years), and worked in every time slot at the station: over-nights, evenings, mid-day, and of course afternoon and morning drive time.
In 1972, the MOR jock jumped ship from KQV to WTAE for a midday slot. A decade later, Brinkman took a job with KOGO in San Diego. After a short time on the Left Coast, he returned to Pittsburgh to do a morning show and become the program director at WHYW (now WRRK), then a soft-rock station.
Following that job, Brinkman spent the next seventeen years as the program director and afternoon drive jock at oldies station KLUV-FM in Dallas. He left KLUV in 2005, and spent some time at 770 KAAM.
Brinkman, in his mid-seventies, is now part owner of Greenville, Texas, oldies station 1400 KGVL, The Big 14 GVL, and is still spinning his disks.
He hasn't completely dropped of the local airwaves, though. In 2009, his show "Chuck Brinkman Remembers 1963" was broadcast on Carnegie-Mellon University-based station WRCT, and last year they played "Chuck Brinkman Remembers 1964." We're hoping they pick up 1965.

High on a Hill - Scott English 1964