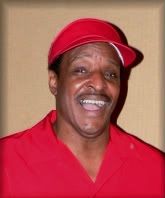 Gus Collins from Elmoz Fire
Everybody was singing on street corners in the North Side during the 1950s, including Gus Collins. But he was a bit more advanced than his 'hood harmonizers; by the age of eleven, he was singing second tenor with his first group, Sammy and the Belltones.
By the time 1960 rolled around, Gus was singing lead vocal for a local group called the Lateers. Signed to Lenny Martin's World Artist label, the Lateers had two singles that landed on the national R&B charts in 1962 and 1963, "Dance Party" and "Swing Low, Sweet Cadillac" featuring Collins on the lead. After a couple of years of national tours and one-night stands, the Lateers called it quits in 1965.
Collins began working with a four-piece group on the national college circuit, serving up R&B, Motown, and Soul sounds to the frat rats as JC and the Silver Strings. He was their front man until 1978, when he retired from show business to take care of his ailing wife.
He rejoined the music-making biz in 1995, singing tenor for
The Marcels
, as he reunited with old friends Fred Johnson, Bingo Mundy, and Dick Knauss, who had all sung on those same North Side street corners as kids with Collins.
In 2003, Collins teamed up with Ron Griglia and the Elmonics, as the group transformed from an oldies act to an R&B show band. Now they perform as Elmoz Fire, switching names in 2005 as their music changed from the Flamingos to the Temptations.
And hey, Gus Collins isn't just part of an ensemble; he has some powerhouse chops of his own. Jeff Ingersoll's Bonedog Records, a soul and blues outfit based in Duquesne, released his solo album "Soul Social" (after all these years, his first solo work) with a R&B revue show at McKeesport's Palisades Ballroom a few weeks ago.
The album features eleven songs written by Mike Sweeney with a couple of covers thrown in, and a local All-Star band that includes Stevee Wellons, Dave Avery, Zack Weisinger, Jimmy Britton, Robbie Klein, Steve Delach, Robert Peckman and Sweeney.
And if you're looking for some sweet Motown sounds coming from this slab of wax, look again - this is Stax stuff, all brawn and brass, torch and scorch, funk and junk. It's just what you'd expect from a Pittsburgh player with roots in the 50's and 60's, when the town's two finest products were steel and soul.
The steel may be gone, but its soul remains.

"Soul Social" - Gus Collins